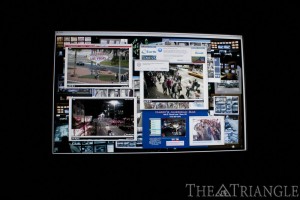 The opening of a joint exhibit called "Conflation" was held at the Leonard Pearlstein Gallery in Nesbitt Hall May 18. The gallery features "Living Above the Store," a multi-media installation by Mark Campbell and "Virtual Presence," a series of works utilizing video, web sources and sequential photography by Blaise Tobia.
Upon first entering the exhibit, Campbell's piece can be seen: a large, white figure containing over 200 individual architectural structures. Made of wood, resin and white lacquer, Campbell spent a year in his studio building this imaginary environment that is both an abstract architectural model and a piece of sculpture. This is his response to suburban planning and the social and political issues that it causes. It may look like a city, Campbell said, "but all the parts that are in it are derived from suburban environments like Cherry Hill, N.J." Campbell went there, took lots of photographs and used aerials as references, and then, he said, "I made all the building types that I saw: shopping malls, industrial parks, institutional buildings, churches, schools, houses and so forth. I made all these buildings, and rather than put them in the places I found them, I rearranged them by clustering and stacking them … so I was just playing with blocks, stacking them in a kind of way, rather than separating different functions, integrating them, like in a city."
After adding video and sound elements to the project, Campbell collaborated with Anthony Angelicola, a former student of his at University of the Arts majoring in film, and Peter Rose, an international artist specializing in film, performances and installation art. The three created what Campbell described as "an experience that has a richness to it that will engage you and your senses through sight, sound and physicality." Rose created the video aspect and Angelicola put together the audio, and the three artists combined creative forces to make "Living Above the Store" a surprisingly powerful experience.
The audience, which consisted of Drexel students and professors, friends of the artists and students from the University of the Arts, all seemed to approve.
David Raizman, professor of art history, commented, "I was looking forward to it and was here last week when Mark was installing it … I liked the way it looked just as a construction, and then seeing in animated with light and sound really made it much more engaging … it takes it to a different level."
Campbell stated that his goal was to create a story that will sustain and, "that has a rich reward in the experience."
It was not hard to see why Campbell and Tobia chose to share an exhibition. Having worked together in the past, the two artists seem to share the same passion for creating not just art, but an experience.
Tobia, primarily a still photographer, decided to create a series of media works to bring up issues about the continually growing technology of surveillance cameras, along with proposals for a website hosting real-time cameras in the city of Philadelphia. With five different monitors playing at the same time, three of which filled with real-time video surveillance, Tobia brings up the question: "Who's watching you at this moment?"
"Campus Surveillance" is a real-time video feed and slideshow of the many different cameras that are often over-looked on Drexel's campus.
"This is [showing] 50 surveillance cameras around Drexel's campus that people don't realize are there. So I'm sort of reminding people … I'm referring to the fact that we should all be aware that we are under constant watch under Drexel's campus, for whatever that means, for good or bad. Sure, it's good when a crime happens and we know it's taped … but on the other hand, how do we feel about always being taped?" Tobia said.
On another monitor, "Proposals for a '24-hour Rocky Cam' and '24-hour Thinker Cam'" portrayed a mock website of what it would look like if there were cameras in front of the two popular statues by museum. When asked why he chose these statues, particularly the Rocky statue, Tobia replied, "Right now it's probably Philadelphia's best known feature. I've known people that the only place they have been in the U.S. has been Philadelphia, and they came here specifically to go to the rocky statue."
Tobia went on to say that the exhibit is "meant to be a little bit funny, but on the other hand it is absolutely true that this is where people come."
Kate Maakestad, a senior majoring in business at UArts, didn't quite agree with Tobia's proposal, saying, "It's a little bit of an invasion of privacy, because anybody can look at you there."
Another monitor called "Streaming Cam Collage" is an animated web-source collage with real-time streaming video. The background consists of web images of people watching surveillance cameras, and Tobia pointed out that the videos are "real-time stream from around the world. Times Square, the large sign in Las Vegas, a bar in London … this is real people, real-time …this is kind of a technological marvel that we now have this sort of access to all these places around the world … that's part of what it's about."
Both exhibits play to a viewer that is expected to be immediately immersed in the environment. Campbell added that the exhibit is more than art; "it's an experience in art. It's an involvement of the senses that lead to ideas and concepts underlying what you see in here."
"Conflation: a Joint Exhibit by Mark Campbell and Blaise Tobia" is free and open to the public from May 18 to June 3, Monday to Friday 11 a.m. to 5 p.m.