We typically anticipate summer for the warm weather, weekends at the beach, and if we had attended a semester school, some real time off from classes. However, this summer in particular, there are a number of highly anticipated hip-hop and R&B album releases to await.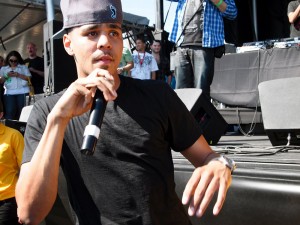 Starting June 18, hip-hop is prepared to take over the summer with the releases of Mac Miller's "Watching Movies With The Sound Off," J. Cole's "Born Sinner" and most importantly, Kanye West's "Yeezus." While Miller likely won't be able to compete with West and Cole in terms of sales, the battle between the latter pair will be one that is underestimated by many. Despite all the hype around West's "Yeezus," the lack of a radio single and "normal" promotion could end up seriously hurting his sales, as many fans might not be aware that he's releasing a new album. However, J. Cole, who has been promoting his album very heavily and even pushed the release date up one week to battle West June 18, has his single "Power Trip" featuring Miguel shooting up the Billboard charts on its way to No. 1 as "Born Sinner" is about to be released. While the hype for the Cole vs. West sales battle is not nearly as hyped up as West vs. 50 Cent back in 2007 when West's "Graduation" sold nearly a million copies in its first week, it will likely be a lot closer than many people expect due to Cole's continuing rise to fame.
Just one week later, John Legend will release his first solo album in nearly five years, titled "Love in the Future." The album's lead single, "Who Do We Think We Are?" is one of the better rhythm and blues songs released this year, and it features a great verse from Rick Ross. On that same day, Ross' signee Wale will release his highly anticipated album, "The Gifted." Wale currently has a chart-topping single, "Bad," which is hard to comprehend given the fact that the beat alone makes your ears want to bleed. However, his album is rumored to feature Rihanna, Wiz Khalifa, 2 Chainz, Nicki Minaj, Meek Mill and Rick Ross, among others. That alone should make this album worth the listen as Wale looks to build off of the success from his sophomore album, "Ambition."
Other notable album releases this summer include Pusha T's debut solo album, "My Name Is My Name," due out July 16. With "Numbers on the Boards," Pusha T showed that he's ready to take over the summer with some big hits. On that same day, soul singer Mayer Hawthorne will release his third studio album, "Where Does This Door Go." If you haven't heard the lead single, "Her Favorite Song," make sure you stop reading after this sentence and do so immediately. It will definitely be one of your favorites this summer.
If you love music that is actually supposed to be available for free, then you should be on the lookout for Meek Mill's third installment in the "Dreamchasers" series, which will be available later this summer. Over Memorial Day weekend, Meek unveiled the project's first single, "Levels," which showcases a very new and unique flow that he has never used in the past. This is a sign of good things to come from the new mixtape.
Don't look too far ahead, but Justin Timberlake will release the second part to "The 20/20 Experience" Sept. 20 following his summer tour. Also, rumors are swirling that the both Jay-Z and Beyonce will also release new albums this year, which is incredibly exciting. Jay has released a few songs recently, including "Open Letter," where he rants about his relationship with Barack Obama and his trip to Cuba with his wife, among other things. Both Beyonce and Jay are on tour this summer and will be in Philadelphia July 25 and Aug. 13 (with Timberlake), respectively.
With an incredible summer lineup of new music, along with huge potential in the fourth quarter, 2013 is shaping up to be another amazing year for hip-hop and R&B. Be sure to save some of your co-op money, because there are a ton of albums that will be worth purchasing this summer.