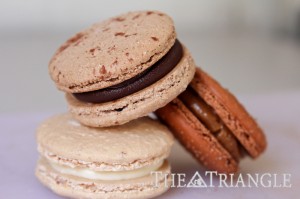 Philadelphia is home to one of the top 20 food trucks in the nation, as rated by the Smithsonian. Sugar Philly is a dessert truck just a short walk away from Drexel, co-owned by Drexel and University of Pennsylvania alumni John Suh and Franklin Shen, respectively.
Suh and Shen first conceived the idea for the truck when chef Daniel Tang was convinced to join the project. They first envisioned the idea for Sugar Philly in May 2009, but the actual truck was not launched until January 2010. Originally at 33rd and Arch streets on Drexel's campus, the goal was to reach UPenn's campus, which is where the truck is currently located at 38th and Walnut streets.
Within the past two and a half years, Sugar Philly has received  recognition from the Smithsonian, Philly Vendy Awards and the Food Network.
While Sugar Philly was almost instantly a success, Suh and Shen did not hesitate to share their wealth with others in the community. Teaming up with the nonprofit Jubilee Project in 2010, they held an event called "Sweets for the Streets." Sugar Philly gave away free desserts for others to give to strangers as a random act of kindness. Sugar Philly aimed to involve the public to invoke a greater sense of community, and many Drexel students participated in the event.
Although the event has passed, Sugar Philly's kindness has not ceased. Always greeting customers with a smile, Tang explained that he always wants to reach out to his customers because even with just a sweet treat, he has been given the opportunity to brighten someone's day. While the people involved contribute to Sugar Philly's success, much of the truck's sales stem from the simple yet delicious menu.
The menu features three items — French macaroons, creme brulee and creme fraiche cheesecake. The menu may seem small, but each item is individually crafted to perfection that will be more than satisfying for your stomach.
The French macaroons, priced at one for $2 or three for $5, may seem a bit steep, but the quality of the dessert is worth it. Made fresh each morning, Sugar Philly has three regular flavors on a daily basis — milk and honey, chocolate ganache, and tiramisu. In addition to the three regular flavors, there is always a special flavor such as orange blossom, salted caramel or green tea for each day of the week. The macaroons have a perfect cookie base that is light and fluffy, along with a smooth filling that melts in your mouth.
The chocolate ganache and salted caramel are more on the sweet side, with thicker fillings to satisfy anyone with a sweet tooth. My personal favorites are the milk and honey macaroon, an original creation of Sugar Philly, as well as the matcha green tea macaroon. These two are not as sweet but are definitely sweet enough to satisfy my sugar craving. The macaroons are a quick and easy on-the-go sweet treat for those in a rush.
For those who have a bit more time and desire a sit-down dessert, the creme brulee and creme fraiche cheesecake are both filling but still leave you wanting more. The creme brulee has a perfect, creamy custard base flavored with Madagascar vanilla bean,  covered by a crispy caramelized sugar top that is torched right before your eyes.
The creme fraiche cheesecake is fresh and moist but maintains the perfect crunch from the crust. Fresh strawberries and blueberries ornament the top of the cheesecake and add a bit of tartness to complete the final product.
Although Sugar Philly is a bit far from Drexel now, the trek is justified by my sugar indulgence. The pricing is also on the higher end food trucks, but the food is worth every penny.
Sugar Philly has become my favorite place to go to because of its versatility. It is perfect for a post-exam celebration or even a date.
Even if you're not a big dessert fan, Sugar Philly is definitely a must-try. The truck's hours are Monday through Friday from noon to  6:30 p.m., but be sure to arrive earlier in the day because they run out quickly — sometimes as early as 3 p.m..
Visit the truck's Twitter page, @sugarphilly, to view its events or daily macaroon specials.