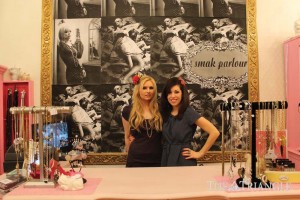 As fast-fashion stores take over the market and original designs become harder and harder to find, Philadelphia is lucky to have such an amazing selection of boutiques to choose from. Smak Parlour at 2nd and Market streets is one of those boutiques, curating a unique shop full of funky clothes and accessories alongside their in-house designs.
Smak Parlour was a long time in the making for co-founders Abby Kessler and Katie Loftus. After meeting in their high school bathroom (applying makeup in the mirror, no less), the two girls became instant best friends and eventually attended Drexel together. A few years later, after graduation, Kessler and Loftus created their own line, Smak, full of silkscreened and embellished tops that they sold to boutiques all over the country.
This was no easy feat for such a young line. Finding enough material to fill orders was the toughest part, they said. The two designers had to make sure they had enough materials to fill orders so their product looked like the samples they had shown to buyers.
"Thankfully we had wonderful tailors for small orders and manufacturing for large orders that were set up," Kessler said.
Once the popularity of their line provided them with a large-enough product base, the designers were able to look for a brick-and-mortar location. It was two years before they found the ideal spot in Old City.
"Our landlord let us put our first month's rent on a credit card. We didn't have any investors or financial assistance from anyone. We put everything on credit cards. We set up the store on a shoestring, so we had to be super creative and DIY about it using elbow grease and our imaginations!" Kessler and Loftus said.
Since the opening of the store, Kessler and Loftus have developed a pattern library from which they create their designs and are constantly altering pieces to make them fresh. "For example, we add a collar to a really well-fitting dress or change the hem to a bias cut. There are many options," Kessler said.
In their candy-colored boutique you'll see chandeliers dripping with crystals hanging above bright, pink-framed mirrors and old-fashioned busts wearing funky hats. Tiny framed swatches of fabric climb up the doorframe, and frothy retro prom dresses line the walls. Beds of sand hold a rainbow of large stone rings under strings of bottled-gem necklaces. Quirky accessories like double rings that say "DOPE" loud and shiny across your knuckles set the tone for a Smak signature item: the ruffle hoodie.
This miniature dress-length hoodie is a big seller, and Kessler and Loftus have been making them for all seven years of the Smak brand's existence. To keep it feeling new, the designers are always altering the design.
"Some have pockets, some have elastic in the hood, some have deconstructed details, and some are long like a minidress or short to the hip," Kessler said.
The inspiration for their brand and store comes from all over, but Kessler's and Loftus' favorite designers range from Betsey Johnson and Anna Sui to Jason Wu and Christian Siriano.
The future for Smak Parlour includes expanding their fun, girly brand internationally. To bring their brand worldwide, the co-founders are focusing on using social media to broaden their reach. In the meantime Kessler and Loftus offer their advice to Drexel students everywhere:
"Shoot for the stars; your dream can be a reality. Learn everything you can in your major; every detail counts, and it helps if you can actually do everything yourself."