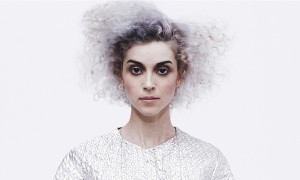 After streaming her new album for free the week prior to its release, Annie Clark, or St. Vincent, debuted her fifth studio album Feb. 25. The 11 tracks from the self-titled album vary significantly in their instrumentation and emotion, but still come together to create one cohesive work.
Clark released her first album in 2007, titled "Marry Me," and has since created four more albums in only seven years. The creation of "St. Vincent" began three days after the end of Clark's tour with Talking Heads alum David Byrne. The album illustrates a progression of the heavier sound that has developed throughout her discography while maintaining an impressive degree of balance in almost every regard.
While each song contains prominent sounds varying from funk horns to Clark's signature fuzz guitar, this record, like her others, showcases her melodic voice with poignant but ambiguous lyrics, without overshadowing the album's carefully constructed arrangements. Each track feels full, as the ambient, reverb-filled synths provide a smooth background to contrast the strong beats and jagged guitar interpolations. These characteristics reflect the overall balance of "St. Vincent" and create a calculated equilibrium in the makeup of each song, as well as in the album as a whole. The emotions of this album shrewdly counterbalance each other as well, due to fact that they are arranged among each other in a way that transitions smoothly, regardless of their emotional diversity. This, coupled with the intrinsic catchiness woven throughout "St. Vincent," makes the album a fascinating and pleasurable listen, good for both casual and analytical enjoyment.
In an industry that is currently lacking in female innovators, Annie Clark is fearlessly spearheading experimentation in modern song composition. With her new album, Clark reinforces a recent trend in independent music that consists of an ever-increasing complexity in the makeup of songs with the inclusion of a large variety of analogue and digital instruments. Reminiscent of sounds resulting from the emergence of synthesizers in the 1980s, St. Vincent used her new album to put her own touch on a recent trend showcased by artists such as Vampire Weekend and Arcade Fire.
Although "St. Vincent" includes an impressive amount of balance, this can at times be a detriment, as the album lacks in dynamics, the result of a stifling degree of volume compression. On top of this, the album's digital attributes cause it to sound somewhat cold and metallic at times, despite the inkling of warmth lent by Clark's signature guitar distortions. Perhaps due to technological innovations, there were times when this album felt impersonal and robotic. Providing yet another example of Clark's uncanny knack for balance, "St. Vincent" raises the question of whether or not the hyper production and mastering that goes into innovative albums such as this one, and others like it, is caustic to the respective album's overall authenticity and dynamic.
With her new Madonna-meets-Bjork look and sound, St. Vincent's self-titled album is diverse and clever. Her integration of each unique aspect of this album is meticulously counterbalanced in a way that lends an intelligent and inventive feel to Clark's highly anticipated release. Though its reflection of the music industry's digitalization left some songs lacking in warmth, "St. Vincent" is an interesting and cohesive album that has definitely reinforced the push for musical innovation.