Swear and Shake is a fun, energetic indie folk band that has been making the rounds, touring heavily this past year. They will return to Philadelphia Feb. 5 to perform at World Cafe Live after stormy weather caused the cancellation of their Jan. 21 show. Their foot-stomping sound can be found on their EP and two albums, including their most recent, "Ain't That Lovin'."  The Triangle had an opportunity to speak with Kari Spieler, one of the band's founders and songwriters, about her experiences starting the band and continuing to play the music that they love.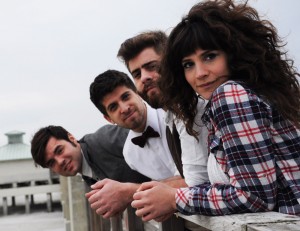 The Triangle: So, how did Swear and Shake get its start in 2010?
Kari Spieler: Well, Adam [McHeffey] and I both were attending [Purchase College, State University of New York] and were singer/songwriters on campus, and that's kind of how we met; but we didn't start working together until the end of our last year at school. He asked me to sing on "Johnnie" and we spent the day together working it out, arranging it and recording it. Then from there on we realized that we worked pretty well together, and it might be fun to start something other than being a solo singer/songwriter.
TT: From there you guys recorded the 2010 EP "Extended Play." Were there any challenges recording the first EP?
KS: Challenges recording the first EP. … It was actually a really great experience. We got to go to one of our professor's studios, Acne in Westchester, [N.Y.], and record the basic track, like the bass, and then finished almost everything else up in Adam's Greenwich, [Conn]. It was nice, really relaxed and it was exciting because it was the first thing we'd recorded together.
TT: After that you started the Kickstarter campaign to fund "Maple Ridge," which was more than successful from what I saw.
KS: We did, yeah. We went over our goal, which is great, and definitely put that money to use by hiring Ben Goldstein [drummer] to help us record the album. It was an incredible experience. We liked it so much we went up to that same barn and recorded our next full-length record, which will be coming out in the next few months.
TT: "Maple Ridge" has some really cool songs like "Moving Parts," and they are all a little different; each one showcases a different songwriter or instrumental part. No one song is alike.
KS: Thank you! That's one of the exciting things about working with another writer and having a team of people just hanging around. We like to try a lot of different styles and we like to just try to go with whatever feels right at the time. "Moving Parts" is so significantly different from "These White Walls," but they fit on the same record, and you'll find a lot of that on our next record, which is called "Ain't That Lovin'."
TT: You guys released two singles in 2013, "Brother" and "Fire." The respective music videos are completely different, "Fire" being the animated piece and "Brother" the energetic live-shoot with fireworks, which had to be fun.
KS: Yeah, that was a lot of fun. You'll notice a lot of shots of me actually just being scared out of my mind, afraid I was going to light my hair on fire; but everyone else really enjoyed it. It was a great experience. [Each video] was completely different to film and we used different directors, as well. "Fire" was really interesting — we just showed up to a sound stage and took photos in front of a green screen and you know, six or seven months later we had this animated video. With "Brother," we did three days of intense shooting and it was awesome. Same thing with the "Fire" video: we got together and spent a few hours being put in different positions, trying on different outfits and then Michael [Oshins] brought it to life along with Nicholas Bell, who illustrated it.
TT: So what is the release date on "Ain't That Lovin'"? Is it still unclear?
KS: Yeah, still unclear. We're finally finished, we got the track listing together. It still needs to be mastered, and we're going to do some shopping to see if we can get some help from a label, but if not we're going to release independently again.
TT: How hard is it to release independently? Are there any difficulties for you guys, being independent?
KS: Our difficulties are mostly financial, but we don't have to answer to anybody. We just decide when and how we want to do it and that's pretty exciting in and of itself; but I've also got nothing to compare it to, so I couldn't tell you what it's like releasing with a label. I imagine there are other challenges that go along with it.
TT: You said you were going back to the barn used for "Maple Ridge" to record "Ain't That Lovin'." Is anything different this time, any new influences?
KS: Well, I think you'll find that this record is significantly different from "Maple Ridge," just from the fact that we have Benny [Goldstein] as our drummer. He also produced the album. We are a different band now, though. We have evolved in a different way. We are trying new songwriting styles, and we have been listening to a lot of The Band, so there are some more "jam" sections in our songs. You always have to try new things; staying the same never helped anybody.