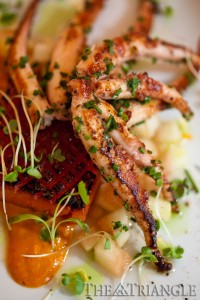 Opened at the end of July by David Fields, a. kitchen offers tapas style dining with a strict focus on food, deviating from typical gimmicks at its Rittenhouse location.
a.kitchen is definitely an interesting eating experience. Located in Rittenhouse Square, it's a pretty small space, but easy on the eyes. It has the very streamlined, upscale environment you would expect from a restaurant of its price range: basically, it has the feel of an upscale bistro that is calm and relaxed, yet you know everyone is there for some top notch food. That atmosphere is probably best around this time of year when you can still eat outside at their tables on a cool evening and get a great view of Rittenhouse Park. In my opinion, eating at a bistro while relaxing outside with good food right out on the street is the best part of Philadelphia dining.
If there is one way to describe a.kitchen, it would be that they are all about the food. Served in tapas-sized portions, with a few slightly larger options, a.kitchen seems to be following a recent restaurant style that is especially notable in bigger cities. In fact, if you've ever been to the Continental just down the street, or other Stephen Starr restaurants, you are probably familiar with meals served tapas-style. However, unlike other restaurants, a.kitchen doesn't try to carve out any particular niche for itself. There are no upscale takes on dinner fare or atmosphere – unlike the contemporary Continental or the eastern-flavored Buddakan. a.kitchen is plain and simple, and the establishment is all about letting the food stand on its own.
It isn't a coincidence either, as this quote from a.kitchen's creator shows: "What I liked best about a.kitchen is that it's hard to pin down exactly what it's trying to be," David Fields, a.kitchen's creator and manager, said in an interview earlier this month with the Philadelphia Daily News. "There's no particular theme here. This is not a French bistro. This is not an Italian trattoria. This is not farm-to-table. … We're not being fussy, but we're not pandering, either." The name "a.kitchen" just proves the fact that Fields and his employees try very hard to just let the food stand on its own. They aren't trying to impress you with a grandiose name. Even their menus are as plain as can be: just plain, black text on a white background. No fancy fonts, either. The staff at a.kitchen just does what they like, and they do it well; whether that be quail stuffed with Italian sausage and mushrooms or shrimp on the griddle with chilies.
For my first dish I had the gnocchi gratin with smoked haddock and summer squash. After that was the warm burrata with garden peas and candied lemon. Both dishes were phenomenal. The gnocchi was savory beyond belief. The marriage of gnocchi with gratin was amazing and had all the comfort of a good bowl of mac and cheese. The summer squash acted as a good contrast and took the dish to the next level. The warm burrata was great as well. Definitely a very refreshing contrast to the gnocchi I had before it, the dish was served in the style of almost a deconstructed salad. A nice chunk of warm burrata was of course the center piece of the dish. For those of you unfamiliar with burrata, you're in for a treat – especially if you're a fan of fresh mozzarella. Burrata is an Italian cheese made of both mozzarella and cream. The outer part of the cheese is just mozzarella while the inside is both cream and mozzarella. It is the kind of thing people like me, who love fresh mozzarella, dream of. That being said, I would have just been happy eating that on its own.
The candied lemon added a nice contrast and tang along with the little drizzling of the vinaigrette. You really had everything you could every want on that plate – and if you are like me and dare to call that a salad, that was the best salad I have had in a long time. Overall I enjoyed my dining experience a great deal and had one of the best meals I've had in a while. The only complaint I have is that the wait for our table was a little long, even though we had a reservation and it was not peak time for the restaurant. The service was great, though, and our waiter was very knowledgeable and quick to offer recommendations for both food and wine. I would definitely say if you are looking for an upscale tapas dining experience, a.kitchen is the place to go and the best I've eaten at yet.