G.O.O.D. Music signee Big Sean has only performed in the Philadelphia area three times: on Penn's campus in 2009, in Feasterville on New Years Day 2011 and April 14 at the Starlight Ballroom.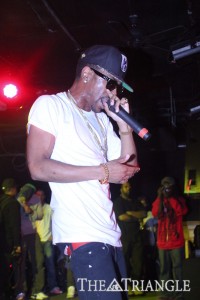 After many local, unsigned acts, including a few Temple University students, the crowd was finally ready to see Big Sean. But the emcee brought out one more performer first: AP. The emcee had convinced the crowd AP was someone that the audience would go crazy when they saw, but as far as I'm concerned, nobody had ever heard of him. After performing a few mediocre songs, AP brought out Philadelphia rappers Freeway and Gilbere Forte. Freeway performed two of his classic hits, "What We Do" and "Rock the Mic," and Gilbere rapped the first half of "Born in '87" acapella.
After all of the opening acts finished, the crowd was still left waiting for Big Sean, thanks to technical difficulties with his DJ's equipment. Once the issue was squared away, Sean finally came out to the "All of the Lights" remix on which he is featured. Sean then continued to perform many songs off of his most recent mixtape, "Finally Famous Vol. 3: BIG."  He also rapped verses from his most recent features, including two songs off of Wiz Khalifa's most recent mixtape, "Cabin Fever:" "GangBang" and "Phone Numbers."
In addition to all of the tracks from his most recent mixtape, Sean took it back for his older fans to his second mixtape, "Finally Famous Vol. 2: UKNOWBIGSEAN." He performed "Desire, Want & Need" as well as "Supa Dupa," where Sean first used the punch-line flow that has become a huge trend amongst all rappers. Music superstar Drake credited Sean for creating the rhyme scheme in an interview last year.
Toward the end of his set, Sean performed the single off of his debut album "My Last," which features Chris Brown. He closed the show with "What U Doin?," his most popular song to date. The crowd got very involved during the call and response section of the song as Sean ended the night with a bang.
For an artist who still hasn't released their debut album, Big Sean's performance was very impressive. The audience loved every moment of the performance; the girls went crazy whenever he reached out into the crowd. One girl got so excited after the first few songs that she threw her panties on stage. Another wrote her phone number onto a piece of paper and put it in Sean's hand while he was performing a song.
Following the show, I had the opportunity to speak with Big Sean briefly about his upcoming album, "Finally Famous The Album," due out June 21. Sean said the album has changed a lot in the last two weeks and that he had just finished recording.  After releasing three mixtapes and countless features over the past few years, Big Sean is finally ready to drop his debut album on the world this summer.