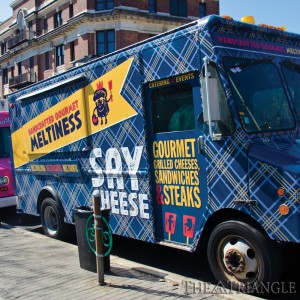 Ah, the humble grilled cheese sandwich. Long a staple of the college diet, it's best known for being easy to make and equally easy to scarf down. However, Say Cheese, a food truck located on 33rd Street between Market and Arch streets that serves "gourmet grilled cheeses, sandwiches and steaks," hopes to add a bit of sophistication to the grilled cheese. Featuring an exclusive blend of cheeses, artisan Italian breads and ingredients one would never expect to see in a grilled cheese sandwich, how does Say Cheese fare in its effort to add new flavors to the tried-and-true classic?
Judging from the sandwich I ate, they are definitely on to something. I decided to partake in The Franc, which consisted of their Say Cheese blend (a mix of Asiago, Fontina and baby Swiss), pork belly confit and stone ground mustard, all on top of their wonderful, crunchy, flaky Italian bread. While the sandwich was not particularly large, it was extremely dense, packed to the brim with melted cheese and bits of pork belly. It felt quite substantial in my hand. The first bite revealed the creation to be very tasty — the cheeses, mustard and pork worked wonderfully together, combining powerful flavors and disparate textures to form an immensely satisfying whole. Of particular note was the pork belly; fried in its own fat, the meat was incredibly tender and savory. The cheese blend also worked very well — it was wonderfully melted and carried a distinct, delicious flavor worthy of a food truck devoted solely to cheese. I must admit that I am very excited to try more of their creations.
While I was initially skeptical of paying $7 for a grilled cheese sandwich (the price of The Franc), my fears were quickly assuaged. Beyond being a seriously delicious sandwich, the combination of an ample amount of cheese and a generous helping of pork belly made the sandwich satisfying and jam-packed with flavor. While there are certainly better values to be had, I think that The Franc is well worth its price, albeit as an occasional indulgence. Combine this with a diverse menu of many varieties of grilled cheese and cheesesteaks — all featuring their signature blend of cheeses, a good selection of sodas and a very friendly staff — and it becomes clear that Say Cheese is absolutely worth a visit, particularly if you're in the mood for a not-so-humble grilled cheese sandwich.