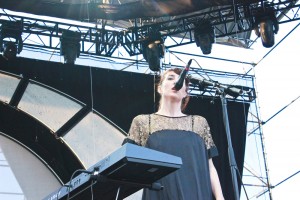 Sara Bareilles brought her "Little Black Dress" tour to the Skyline Stage at the Mann Center for the Performing Arts July 17. The tour kicked off seven days earlier in Chicago. This was my first time at a Sara Bareilles concert, and after my experience that night, it will not be my last. I like to think that I appreciate a wide array of music. I'm no musical geek, but I like to have my ears stimulated by great vocals and exceptional songwriting. Bareilles possesses those skills, which have earned her millions of fans.
The Skyline Stage was filled with young girls and their parents, an abundant amount of 20-somethings and some older couples. The diverse audience truly complimented Bareilles' skills because her work offers something for everyone. Bareilles gave an endearing and energetic performance that captured her vibrant personality. Her performance was everything I thought it would be and more.
Opening for Bareilles were Hannah Georgas and Emily King, who each had 20-minute sets. Georgas had a spirited pop performance that included popular songs such as "Waiting Game" and "Enemies." King's performance, which was a bit reserved, was a combination of soul and pop. King, who hasn't released a full-length album since 2007, performed new singles "Distance" and "Decisions," a song on which she collaborated with Taylor McFerrin. Both Georgas and King displayed their unique songwriting skills while getting the crowd ready for the main act.
Bareilles started off with the theme song of her current tour, "Little Black Dress" (appropriately wearing a little black dress), which showed her ability to engage with the crowd immediately. She followed her opener with "I Wanna Be Like Me," an anthem to individuality. Inserted between some of her more well-known hits, such as "Love Song" and "King of Anything," were several songs that displayed Bareilles' strong ability as a performer with a flexible musical repertoire and a talent for writing stylish lyrics that highlight human emotions.
There are always good singers, but what separates the good from the great are the ones that have the ability to use their vocals to connect with the listeners and show vulnerability. Bareilles has the uncanny ability to do this effortlessly, which truly is her greatest talent. While the use of instruments can be a crutch for other artists, Bareilles' use of piano and guitar is a welcome addition.
Midway through her concert, Bareilles covered Sia's smash hit "Chandelier." Her acoustic cover displayed her originality and vocal talents even further. There were notes that Bareilles was able to hit that Sia could not without electronic assistance.
Some of the songs that resonated with me were "Gravity," "Uncharted" and "Manhattan."  Particularly, "Gravity," which started with Bareilles alone on her piano, where she is at her best, and ended with her band providing a passionate musical buildup that touched everyone in the crowd. Bareilles toned down the emotional buildup for "Uncharted" and let the lyrics within the song shine through.
Closing with "Brave," her newest hit single, Bareilles brought the crowd into a dancing mood. The song, she described, was written about a friend who was struggling through the tough personal decision of coming out. The powerful lyrics were matched only by Bareilles' liveliness and dynamic nature. She showed no fatigue that would normally come from a 90-minute set. She saved her best for last, and it truly was memorable to see her and the crowd in a moment of musical harmony. While this was my first Sara Bareilles concert, I look forward to seeing her again in the future.