Lollapalooza, a three-day music festival on its 10th installment, took place Aug. 1-3 at Chicago's iconic Grant Park. The sold-out festival wrangled in more than 100,000 concertgoers per day, including President Barack Obama's daughter, Malia. Fans traveled from near and far to catch a glimpse of some of their favorite artists.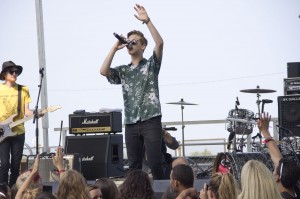 This year, Outkast (who are celebrating the 20th anniversary of their first album), Eminem, Lorde, Kings of Leon, Calvin Harris and other disc jockeys, bands, and rappers were spread out across the grounds on eight different stages.
We had a chance to catch up with Ryan Beatty, an 18-year-old singer-songwriter who happened to be one of the youngest performers on the lineup, on the second day, hours before he hit the stage. Beatty is most known for his 2012 single "Hey L.A." off his debut EP, "Because of You."
The Triangle: What acts have you been able to catch so far?
Ryan Beatty: I saw Courtney Barnett, Blood Orange, then we went to Lorde after that, which was my first time seeing Lorde.
TT: What did you think of her performance?
RB: I was honestly blown away. I thought she was really great. I think she was one of my favorite performances of yesterday. Then, after that, we went to try and see Eminem. There were so many people. It was packed. Like, I've never seen anything like it. Then we left to check out Arctic Monkeys. It was a good day. I got to see a lot of great acts.
TT: If you had an opportunity to create your own lineup, what artists would you put on the bill? I know you're a big John Mayer fan.
RB: Yeah, that would be cool. John Mayer would be a good headliner. You know, I was talking about it today, too, as we were walking in on the other side — there was a band playing. They sound a little bit like Arcade Fire. I was saying how cool it would be to see Arcade Fire here because I've never seen them before. They're not playing this year, but I wish they were.
TT: Can you give me one more?
RB: I'm going to add Haim to that. That would be super fun. I got to see them in London at the iTunes Festival, like, a year ago, and they were really, really good.
TT: What are some festival must-haves when embarking on three days of nonstop music?
RB: This is my first festival performance actually, so I'm still figuring that out as I go. I guess, comfortable shoes. I'm wearing Converses.
TT: They look brand new and not broken in. I'd assume they're not very comfortable.
RB: Exactly! This is my first time wearing them today. These may end up ruined. But, I would definitely say bring comfortable shoes. Wear something you're comfortable in. And I feel like if you really want to enjoy the shows, don't dress to impress — dress to be comfortable. I see a lot of contrast to that. People just hate their lives because of what they're wearing.
TT: Like girls who wear heels.
RB: Yeah, like, that's insane. I don't understand it.
TT: As a musician, there are differences between playing festivals and playing or headlining your own tour. Tell me some of those differences.
RB: Yeah, definitely. Time-wise, I have a lot less time, which I'm not complaining at all. It's an honor to even be playing here. But, at my own shows I can play whatever songs I want and how long I want. Here I get like 20 minutes. So, you have to really condense. You want to try to play songs to please the supporters, please the people who are there to see you and also make sure that people who don't know who you are will hopefully hear your music and enjoy it too. So, try to fit the right songs in your set time. We were trying to figure that out yesterday.
TT: Do you recall watching your first concert or festival?
RB: I went to Warped Tour in seventh grade in Fresno [California], where I grew up. I think it was 2008. It was the summer going into eighth grade. It was the hottest day in my life. It was my first time doing anything like that. You know, Warped Tour draws a variety of crowds, so there was the goth and emo kids there. And there were the kids there to see Katy Perry — she was playing that year. It was really cool. I remember Katy Perry was doing a meet and greet, and I was standing on the side with two of my other friends. By then, I'd only heard the song "I Kissed a Girl." I remember yelling her name and she looked over at us and blew us a kiss. I was so stoked! I don't even think "I Kissed a Girl" had even blown up by then. That was a cool experience looking back on it.
TT: I know you're going on tour soon and Philadelphia is one of the stops. You're playing at North Star Bar. What can we expect from your upcoming show?
RB: I'm doing a bunch of one-off shows; it's actually not an official tour or anything. But Philadelphia's a part of it. I'm excited to go back to Philly. It's been a while. I'd love to start playing some new tunes. I have a ton of new songs, but I don't want to start playing them prematurely before I actually release the songs. I did that last year with my favorite song "Chameleon" and I feel like it would have impacted a little bigger if we didn't start playing it so early on. That's one thing I've kind of learned. But I still think that song's incredible. I'm very proud of that one.
TT: Finish this sentence: Lollapalooza is …
RB: Lollapalooza is, I don't even know if I can say it in one word. It's intense. It's mind-blowing. It's crazy to see how many people come together. You know, yesterday at Eminem, it was just unreal. I was kind of near the front and I was looking toward the back. It almost looked like it was going on for forever. So, it's kind of inspiring. For someone to have that impact and have that many people watching them — that's the ultimate goal.
TT: What did you think when Rihanna came out for the surprise performance?
RB: That was insane! It's funny because that was right as we were leaving to go to Arctic Monkeys. We were about to get on the [golf] cart to take us to the other side, and all of a sudden we hear "Love the Way You Lie." At first we were like, "Is that a track?" But it sounded so live. So, we asked the person next to us, and she said Rihanna came out.
TT: Did you turn back around to watch?
RB: Yeah, we were kind of on the side and stopped for a second to listen. But it was weird though because as we kept going the sound got better the further we got. It was cool.
TT: Is this the ultimate goal for musicians like you to play legendary festivals like this?
RB: For me, this was a huge goal of mine. Hopefully this is just the beginning. I'm very lucky and very grateful to be playing here. And I think it's a huge accomplishment.
TT: Your peers — Cody Simpson, Justin Bieber and even Austin Mahone — they don't play music festivals like this.
RB: The thing is too, with that, sometimes I'll get paired up with them. I do think we are each individually our own artists. But, also sometimes, I don't understand why people do compare. Like, I can understand in the past, but I guess it's also because I haven't really made my mark of who I am as an artist quite yet. I don't think I've clarified exactly who I am because I haven't released as much music as I would have liked to. My older stuff is more pop. But the newer stuff I've been making definitely has a more organic sound and definitely, I feel like, fits festivals. I guess the best way to explain it is my song "Chameleon." That shows a taste of it. But I'm excited to release an album so we can finally show people that I am my own person.
TT: Is there a release date yet?
RB: I don't have a release date yet. I'm still finishing recording some things and still have a couple ideas I need to get down. But it's getting there, and it's coming together as a good body of work. I'm really proud of it.
Ryan Beatty will be performing at Philadelphia's North Star Bar & Restaurant, 2639 Poplar St., Sept. 12.