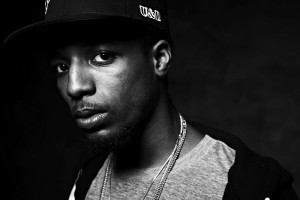 As an up-and-coming rapper, imagine this nine-month stretch: Release a highly regarded mixtape; get signed to Rick Ross' label, Maybach Music Group; perform in front of 42,000 people at the first annual Made in America festival; have a music video from your mixtape premiered on "106 & Park"; and go on your first nationwide tour. Sounds like a good run, right? Well, this is exactly what 2012 has been like for Rockie Fresh, the 21-year-old rapper from Chicago.
It all started with "Driving 88," Rockie's third mixtape that was released in January. While his first two mixtapes, "Rockie's Modern Life" and "The Otherside," were well received, the third was the charm for Rockie and helped propel him to new heights in the industry. When I spoke with him on the phone last week, he explained the importance of his first two projects.
"I really wanted to challenge myself to create records from scratch. That was my learning process and just testing to see what type of people my music related to. With 'Driving 88' it was me slowly coming into my own. With each project there has been obvious progression."
Going into the project, Rockie was more motivated than ever given his status in the industry when the mixtape was released.
"My goal was to sum up my hunger to that point. At that time I didn't have the type of deals on the table that I wanted. It was one of those things where I felt like I hadn't reached a lot of my goals, but I was still on a good pace to do what I wanted to do."
"Driving 88," which is one of 2012's best mixtapes, shows the growth, development and hunger Rockie previously described. The project is based around themes from "Back to the Future" and even includes samples of Marty McFly and Doc Brown on a few songs. Rockie explained the meaning behind this theme during our conversation last week. He said: "The DeLorean had to go 88 mph to get to its destination. The way my career was moving at that time was random, like that speed. But at the same time it was right on track. I wanted to deliver a movielike experience with the project."
"Driving 88" accomplished that goal by having a cohesive sound throughout.
From picking samples to structuring out records, Rockie had a very hands-on approach with the mixtape, which helped create a very unique sound that is heavily inspired by alternative music. "Driving 88" samples the likes of SBTRKT, Civil Twilight and Coldplay, something you rarely see in hip-hop.
I asked him about the influence this genre has had on his music. Rockie said, "I love the way the music sounds, the emotion and the instrumentation that they use, how smooth it is, and what they talk about. It's about their life and their story, not about material possessions, which makes it so much different than what you hear in rap music."
That inspiration comes through with his message, which is much less focused on the lavish lifestyle and drug use that other rappers promote frequently in their music.
"I feel like more people live a lifestyle that's different than that. My message definitely connects with people on a more at-home level. I want to inspire them to achieve their dreams and believe that they can do whatever."
With "Driving 88" still gaining buzz and attention across the country, Rockie Fresh is getting ready to release his next mixtape, "Electric Highway."
He described the project as "the same futuristic chill type of music, but the quality has come up thanks to the resources and the guys I can call in for features. I had a little more fun with the producers, and I've become more mature because I've experienced a lot since the last mixtape."
"Electric Highway" will be available in October, but Rockie Fresh is currently promoting the mixtape with a nationwide tour, which will hit The Barbary in Philadelphia Tuesday, Oct. 23. Tickets are available now on TicketFly for $12.
It's safe to say that 2012 has been a whirlwind for Rockie. He described the last few months as "super fast-paced. I haven't been able to take it all in yet, but I feel like the best is yet to come."
With the "Electric Highway" tour and mixtape, it's clear that Rockie isn't taking his foot off the gas any time soon.