Rockie Fresh had a pretty incredible 2012. He released a brand new mixtape, "Driving 88," which continued to build his hype. He also signed a deal with Rick Ross' Maybach Music Group, had a music video premiere on BET's "106 & Park" and went on his first headlining national tour.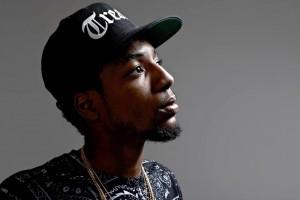 To kick off 2013, Rockie unleashed his brand-new mixtape, "Electric Highway," which became available for free download Jan. 21 on datpiff.com. With his first release since signing to MMG last year, Rockie Fresh was able to land features from his boss, Rick Ross, as well as Nipsey Hussle and Curren$y.
With "Driving 88," Rockie was able to begin creating a very unique sound, fueled by influences from alternative music and frequent references to "Back to the Future." With "Electric Highway," he continued to build his sound into something unlike what any other hip-hop artist is creating right now. When you think about the mixtape's title, your first thought is about something futuristic, and from the moment you press play, that concept and sound instantly take over and create an entire world for the listener.
Rockie opens the project with "The Future," which leads with an advertisement for the DeLorean before Rockie delivers his first verses of the album, including the sly line, "I'd rather listen to Taylor Swift than most of you n—-s." It's nice to see Rockie taking some shots and having confidence in himself to deliver a line like that on the mixtape's opening track. This is followed up by one of the standout tracks from the mixtape, "The Lights," focusing in on Rockie's quest for stardom.
The album's star track is "Life Long," featuring Rick Ross and Nipsey Hussle, with production from Boi1da and The Maven Boys. Ross spits, "Sometimes I glorify the finer things, because I didn't see the minor things," as he delivers a boastful yet introspective verse to kick the song off. "Work all night, party all night, count money all night then I smoke all night, a young n—- I'm just tryna live my life long," Rockie shares on the hook. While this series of events probably won't increase the length of one's life, the 21-year-old is clearly enjoying where his life has gone over the last year.
Other notable tracks from the project include "Show Me Sumthin'" featuring Sasha Go Hard, "Roll Up Right Now" featuring Curren$y, and the mixtape's lead single, "Nobody."
"Electric Highway" comes to an end with "Something Special," a song that is perfectly described by its title. The track is produced by Ayo The Producer, who worked with Drake on "Do It All" and Lil Wayne on "John (If I Die Today)." "Life is way more than these pretty chicks and fancy cars, it's all in how you play your cards," Rockie recites on the first verse over the slow-moving keys and quiet snaps and metronome in the background. As the hook drops, the drums come in and give this track a very strong, full body, including a guitar riff in the final verse.
Overall, "Electric Highway" is a very impressive progression from Rockie Fresh, following up "Driving 88." Rockie strived to create his own sound within the hip-hop genre and clearly succeeded with his brand-new project.