With spring fully in bloom and the weather (finally) starting to warm up, now is as good of a time as any for a date out to beautiful Rittenhouse Square, which has sprouted abundant foliage and shaken off the dull lifelessness of winter.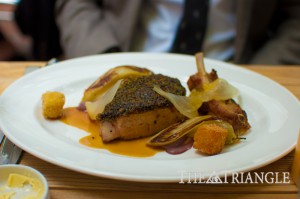 If you feel like impressing your date with a bit more than a stroll around the park, it may be worthwhile to check out Rittenhouse Tavern, located on the corner of Manning and South 18th streets. Despite a wealth of dining establishments near Rittenhouse Square, Rittenhouse Tavern has recently opened its doors with the promise of "refined, contemporary American tavern fare"— a promise that it entirely fulfills.
Located inside the historic Wetherill Mansion, a gorgeous 105-year-old home shared with the Art Alliance of Philadelphia, Rittenhouse Tavern immediately impresses with its stately, elegant decor. I took in as much of the beauty of the home as I could before being led out into the chefs' garden, an outdoor eating area with ample plant life and rustic lanterns that, put succinctly, was picturesque.
Shortly after sitting down I was greeted with homemade rolls that contained dill and horseradish, as well as salted sweet butter — a delicious treat. I could not resist indulging on the bread.
After perusing the menu, which tempted me with options like Amish chicken with dirty barley, crispy leg and rosemary jus; day boat sea scallops with a rhubarb reduction, white asparagus and English peas; and crisp arctic char with artichokes in miso, licorice and young garlic, I opted to order the rack of Berkshire pork with crisp belly, purple mustard, quinoa crust and endive.
The service was brisk and attentive; I neither felt overburdened by the staff nor ignored (the busboy was a bit overzealous in refilling my glass of water, but I digress). In a surprisingly short amount of time, my pork was sitting in front of me, waiting to be consumed.
Unsurprisingly, given the stellar job the restaurant had already done, the dish was superb. The pork was tender and cooked to perfection, with the quinoa crust and purple mustard complementing it while still allowing for the excellent cut of meat to impart its full flavor. The endive served to add further to the pork, contributing another layer of texture and flavor.
Finally, the crisp belly — essentially small fried nuggets of pork fat — was tasty, though not a favorite of mine. Despite the fact that I far prefer leaner cuts of meat and generally do not eat fatty foods, I still enjoyed a few pieces of the crisp belly.
Rittenhouse Tavern is, however, fairly pricey for the average college student. With most entrees costing almost $30, be prepared to spend a sizable amount of money if you choose to eat here.
That being said, the dining experience was an absolute treat. If you wish to impress someone with a bit more than a stroll around the park, a dinner at Rittenhouse Tavern may be just the ticket.