Rick Ross is arguably the hottest rapper in hip-hop right now and has built up an incredibly successful label, Maybach Music Group, under Warner Bros. Records. Despite putting out his fifth studio album, "God Forgives, I Don't," this summer, Ross decided to keep the momentum going with the release of "The Black Bar Mitzvah." In case you were curious, Ross has no Jewish ancestors but has a love for the people and culture, so he named his mixtape accordingly. The mixtape is available for free download from Datpiff and features all remixes of current trap records.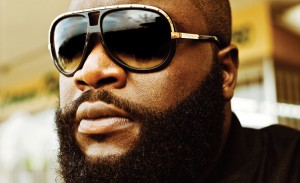 Ross opens the project by letting you know about his Reebok and Ciroc endorsements as well as the WingStop chain restaurants he currently owns, where he recommends the lemon pepper sauce for your lady friend. He also laughs about the acquisition of his $12 million yacht, and asks to not be included in the Forbes list this year. After catching you up with all that is going on in his life, Ross then dives into a remix of the "Don't Like" remix, a track the G.O.O.D. Music team had created for their collaborative album, "Cruel Summer." Ross delivers a verse and then lets the rest of the song play out as if he were on it from the beginning. This is a trend across the entire mixtape, making the project much longer than it actually needed to be. With that being said, there are a number of great verses from Ross on this mixtape, but people aren't listening to the mixtape to hear their favorite songs; they're listening for his verses. Therefore, the inclusion of the entire original song after his verse is irrelevant and unnecessary.
One of the highlights from the project is the remix of Lil Reese's "Us" featuring Drake, who delivers another memorable line that will likely be belted out on frequent occasions: "Shout my lawyer man he a contract killa." This track is followed by an interlude from Peter Rosenberg, a radio host on Hot 97 in New York City, in which he acts as a Rabbi congratulating Ross on his bar mitzvah, which is quite entertaining.
Other highlights from the mixtape include the remix of "Presidential," which was originally featured on Ross' latest album. The remix includes Pharrell, who produced the song, and Rockie Fresh, Ross' latest signing. While Ross' verses are the same as they were on the album, Pharrell has replaced Elijah Blake on the hook and Rockie added a verse of his own. On the chorus Pharrell sings about Rolex watches that cost more than Drexel's annual tuition, which is simultaneously inspiring and horrifying. Rockie adds slick lines such as "I'm a young fly n—-, just reppin' for my era, I be touchin' hella bread like I'm working at Panera."
After releasing a gold-certified album earlier this summer, and given the quality of Ross' most recent mixtape, "Rich Forever," "The Black Bar Mitzvah" is a bit of a disappointment. While his previous mixtape featured all original content and this did not, it still lacked the energy that the previous mixtape created. Despite having a number of quality verses and features from Lil Wayne, 2 Chainz, Pharrell and members of his MMG team, the mixtape could have been more concise had it just featured their verses along with Ross', and not the entirety of the original songs. In today's era, artists put out music so frequently and fear becoming irrelevant if they aren't releasing something new every few months. For a star in the industry like Ross, this mixtape was not necessary, and while new music is always appreciated, next time around one can only hope that he focuses on quality over quantity.