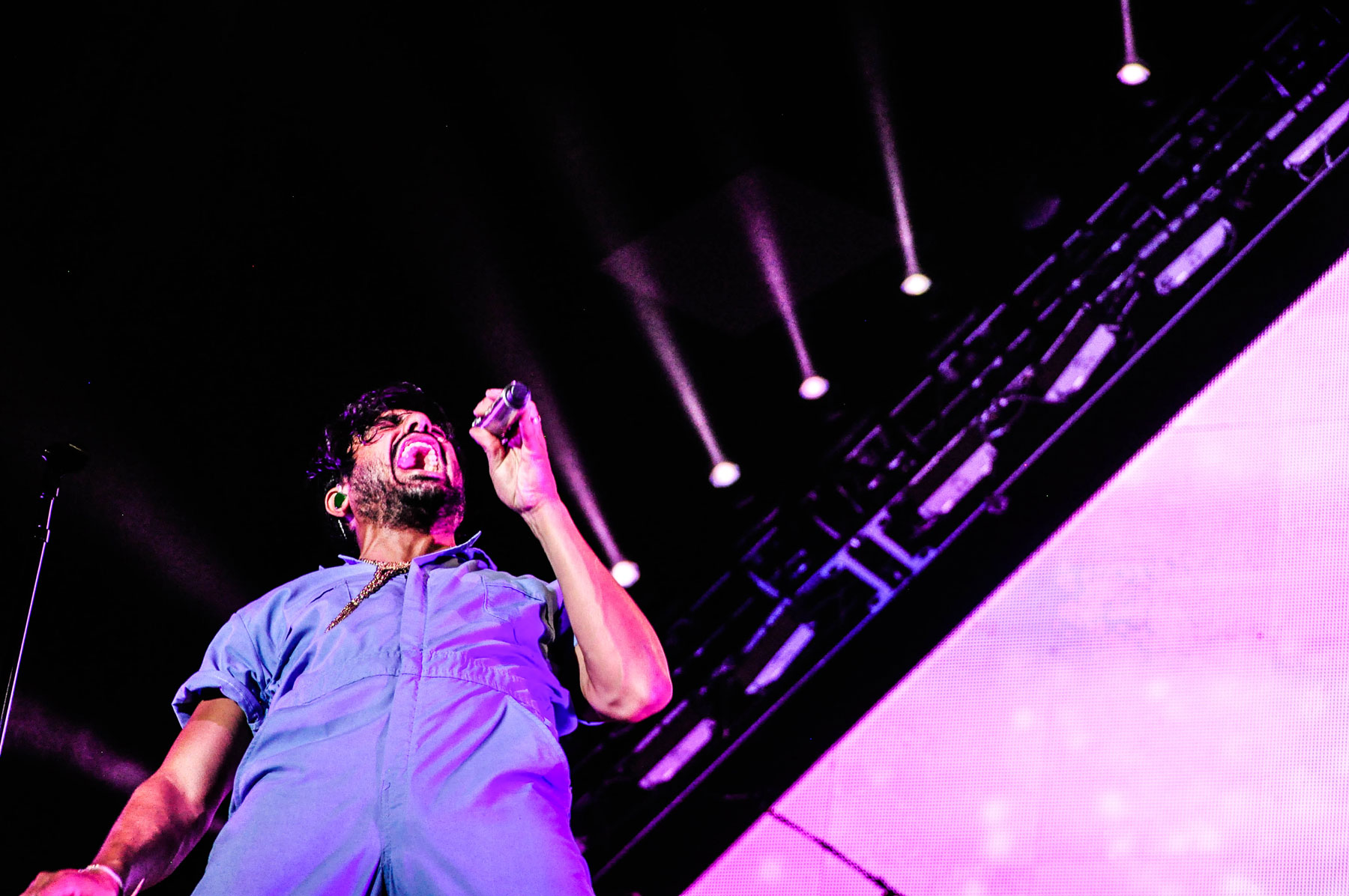 No matter how many "end of summer" concerts occur here in Philadelphia, Mother Nature still hasn't taken the hint; the summer temperatures have remained the same, at times seemingly higher than ever.
The "Home of the Strange" tour, named for headliner Young the Giant's most recent album, was no exception. The concert was held Sept. 15 at Festival Pier at Penn's Landing. While the weather confused those in sweaters, Joywave, Cold War Kids and Young the Giant each put on solid performances that distracted from the oppressive heat, if only momentarily.
Electro-rock band Joywave set the bar high in their opening performance. Lead by lead singer and guitarist Daniel Armbuster and accompanied by Joseph Morinelli, Travis Johansen, Paul Brenner, Andrew York and Benjamin Bailey, they played fluidly together and exceeded my expectations. Their first album was just released in 2015, and they have already made an impact on many of their fans.  
They opened and closed their set with songs from their 2015 album, "How Do You Feel Now." Since that release, they have released two additional albums. Their most recent album, "Content," came out in 2017, and made for great performances at Festival Pier. Song titles included "It's a Trip!," "Little Lies You're Told" and "Doubt." There were clear fans in the audience, who not only love them for their sound but the messages they convey through their music.
Known to utilize electronic beats and synthetics, their songwriting skills are not to be overlooked. In "Doubt," they question their lifestyle choices singing,  "I fill myself with doubt, I feel like I sold out" with the bridge saying they are "never good enough, never satisfied with nothing." While this song is specifically about them in the music industry, the feeling of doubt and regret is universal. With too much success, you are a "sell out," and without commercial popularity they can't financially support themselves.
While there is no resolution within the song itself at least they are able to successfully vocalize the struggle of doubting personal lifestyle choices. While we all want to do what we love everyday, what are we willing to give up in order to earn what we want?  I would also highly encourage anyone reading this to check out the video for "It's a Trip," which has brilliant, ironic visuals that you need to see to believe.
Helming from Rochester, New York, Joywave's music has a unique style that is both interesting and memorable. Their most commercially popular song, "Tongues," was featured in a Nexus phone commercial and was immediately recognized by those who were initially unfamiliar with the band.
Lead singer Daniel Armbuster had an incredible energy and interacted with both the crowd and his fellow bandmates. Their set was seven songs long, the perfect length to give fans a taste of their music without oversaturating. It's always a good thing to leave a crowd wanting more, rather than overstaying your welcome. I am excited to see how they continue to develop as a band. They did an excellent job in showcasing their music, engaging with the audience and undoubtedly gaining fans.
Cold War Kids, a staple of the 2000s alternative rock scene, followed Joywave. Lead singer Nathan Willett's recognizable, almost haunting voice was enchanting as the band performed a decade's worth of great, contemporary rock music. "All This Could Be Yours," "Miracle Mile" and "Hang Me Up to Dry" are three of their most popular songs and instantly hyped up the crowd.
The only problem was, these were the first three songs of the set. Cold War Kids struggled to maintain that initial energy as they played through the rest of their 14-song set. This coupled with the fact that they solely used dark lighting added to the audience's loss of interest and energy. One highlight that did occur toward the end of their set was a cover of Rihanna's "Love on the Brain," which was interesting to hear with Cold War Kids' twist. Overall, though, I think new and longtime fans alike were a little disappointed.
Thankfully, Young the Giant was the breath of fresh air that the sweaty Philadelphians needed on that aggressively hot September night. Unlike Cold War Kids, their set was engaging, exciting and visually interesting, They created a technicolor dream setting using a large triangle to create a silhouette for the already brightly illuminated band members.
With constantly changing projections, the stage essentially looked like a 50-foot kaleidoscope. The background images were scenic and glorious ranging from neon ocean waves to mountain ranges and abstract art. While this was one of the most intricate lighting displays I have ever seen, lead singer Sameer Ghadia's vocals and overall performance outshined the lights. He did not stop moving and did a great job in pouring emotion into the music.
Unlike Cold War Kids, their setlist successfully flowed between their enigmatic anthems through their acoustic ballads and back again. From the opening number "Amerika" (off their most recent album, "Home of the Strange") to the end when they played their 2011 smash hit "My Body," they did not have one sour moment. Young the Giant is definitely a band I would love to see again and would recommend to anyone at any age. Except for maybe folks over the age of 70. I don't really foresee any senior citizens getting down to Young the Giant.