Hidden in Society Hill at 237 St. James Place, Zahav recreates the atmosphere of the mysterious Jerusalem and allows guests the chance to envision what they think the city is like. The dim lighting, stone arches and wooden tables give patrons a feel for romance and the old country. Tranquil with excellent service, Zahav creates wonders for those wanting to enjoy quality Israeli food, highlighting the culinary influences of Persia, North Africa, Eastern Europe and the Mediterranean.
Everything from cocktails to dinner was outstanding. It's rare to experience a restaurant in which guests don't dislike at least one item during dinner. When this occurs, guests can be reassured that the chef truly cares about the food and those he services. It is no surprise that Chef Solomonov recently received the James Beard Award for "Best Chef Mid-Atlantic."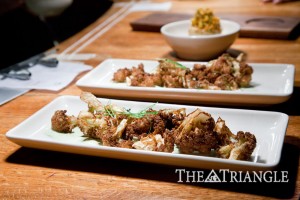 Before dinner arrived, I started with the Pinot Noir, which was exceptional. A 2008, Fleur from the Central Coast was sweet and not too tannic. Pinot Noir is a smooth wine that pairs well with many dishes. My friends and I were then presented with a pitcher of Lemonnana consisting of bourbon, mint, lemon and verbena. It is best to take it slow with this cocktail because it is a refreshing drink that tastes more like mellow lemonade with a bourbon aftertaste.
Similar to other trendy restaurants in the city, Zahav offers a menu of small plates. It is advised to order at least three to four dishes per person to share, as there are many options to choose from. To start, my friends and I shared the Turkish Hummus, which was served warm with garlic and melted butter on top. Served with house-made laffa bread, the hummus was smooth, rich and full of flavor. We also indulged in the Saltim, a selection of eight different salads to sample. We were presented with a mélange that included a beet salad, pickled carrots, marinated okra, tabouli, eggplant and more. Almost all of the salads were light and refreshing, and offered a nice contrast to the hummus.
Next we took on the Mezze section of the menu, a selection of small plates. Some items well worth trying are: crispy cigars, made up of phyllo dough filled with Turkish feta, ramps and English peas; house smoked sable served over a slice of Challah bread and an over-easy egg; and the fried cauliflower, accompanied by a dill-mint and garlic sauce.
Soon after, it was time to tackle a couple items from the grill in the Al Ha'esh portion of the menu. The braised beef cheeks with asparagus, celery root and pumpkin rice proved to be very tender and pleasing to the palate. The crispy branzino with wild rice, chickpeas and ramps was also quite decent; though it was a little too salty, the fish remained very moist and flavorful in all other aspects.
Zahav proves to be one restaurant that is very well educated in culinary arts. The experience may be a little pricey, but it's definitely worth every penny. The school year is coming to a close once more, and what better way to end the year than with drinks, good food and a place to call home.