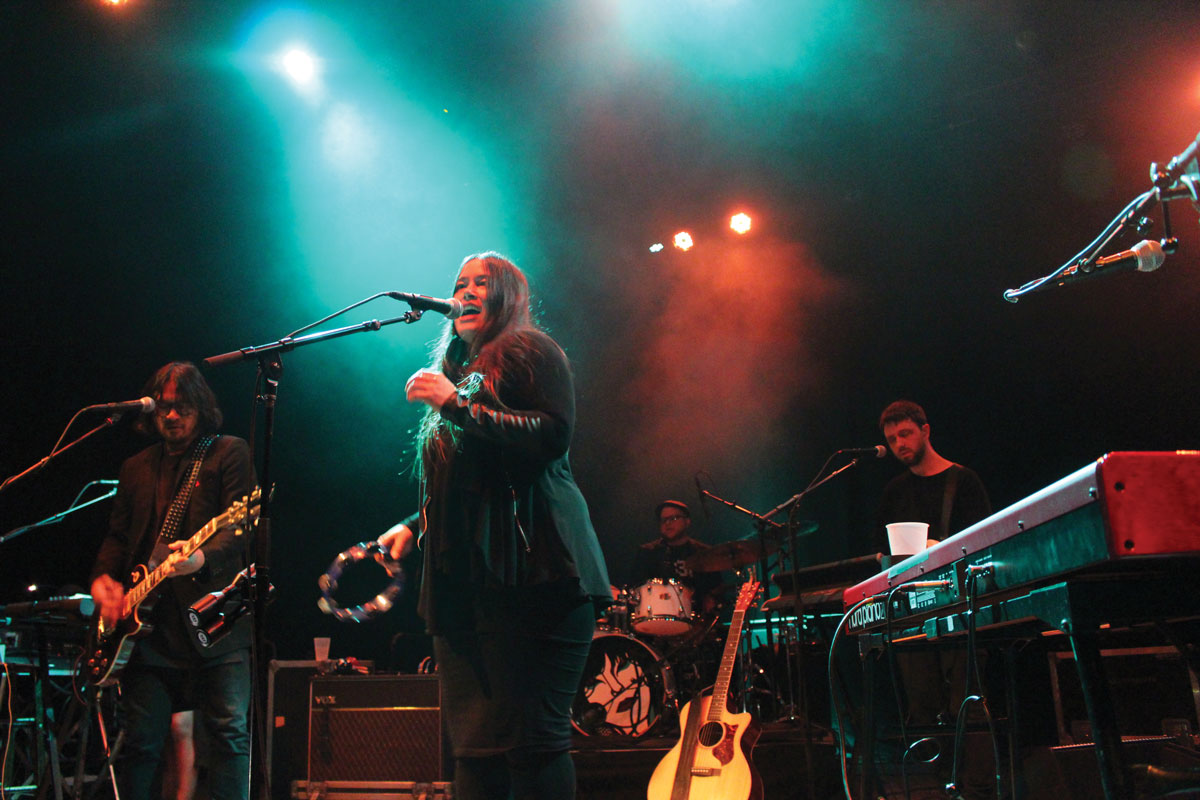 Rachael Yamagata headlined a show at Union Transfer Nov. 13. With three albums and four EPs released since the start of her career in 2003, she has become quite a seasoned songwriter and performer. After a mellow acoustic set from singer-songwriter Tony Lucca, Yamagata and her band took the stage. She took her place at the piano and started the show off with a new song.
Her style of music can be classified as "adult alternative," which is surprisingly accurate to her demographic. In a quick scan around the venue, I was shocked not to see any fellow college students. Most of the fans present were somewhere between 30 and 50 years old. I personally think her music would appeal to any age group, as she sings timelessly relatable songs about love and relationships.
A few songs into her set, she brought out her acoustic guitar and announced a slight change in the setlist. She took a brief moment to address the terrorist attacks in Paris and dedicated the fan-favorite, "Duet," to the victims of the attack. It was very moving. Throughout her set, she played a large amount of unreleased songs from her unnamed forthcoming album. She even played a medley, combining three songs seamlessly and with impressive energy.
As talented of a pianist and guitarist as she is, it is her capabilities as a singer that are by far her biggest asset. Her voice is very rich and soulful, and she has quite an impressive range. She sang with such raw emotion, which made her heartbreak-laden lyrics that much more relatable. She was also very funny in between songs, sharing personal stories about her experiences while on tour. She also mentioned that many people assume that she and the guitarist are in a relationship, since they are both Asian.
Yamagata's backing band was consistently on point, shredding through intricate guitar solos and embellishing with saxophone and keyboard licks. Some of the strongest songs of the set were her older hits, such as "Worn Me Down," "Elephants" and "Be Be Your Love." My personal favorite song of the evening was "You Won't Let Me," from her third album, "Chesapeake." It is a very deep and personal song that she completely poured her whole self into. By the last chorus, she was practically belting out the lyrics, escalating their emotional impact. Near the end of the set, Yamagata performed a beautiful cover of Fleetwood Mac's "Landslide" that had everyone in the audience singing along.
Chances are, you probably have heard one or two of Rachael Yamagata's songs, as they have been used in the soundtracks of many television shows and films. Her music is very accessible and soothing, and can be good for background music while studying or doing homework. If you like singer-songwriters, I recommend that you give her a listen.