While this year has not yet brought cold and wintry weather to Philadelphia, this week I sampled a brew that longs to be consumed in a log cabin in front of a crackling fireplace after trudging home through the falling snow on a cold winter's day. The Belgian Quadrupel is a strong, dark Trappist style of ale, which is stronger and bolder than its sister styles of Dubbel and Tripel. Quads are typically very high in alcohol content, often over 10 percent alcohol by volume. Because of the sugar added to boost the ABV, they are also very sweet beers.
Castle Brewery Van Honsebrouck in Ingelmunster, Belgium, brews the Kasteel brand. The Van Honsebrouck family has been brewing in Ingelmunster since 1900 and is part of the Belgian Family Brewers Association, which requires members to have been brewing beer in Belgium nonstop for at least 50 years. The brewery itself resides in an old, luxurious castle that has been around since 1736, originally built on the site of a monastery. The castle has since belonged to a number of families until it was purchased and turned into a brewery in 1986. The Van Honsebrouck family brews a number of beers under different labels, including Brigand, Bacchus, St. Louis, and Kasteel, one of which is an intense and complex Quadruple called Kasteel Donker.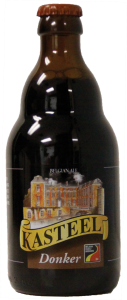 This beer will do well served in a snifter, tulip glass or chalice to allow it to channel aromas as you sip on it. I poured the bottle into a tulip glass with little to no head. Any remnants of foam dissipated in less than 30 seconds, leaving no trace on the side of the glass. The ale is a nearly opaque caramel-brown color when held up to the light.
A deep sniff delivers a toasty caramel fragrance with hints of salt water. Hidden under these two aromas, it is possible to detect the alcoholic strength of the beverage, reminiscent of a barleywine. At first sip, the complexity of this beer is surprising. Powerful flavors of chocolate and caramel hit up front, followed by a tingly bite of carbonation. A zing of anise balances out some of the prominent sweetness of molasses, buttery brown sugar and malt flavors. As the beer warms up, it is possible to detect notes of lavender, vanilla, hazelnut and strawberry, as well as an increased alcohol flavor. Hops can be found, but only if you look really hard. The mouthfeel is thin but with a low to moderate carbonation and a very smooth finish.
I don't recommend this beer to those who typically enjoy hoppy beers. Pair it with almost any chocolate, a good burger or some mussels from one of our local Belgian taverns. The almost overwhelming sweetness and alcoholic strength make this a great beer to sip in these last days of winter.