Americans love pizza, especially those living in Philadelphia and New Jersey. More than Italians? I don't know. However, so many of us are not as particular as we should be when it comes to the thousands of unique varieties, styles and ingredients. The possibilities are overwhelming; seemingly endless combinations yield different flavors and tastes to experience. Unfortunately, most of us simply end up going to whichever pizza place is closest.
Drexel Pizza, Powelton Pizza, California Pizza, Village Pizza, then Savas, Ed's and Mad Greek — and if we're stretching, maybe even Mickey's. I counted eight! In Drexel's corner of University City, somehow thousands of students are divided eight times over in search of their favorite tomato-cheese bread.
With help from their friend Sarah Ruggieri, Nathan Winkler-Rhoades, Jonah Fligelman and Eric Hilkowitz look to unite the divided Drexel students under one superior pizza joint. Not afraid of the other eight well-established pizzerias, it seems that Pitruco Pizza has practically parked itself right in the center of it all. At the corner of 33rd and Arch streets, you can't miss the massive red and white pizza truck. If you're still having trouble, they're right outside Drexel's Buckley Field with an enormous fire-breathing, wood-burning brick oven hanging out of their rear — the truck's rear, that is.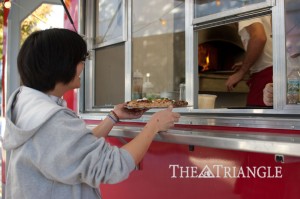 Pitruco Pizza is located at the corner of 33rd and Arch streets Tuesdays and Thursdays from 11:30 a.m. to 2:30 a.m. and again from 4:30 to 7:30 in the evening.
Winkler-Rhoades and Fligelman grew up together right here in Germantown, Philadelphia. "It sounds cliche, but it's really cool, actually. Imagine two childhood friends with a dream of opening up a restaurant together and actually doing it," Winkler-Rhoades said.
Though it wasn't pizza from the start. No, Winkler-Rhoades said he became fascinated with the craft of pizza more recently. He added, "Pizza making, well actually pizza eating, was something I started for fun about four years ago. The more I got into it, the more I started to make pizza. I've been doing that for two years now."
While Winkler-Rhoades was cultivating his own craft pies and creative recipes, he was also finishing up his master's in developmental psychology. Meanwhile, Fligelman had been working in real estate for some time with the dream dormant and floating around his mind. Back home, together again, and without the demands of school, it seemed as good a time as any for Winkler-Rhoades and Fligelman to pull that dream off the shelf, dust it off and revisit the idea of their own restaurant. And so, four weeks ago, Pitruco Pizza was finally born.
Wait: when you think about the concept of a pizza place on wheels, there are some conceivably large drawbacks that spring into mind. It takes time to cook pizza, and long lines deter many passersby from lunch trucks. Pitruco takes advantage of this with their authentic Valoriani oven. This monster can get up to 900 degrees Fahrenheit and can bake their 11-inch personal pizzas in as little as 90 seconds. Unfortunately, when it rains, customers flock to the shelter of a traditional, four-walled pizzeria, right? No, wrong again. If customers don't want to compromise for quality, "they'll take one of our umbrellas," Ruggieri added with a smile. The Pitruco team also spends much of their time at the Commissary. It's there that they do all their prep work, which includes making the dough and toppings. Many of the toppings are purchased locally, while others are imported. "We're pretty uncompromising when it comes to quality. I guess that's why we buy buffalo milk mozzarella from Italy," Winkler-Rhoades said. Nonetheless, everything served out of the truck is guaranteed fresh.
Right now their menu is small. They have plans to expand, adding to their list of pizzas and drinks, a variety of stews, and salads and breads. Until then, Pitruco offers six different pizzas and a weekly special pie. This last week's special was Harvest Pie. "Yes, they're seasonal," added Hilkowitz. Harvest Pie features butternut squash, double-smoked bacon, Bechamel cheese and caramelized onions.
While I was there, I tried their sausage pizza. The sausage, fresh from Philadelphia's own Italian market, is molded into delicious meatballs accompanied by the balancing caramelized onions, roasted mushrooms and their Bechamel cheese sauce, all topped with smooth and creamy Grana Padano Parmigiano. This pizza was maybe the best I've ever had. The dough was still warm with the right amount of crunchy crisp and doughy soft. The $8.50 sausage pizza was fresh, crisp but chewy, a little salty and creamy delicious with every bite. Next time, I plan on ordering their Salame pizza described on their Tumblr, "The Salame: Our take on meat. Pancetta and onions are braised for hours in tomato sauce. They adorn the pizza accompanied by mozzarella, Sopressata and a bit of pecorino cheese."
With eight other pizza establishments on Drexel's campus working in competition, how will Pitruco survive? Well, the answer is quite simple: they're better. The food tastes better: it's creative, unique and even inspiring. Though some may say Winkler-Rhoades has little experience making pizza, Pitruco's recipes beg to differ, as the sausage pie was delicious and gone within seconds. Most importantly, the staff is so friendly and warm to approaching customers — they're just having fun. With quick service and a great location, I look forward to my next visit, and you should, too.
Pitruco Pizza is located at the corner of 33rd and Arch streets Tuesdays and Thursdays from 11:30 a.m. to 2:30 p.m. and again from 4:30 p.m. to 7:30 p.m. in the evening. On Monday, Wednesday and Friday you can find them for lunch in Love Park, Center City.
Pitruco is also available for catering and will pull the truck up to your event. Contact them at pitrucopizza.com or follow them on Twitter @PictrucoPizza.