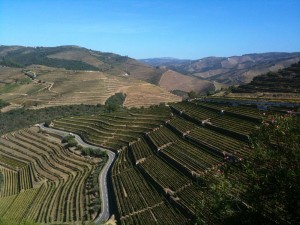 Portuguese wines use a blend of indigenous grapes which lends each wine a distinctive aroma and flavor. Winemakers in Portugal have recently began creating sophisticated wines without the expensive price tag.
Usually I'm not savvy, trend-seeking, or on the hunt for the next big thing. But when it comes to wine, I'm always on the lookout, and I've found something exciting: Portuguese red wines.
There are new things happening in Portugal, the small country known [AD1] by many for its famed port wine. But the usually expensive, sweet, fortified dessert wine, which is especially popular in Britain, isn't the only reason to pay attention to the small country that shares the Iberian Peninsula with Spain.
Nowadays, Portuguese winemakers are producing wines that are appealing yet affordable, and they are determined to have the world recognize their greatness. They have recently struck success with red table wines for everyday drinking. The availability of a wide variety of these wines can be seen in stores everywhere, and it's not uncommon to find many with attractive prices well under $10.
While some regions may benefit from growing specific types of grapes like Malbec in Argentina or pinot noir in California, Portugal makes its distinctive reds from a number of varietals. In fact, there are so many little-known grapes grown in Portugal it's almost ridiculous — and they're not only useful for making port wine.
A few months ago I wrote about Spain's greatest grape, which delivers intense fruity flavors and rich leather and tobacco aromas. The Spanish know it as tempranillo, but this grape goes by two different names in Portugal, depending on the region in which it is grown. In the Dao and Douro regions, it is called tinta roriz, but you can also find it listed on wine labels as aragonez. Like in Spain, wines with these grapes can be rich and lively with robust berry flavors.
Then there's Portugal's dominant, indigenous grape varietal known as touriga nacional, which some believe deserves a place alongside famous grapes like cabernet sauvignon and nebbiolo. It's a dark, thick-skinned grape that contributes elegant, mouthwatering tannins to the wines it's used to produce. Other common grapes you may find in wines from Portugal include touriga franca or tinta barroca.
One thing to be aware of is that red wines from Portugal are often a blend of these different grapes. This isn't a bad thing and doesn't make them any less pure — plenty of wines you find in stores aren't entirely made from one type of grape. The process of blending grapes actually helps provide a bountiful profile of aromas and flavors.
Distinctive aromas and flavors in many of these wines smell and taste more sophisticated than their matching price tags. An elegant red wine from Portugal will have beautiful earthy, spicy aromas and tastes like rich, dark plums and cherries. They match well in summer with fresh cheeses and the many meats cooked at barbecues.
The up-and-coming red wines from Portugal may not be as successful as the ones from neighboring Spain just yet, but they're part of a rising trend that is here to stay.
Recommendations:
Sogrape Callabriga 2008
Douro Valley, Portugal, $8.99
Intensely red in color with shades of purple and aromas of ripe plums, this wine has complex flavors of blackberries and dark chocolate and a hint of spice with velvety tannins on the finish. Made with tinta roriz, touriga franca and touriga nacional grapes.
Esporao Monte Velho 2010
Alentejo, Portugal, $7.99
A Portuguese classic with a funky, spicy nose, silky tastes of ripe fruit and a smooth tannic finish. This easy-going red wine is a crowd pleaser. Made with trincadeira, aragonez and castelao grapes.
Casa Agricola Ciconia 2010
Alentejo, Portugal, $7.99
A fun and fruity red wine with cherry aromas and light tastes of fresh berries. Made with aragonez, syrah and touriga nacional grapes.
Jose Maria Da Fonseca Periquita 2008
Peninsula de Setubal, Portugal, $7.99
Deep ruby red in the glass with red berries on the nose and earthy, spicy flavors and a lasting finish. Grapes used are unknown.