The mob of costumed fanatics wrapped around the Philadelphia Convention Center the weekend of June 17-19 must have had onlookers and passersby a little confused. Summer just started, so why are we acting like it's Halloween?
Well, because for closet nerds as well as self-proclaimed ones, geeks and fervent fans alike, Wizard World's Philadelphia Comic-Con provides the magic of a favorite holiday: spreading joy and bringing Magic players, Ghost Busters, and Star Wars enthusiasts together, while only coming once a year. Last month's affair marked the 11th return of the annual touring Comic-Convention to Philadelphia, and it was, by many measures, a success.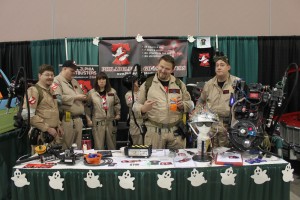 For one, the line of teenagers, old heads, parents and children anxious to get inside wrapped three-quarters of the way around the Convention Center. Stuart Sayger, an artist on the main floor told us that customers were reporting an average waiting time of an hour and a half, just to register and get a wristband. One could measure its progress by the number of A- and B-list celebrities present or the amount of time between Philadelphia's chapter of Comic-Con ending and the impressive press announcement for next year's debut being released. Hell, you could even measure by the number of sexy Slave Leia sightings.
Each year, Wizard World entices smaller cities across the U.S. with the frenetic allure of San Diego's legendary Comic-Con convention. Industry members in the world of comic books, video games, gamer technology, movies and television gather and meet with other fans, artists, actors and filmmakers in the unanimous celebration of beloved characters and series. Patrons flooded the showroom floor, stopping for photos with stars like Bruce Campbell ("Burn Notice," "Army of Darkness"), heralded artists such as Bill Sienkiewicz (Batman: The Widening Gyre covers) and iconic vehicles like the "Scooby Doo" Mystery Van and "Back to The Future" Delorean. Perusing and massing through dozens of booths worth of art, comics and merchandise, our Friday, Saturday and Sunday were filled with non-stop people-watching and window-shopping, and always ended with our trudging back to the Spring Garden bus stop feeling exquisitely tired but content, armed with bags of new clothing items, comics, prints and illustrations and significantly lighter wallets.
Friday was spent acquainting ourselves with the new layout of the greatly expanded Convention Center, the showroom and the packed tables of merchandise, which we made ourselves wait for before scouring seriously. Besides, work made us late to the festivities, and we had panels to attend. We heard from Michael Biehn ("Terminator," "The Rock") and Kristanna Loken ("Terminator 3: Rise of the Machines," "Painkiller Jane") in promotion for Biehn's directorial debut of "The Victim" — though the open conversation quickly converted from Biehn's career and his "Terminator" experiences to some of the most random tangents we've yet to experience, most of which were very NSFW.
A panel on the digital age of comic books was a bit more enlightening, lead by artists and businessmen of largely different calibers, including representatives from Cosmixology. Principles during their discussion included the benefits of publishing independently and targeting audiences and niches without the help of today's newspapers, which are more conservative with the choices they make in selecting comics to publish, rarely choosing stories that were created in the last 10 years. Salary was also a hot topic of the hour, as a corporate participant stated, "There is so much possible tension here when I talk [about] if comics pays as a full time job." Another started adamantly on an rant, stating concretely: "The attitude of 'I'm not a business guy; I just do comics' is unacceptable in this day and age." This led to a discussion about the integration of technology into the comic art form. Though many panelists were wary of the effects technology seems to be having on their sales and salaries, most seemed simultaneously excited about the opportunity digital media creates. The iPad, in particular, is not only making comics more accessible, but the device's guided view has begun changing and transforming the motion of graphics and panels and how each separate piece of art is revealed and experienced.
Friday's highlights also included Q&As with Margot Kidder (Lois Lane in the original 1978 "Superman") and Claudia Christian ("Babylon 5").
Comic-Con patrons seemed to take the entire couple blocks around the Convention Center hostage for all of Saturday, as anywhere you went (most definitely including Wawa — we were witnesses) you could not escape caped, masked and costumed heroes and villains, and the essential barely clothed femme fatales. And nowhere was the excitement and fever more tangible than in the Center itself, where the convention boasted more than 270 in-person "superstar creators," sketching and selling away while kids, teens and adults milled about the various booths and tables. Saturday afternoon played host to a slew of Q&As with new and old movie and television stars. Among them were Julie Benz ("Dexter") and a "Buffy The Vampire Slayer" panel with twin brothers Nicholas Brendon and Kelly Donovan. We didn't leave our second row seats for a full three hours, in attendance for consecutive Star Wars-themed Q&As with Chewbacca, young Anakin Skywalker, young Boba Fett, and Lando Calrissian. (Or, you know, Peter Mayhew, Jake Lloyd, Daniel Logan and Billy Dee Williams, respectively). First up was Mayhew, Lloyd and Logan, who were seated to the side of the stage to accommodate Mayhew who was in a wheelchair with an injured leg. Nearly every question posed to the trio was preceded by fans, myself (Mike) included, simply thanking the actors for being a part of a franchise that means so much to so many people. Logan, in particular was quite energetic throughout the panel, and on the floor as well. This, I believe, is due to the fact that he is, reportedly, the only actor of the three that is still involved in the franchise, what with heavy rumors of his return to the role of Boba Fett in the live-action Star Wars television show that Lucas is working on. Summing up all their thoughts on Lucas, Mayhew said, "I think we were all lucky for trusting a man with a story. In the acting world, parts like this are very few and far between." Logan echoed this sentiment, saying, "It's amazing what George Lucas has created for us all." Lloyd was particularly unenthusiastic, but one must keep in mind that he was only eight years old when he took on the infamous role of Anakin Skywalker, and has stated on many occasions that he simply doesn't remember much of the filming.
Following that trio, the moment we all had been waiting for had finally arrived: Billy Dee Williams, or as most people know him, Lando Calrissian, the gambler, swindler, pirate, and downright scoundrel. And at 74, he hasn't lost one iota of his swag; if anything, he has more swag than ever. The sexy Slave Leia sitting in front of us, after asking Williams who his favorite character in Star Wars was (Nien Nunb), made a point to tell him that all of her friends still referred to him as 'Hot Chocolate'. Without missing a beat, Lando gave her the once-over, and declared her 'Hot Vanilla'. Billy Dee admitted that he hasn't kept up with his character in the novels, but he was quite interested in the idea of Lando's marriage, and when asked how Lando would have seduced Leia if he got to her before Han, Williams simply laughed and simply said "Oh, you wouldn't want to know that," followed by his signature grin.
Other highlights included panels for the Green Lantern comic series, "The Boondock Saints" with Norman Reedus and Sean Patrick Flanery, independent filmmaking with Dan Fogler ("Fanboys," "Balls of Fury") and a Batman and Robin duo Q&A with Adam West and Burt Ward. Additionally, guests of Wizard World had the opportunity to flaunt their homemade and store-bought ensembles in a costume contest, then sat back and watched as the 501st Legion taught the right way to build and improve on costumes. There was light saber training for the younglings and a zombie beach party for teens and young adults. And wrapping things up Sunday afternoon, Ethan van Sciver ("Flash: Rebirth") performed an hour-long "musical" of sorts — if musicals often have you "trapped in a small room discussing cannibalism, Wolverine, deviancy and all manner of filth and disease through the art of song."
Offbeat and well rounded, Philadelphia's Comic-Con was impressive but also eloquently intimate. At next year's convention, taking place June 1-3, 2012, guests will be joined by Greg Hildebrandt, Greg Capullo, Michael Golden and Mark Teixeira and a promised "bevy of famous international creators." Wizard World CEO Gareb Shamus announced, "Philadelphia Comic-Con is a flagship event that went extremely well … We're excited to announce our 2012 dates with such a prestigious group of artists … I'm already impressed with our lineup, and we have 12 months left to go."
Needless to say, we will be returning.