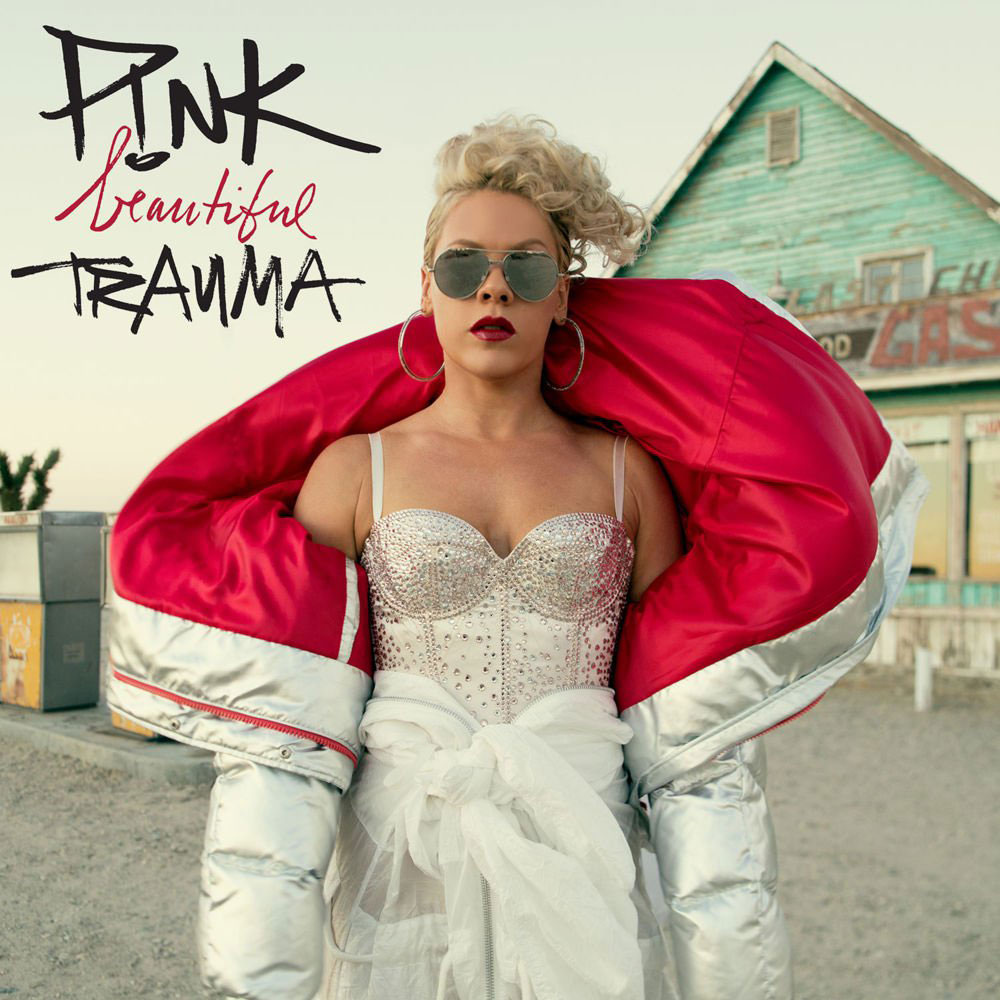 Pink blazed onto the scene during the heights of Britney Spears and Christina Aguilera. She was the pop rock bad girl to round out a femme trifecta she didn't want to be a part of. And in the long run, she wasn't. Pink has lasted beyond the 2000s in a way the other two could not.
Spears' last two albums were largely ignored, and her Vegas residency is a vignette of the early millennium. An interesting place to be at the age of 35. Aguilera faded even faster. She did pop up for a hot minute in 2015 on that duet with A Great Big World that I had blissfully forgotten about until writing this.
Pink however has kept the ball rolling. Her last album, "The Truth About Love," notched her three more top 10 hits and three more Grammy nominations. Now, after a brief departure from her solo work to collaborate with Dallas Green on a folk album and the birth of her second child, Jameson, she is back to deliver "Beautiful Trauma."
For Pink's seventh album, she brought in some past collaborators (Max Martin,  Shellback, Eminem, Greg Kurstin) and some fresh faces (Mattman & Robin, Jack Antonoff, Tobias Jesso Jr. and Julia Michaels). Many artists lose their identity in a pool of collaborators  this big, but Pink's distinct voice remains the bedrock of the album.
The 13-track album opens with the title track. It is the classic Pink love song: a relationship that doesn't come easy to either party, a little violent, a handful of F-bombs and yet a whole lot of love. It is a catchy song that hooks you in the pre-chorus, chorus and post-chorus.
"Revenge" is a playful little pop-rap dabble featuring Eminem. The story is so fitting for both artists that it's impossible to imagine anyone else taking it on. Debatably, is it the most radio-ready song on the album. "Whatever You Want" is another song about her relationship with her husband, Carey Hart. Her ability to write so many songs (at least six on this album alone) that all feel unique and fresh about this relationship is incredible.
"What About Us" is the album's lead single. It's a four on the floor ballad for the outcasts. The song feels ready to burst with energy, but actively avoids an actual drop.
After "What About Us," the album loses a bit of steam. "But We Lost It" just doesn't quite strain the heart strings it tugs at. Though "Barbies" is a relatable song, the lyrics feel unnatural coming from a 38-year-old. It would seem more authentic coming from co-writer Julia Michaels.
On "Where We Go" and "I Am Here" you can feel the influence of her folk departure. "Where We Go" falls flat, sounding like a diluted Avicii mix, but "I Am Here" soars. With rich gospel harmonies, the chorus explodes. You'll have to fight the urge to move.
"Secrets" is a fun dance track about hiding information from your significant other. I'm not sure what it is about the song, but it feels like a long lost Madonna track found somewhere in the archives between "Music" and "Hung Up."
"Better Life" is about the fear that your partner is wishing for more than you can give them. It is all too relatable in the age of social media, where everyone's life looks so perfect on your phone. It has a nice groove and it's undeniably authentic Pink.
The last two tracks slow the momentum to showcase Pink's astonishing voice. "Wild Hearts Can't Be Broken" is a moving anthem that swells from a single piano note to a full orchestration with Pink belting out over top. "You Get My Love" is a twist on the typical Pink narrative. This time she takes full blame for the relationship's faults. But, she affirms that he has her love no matter what. These two songs are amazing vocal performances by Pink.
Pink doesn't break new ground on "Beautiful Trauma." But, who says she should? She has found her niche in the pop sector, and has no need to reinvent herself every album cycle. That consistency just may be the key to her staying power.