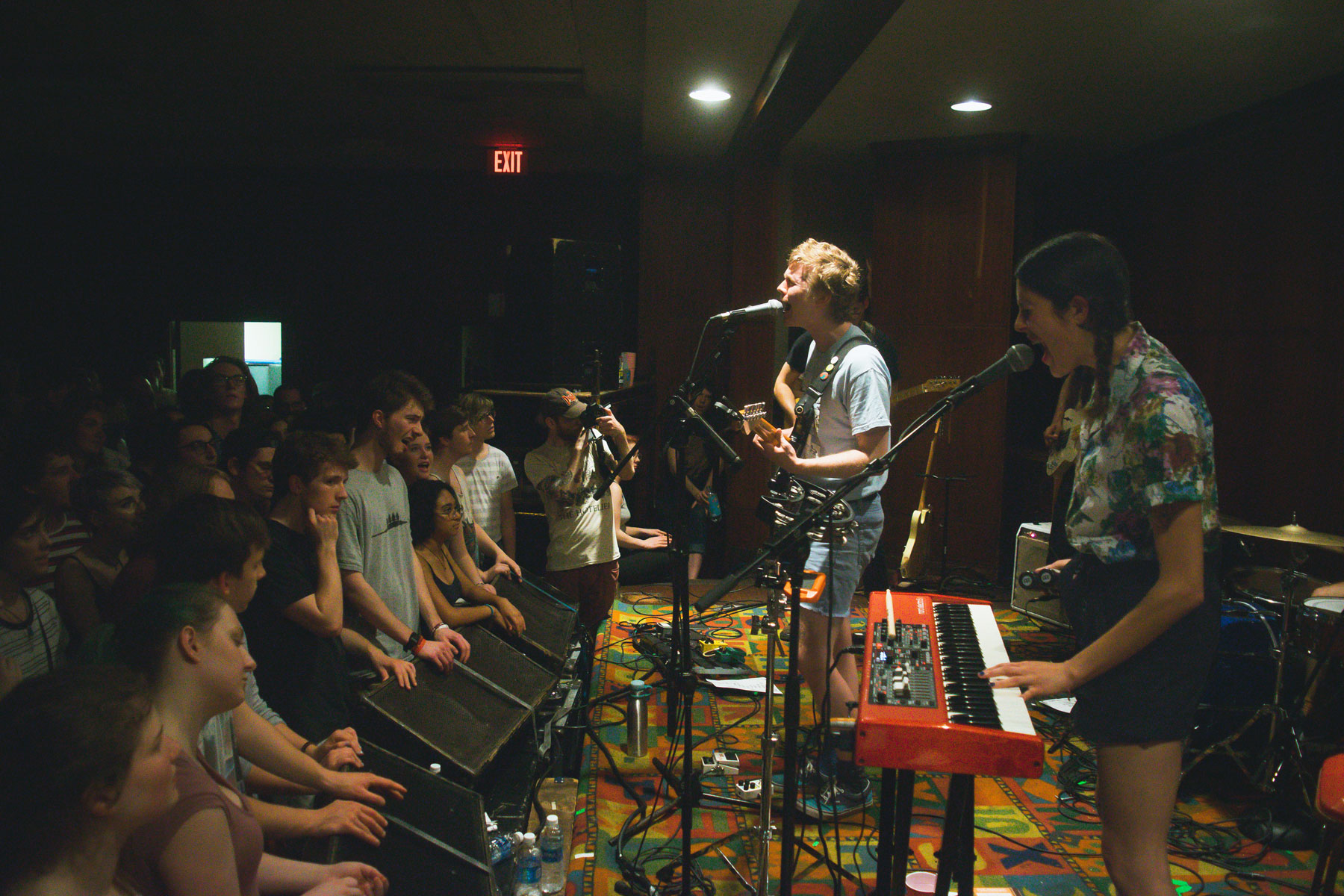 The first time I heard of New Jersey band Pinegrove, they were opening for a stacked lineup of emo groups last April, including The World Is a Beautiful Place and I Am No Longer Afraid to Die, at the Theater of Living Arts.
I reviewed that show for The Triangle, intending to focus most heavily on the headliners.
I couldn't.
Pinegrove's opening set electrified the crowd and made a statement that was unmatched for the remainder of the night. The same could be said about their sold-out headlining show April 28 at First Unitarian Church.
Opening the show was Birdwing, a charmingly do-it-yourself feeling band, touring their EP "Four." Birdwing has a somewhat "just happy to be there" feeling, where you could feel the joy they had just to be getting the opportunity to play music for a crowd of people. Overwhelmingly happy and lighthearted, the band's attitude meshed well with that of the audience creating a friendly environment that was a pleasure to experience.
Musically, they're sort of slow and droning overall, but they make great use of pacing in their songs, often allowing the pace to grow and then bringing the song to a thrilling stop and turning back to a groggy chorus. It's an interesting technique and it makes for a surprisingly very enjoyable listen.
Following Birdwing's strong set, Austin Texas lo-fi rock duo Hovvdy followed suit. Hovvdy is a group that falls more into the traditional indie sound than Birdwing, but also has a do-it-yourself vibe. They're reminiscent of Philadelphia artist (Sandy) Alex G in his less energetic records. They performed with a lot of energy in their live set, and despite a lack of interaction with the crowd, musically they shone. In particular, the song "Pretend," from their new record "Taster," impressed. Melancholy and downtrodden, the lyricism shines on this one, as does the crooning vocalization throughout the bridge.
With the crowd properly worked up, Pinegrove took the stage to thunderous applause. The band is currently on a short six show tour while working on their follow-up to their tremendous debut LP, 2016's "Cardinal."
"Cardinal" contended strongly for my personal album of the year in 2016, a raucous country-ish indie gem that floats between the best of the last 20 years in indie seamlessly driven by the emotion and charisma of the band's frontman Evan Stephens Hall. Stephens Hall's lyrics are evocative and powerful, reminiscent of a novel rather than a song. A word is never wasted, as Stephens Hall probes and pokes at the norms of verbiage that typically overcome indie bands, typically those as young as Pinegrove.
Stephens Hall views life through a uniquely geometrical lens, one that allows him to paint a scene in what becomes a language of his own.
On "Size of the Moon" from "Cardinal," looking back on a long ago night spent dancing with someone special, Stephens Hall compliments the grace of his partner, describing her dancing as "Caravaggio moves," a reference to an Italian renaissance painter known for his adeptness at positioning bodies. The song "Aphasia" is a masterpiece of emotive description, a rollercoaster ride through the artist's own fears that one day he'll fall short of the ability to simply find the words to describe what he's feeling.
More than anything, "Cardinal" and all of Pinegrove's music feels relatable and youthful in the most joyous and painful ways. The crippling fear that one day you won't be able to formulate your thoughts to someone you care about strikes young people deep to their core, and it resonates strongly on the album.
The songs "New Friends" and "Old Friends" take alternative routes to the same destination, the idea that sometimes we don't have the ability to put as much into loving people as we should.
"New Friends" does so by exploring the wasteland that follows a break-up; the significant other is gone and we realize that we hadn't spent enough time taking care of our other relationships. "Old Friends" explores the torrent of emotions and guilt following the death of someone close to the narrator, lamenting the fact that he got too caught up with his own life to care for others. Those core emotions resonate, particularly with young people, and it's what makes Pinegrove so special to so many people.
That resonance may have been a reason why the crowd seemed to be a part of the performance that night at First Unitarian, rather than just bystanders. From the first song, "Old Friends," the crowd screamed the lyrics with a fervor unique to truly beloved artists, and it made for an amazing environment. Similar to Birdwing, the use of pacing is significant in Pinegrove's music, and it propelled the set along with a fury that is rare. Many of the songs start slow and build to a crashing crescendo, with Stephens Hall screaming as well as the entirety of the crowd.
Following "Old Friends," the band leapt into "Aphasia," which was a clear fan favorite. The second half of the song booms with the clear peak coming at the line "if I don't have you by me then I'll go underground," where both band and crowd rose together for a raucous moment.
Following "Aphasia" was a selection of songs from "Cardinal" and older releases, but the show really hit a higher gear about halfway through with "Angelina." From the first chord, the entire crowd knew what was coming; moshing began and screaming ensued, turning the basement of the church into a whirlwind of movement and noise unlike many shows I've ever experienced.
It was amazing, a true joy to take part in.
With the crowd amped up from the insanity surrounding "Angelina," the band brought the tempo down for a new song, "Easy Enough," a song which seems to fall well in line with their catalogue as a whole and one I'm eagerly awaiting for a studio version of.
Following a few more songs, including "Size of the Moon" and "Need 2," the band took a moment. Without any real place to hide to await an encore, they had a much needed water break onstage, and Stephens Hall passionately appealed to the crowd to participate in the coming People's Climate March in Washington.
For the encore, the band played "Recycling," an older song and one that truly shines brightly in their pre-"Cardinal" catalogue.
For the final song of the night, they played "New Friends" and absolutely brought the house down. Most of the admittedly tiny venue fell into a fury of moshing and thrashing bodies, while the crowd sang every single word as loudly as they could possibly muster.
First Unitarian is likely my favorite venue in the city and has provided me two or three of the best concert experiences of my entire life. Pinegrove on April 28, 2017 can now be added to that list.
Do yourself a favor and go see them the next time they roll through town.