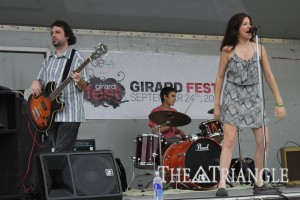 Let me introduce you to the Philadelphia Film and Music Festival. If you haven't heard of it, it's something like the underground cousin of Chicago's Lollapalooza or Los Angeles' Coachella. It's one of the reasons Philadelphia is being pushed to be a top East Coast spot for entertainment festivals of all kinds. So naturally, I had to go check it out to see what all the commotion was about.
Before I dive into talking about the headliners, the scene and the event in general — I have a confession. I am the farthest possible thing from an underground music follower. Okay, probably not the farthest considering my iPod is usually filled with random assortments of Portuguese music, the Kooks and Jay-Z But when it comes to underground/indie-American groups, I have no idea. So when I looked at the list of the performers for the Philly Film and Music Festival, I saw Deadmau5. Out of the dozens upon dozens of names of artists and bands — I recognized one. I figured that obviously many other people must have heard of all these other groups because there is essentially an entire festival filled with them. So my natural curiosity wanted to see what this whole thing was.
I'll go ahead and get Deadmau5 out of the way now, since I'm confident most (if not all) college-aged people ("young adults") know Deadmau5 or at least have heard of him or his music. If you didn't know (I didn't), Deadmau5 is the stage name of Joel Thomas Zimmerman, an electro DJ hailing from Ontario, Canada. His famous symbol is that giant cartoon mouse head with X'ed out eyes, which always seems to be floating around at clubs or on posters. He was undoubtedly the biggest headliner of the event, kicking off the second annual festival Sept. 23 at Festival Pier at Penn's Landing.
The weather could have been better — much better, actually. But that certainly didn't deter those with pre-purchased festival badges and hearts set on raging to Deadmau5. And so they raged, despite the rain. It was a giant and messy party; everything one could expect from a huge rage in the rain. No real surprises, just some great, loud house music and some dead mouse heads. Deadmau5 didn't disappoint anyone and set the bar high for the rest of the festivities.
Selecting additional shows to attend this past weekend consisted of looking at the festival schedule and picking out names of groups/artists that I thought sounded "cool." This criterion for selection was strikingly similar to the criteria I used frequently in kindergarten; picking things because they looked sparkly or had a pretty name. I dabbled at all sorts of performances with bands with names such as "Revolution, I Love You" and "Fantasy Square Garden." I have to say, I was pleasantly surprised.
Although every band name and song started to sound the same by the end of the festival, I certainly came out of it with a more "underground mindset" than prior to the concert and would absolutely go to another similar event in the future and recommend that everyone get a little taste of "the other side." And let's not forget the other key part of this festival: films. I got a chance to check out "Bob and the Monster: The Story of Bob Forrest." For those of you who are VH1 Celebrity Rehab fans, you know Bob Forrest. I'm an original intervention fan, so it struck a chord with me. Although the festival ratio is overwhelmingly more musical then cinematographical, it's an all-around impressive lineup in every direction.
Additional reporting by Nicole Zusman
This weekend in Philadelphia, the world of music and art erupted through the streets. The POPPED! music festival forced its vibrant appearance all over the city, and college students traveled from all over to see their favorite headliners grace the stage. Unfortunately, the fact this festival had made such a big impression on the Philly population overshadowed the fact that music and art in Philly don't stop with a famous name. All sorts of creative occurrences happened between Sept. 22 and 25, on more distant roads and small, hole-in-the-wall bars in North Philly, under the umbrella of the second annual Philadelphia Film and Music Festival.
As my friend and I walked the streets of Philadelphia, I realized my job covering this festival might have been more complicated than I originally thought. Searching the numerous avenues and alleyways of Northern Liberties, we finally came along the Howard Street Stage at Howard Street and Girard Avenue, where a small street fair was being held. We decided we would begin our day here.
As the crowds of people spread throughout the road, we stopped at the first stage. Performing was the Meg Wilkinson band. Even though their talent and allure waned in relation to others we had previously experienced, we decided to continue in this area and find more hidden talent within the Philadelphia music community.
We continued walking down Howard Street; we came upon another small stage called Fourth Street. The group we had been searching for, called Talain Rayne, started off their career with one singer/pianist and a drummer. As soon as you knew it, though, they were no longer your average run-of-the-mill band — they truly had that "spark" we had been looking for.
When searching for an artist there are many things to consider: a hook, talent and commerciality, to name a few. These guys had what we like to call in the music industry "the whole package." As we listened to the catchy tunes of a mastered pianist and dedicated drummer, we realized that this band we had come to respect so much was only a few feet from the band we had not taken to as easily. With this at hand, it was obvious to us that for these types of bands, the venues meant nothing. A mediocre band could be on the same stage as a fantastic one.
Knowing this, we continued looking for more hidden talent whose only goal was to attempt to be heard by any means possible.
Our next stop on the trip was a small place called The Fire. Unlike most other venues I had witnessed in my lifetime, The Fire was a small hole cut through a building at 412 W. Girard Ave. The manager led us into the concert as we slowly passed by a community of music lovers, drinkers and partiers. We were finally brought to the stage, a small frame in the middle of a dark back room lit only by the glow of Chinese lanterns. As we looked at each other, not knowing what to expect, a band appeared on stage and began to play.
This band wasn't like anything we had pictured. Due to the fact that the bar had a spiritual, gypsy appeal, we felt the music would be earthier and less rocky. To our surprise, a band called Ella Dars graced the stage with a country folk twist. As we listened, we realized another aspect of the Philadelphia community: you truly cannot judge a book by its cover.
Being brought into a strange part of town surrounded by incense fumes and large tapestries gave us the gall to decide that, for our next stop, we would leave our minds and ears open to another new experience offered by the Philly F/M Festival.
Our next stop in the festival was a whole different side of the Philadelphia concert-going community. Philadelphia's Festival Pier at Penn's Landing is a large-scale venue at its best.
I already knew about the outlook of this venue because I had gone to see Deadmau5 as part of the festival the night before. However, this time everything looked completely different. When we got there the night before, I saw the place as a crazed mess of colors, glow sticks and screaming fans. Now it had transformed into a hard rock grunge fest of gothic clothing and blasted screams through speakers. What we realized at this point was that even big venues can have a huge range of music, some good and some not worth staying for. Making such a huge transition from small forgotten venues to huge concert bases gave us both a wake-up call to the music scenes in Philly.
This whole experience is not only important to us, but everyone who lives in this great city should know what truly happens behind the scenes in Philadelphia's music community. An artist playing at a stage as small as a box could be the next big star, a small hole-in-the-wall bar could be holding Philly's next big talent, and a large-name venue could actually give you one of the worst shows you have seen in your life. Take a closer look at something most people would never dare to look at and you may find something you weren't expecting.