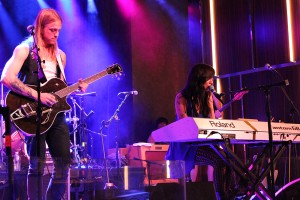 I bore certain expectations in mind while anticipating a Christina Perri concert at the Electric Factory the night of April 19. Though seemingly demanding, these expectations were simply a set of plausible adjectives I would have later used to describe the show — entertaining, foot-tapping and maybe memorable.
It seems reasonable to expect the popular hit-maker of songs like "Jar of Hearts" and "A Thousand Years" to deliver an unforgettable musical night  However, instead of rhythmic music and Perri's mature vocals, I endured four hours of what turned out to be "the night sans auto-tune."
The show was opened by the young English musician Birdy, who previously earned recognition following her big win at the music competition "Open Mic UK" in 2008 at the age of 12. Birdy's lilting voice and coy demeanor were alluring as she played songs like "Shelter," "People," "Skinny Love" and "Words as Weapons." I especially liked her single "Wings," which was significantly different from her other lo-fi songs. However, instead of smoothly sailing between different songs, Birdy appeared to nervously leap from one single to another. While her charming voice was pleasing, her lack of musical transition was not.
After a quick 30-minute performance, Birdy left the stage with tepid applause. When Perri appeared, I was stunned as the entire venue reverberated with cheers and enthusiasm. The stage looked ethereal with twinkling lights all over the background and smoke emanating amid psychedelic colors. I held my breath as I expected to be blown away by this 27-year-old "sensational" singer-songwriter. Instead, Perri crushed all hopeful expectations that I had.
While her songs like "Shot Me in the Heart," "Run" and "Distance" were pleasant, her most famous single, "A Thousand Years," was not. She sounded unpardonably different from the recorded version, and her voice lacked versatility, sounding somewhat like a chipmunk version of Alanis Morissettee. Her intermittent accounts about how every other song revolved around irrevocably falling in love with a boy were mildly annoying rather than inspiring.
Instead of joining the ranks of mature singers like Morissette and Echosmith, Perri's lyrical content moved more toward the pre-pubescent-sounding and heartbroken cult of females lead by Taylor Swift. Perri's show seemed to have been geared more toward hopeless romantics and heartbroken teenage girls than mature concert goers. I would go as far as to say that there was almost nothing pleasing about the show, except maybe Perri's cover of "The Lollipop Song."
Perri and her band went on to play several other songs like "Sea of Lovers" and "Lonely Child" from her new album, "Head or Heart." At one point, Perri employed a clever ruse of uniting two lesbian lovers onstage, which turned out to be slightly more amusing than her high-pitched vocals. The only saving grace of the show was probably the iridescent stage that was pleasing to the eyes.
I believe that there are musicians who sound agreeable live and then there are musicians who sound nice only in recording. Perri is certainly the latter. Some of her music, including songs like "A Thousand Years" and "Jar of Hearts" are honestly quite catchy. But I would prefer if she focused more on recording her next album than touring and disillusioning her fans about her musical talent and vocal maturity.