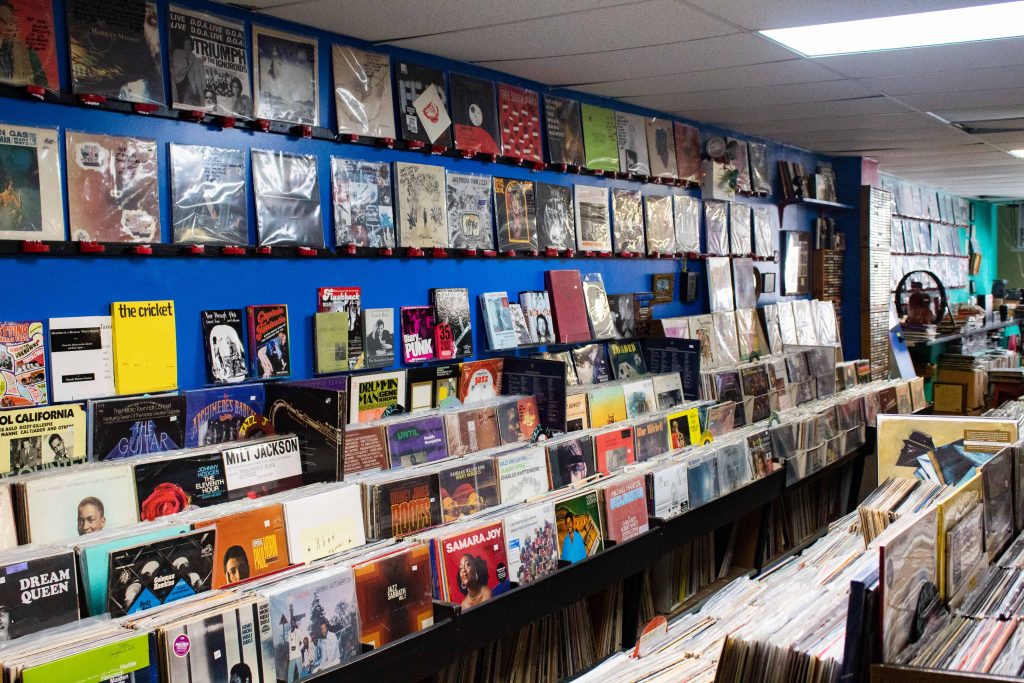 Now that we have hit the midpoint of the year, it is time to highlight some albums that were released in the first half of 2023. In my opinion, these projects were some of the most exciting, inventive and enjoyable that I have discovered so far. With each album, I have chosen a few tracks that I think represent the full body of work, or could be intriguing to new listeners.
Lana Del Rey – "Did you know that there's a tunnel under Ocean Blvd?"
While Lana Del Rey has been a mainstream name since she changed pop music with her 2012 debut "Born To Die," her most recent project felt like her biggest and most popular since 2019's "NFR." On "Ocean Blvd," Del Rey continued to work with producer Jack Antonoff as well as past collaborators Drew Erickson and Zack Dawes, who helped shape her 75-minute genre-hopping experience. Long-time fans have found familiarity in Del Rey's trademark songwriting, while also being treated to surprises, such as a remix of the classic "Venice Bitch" closing the album.
Listen to: "Did you know that there's a tunnel under Ocean Blvd," "Sweet," "A&W,"
Mac DeMarco – "Five Easy Hot Dogs"
DeMarco delivered one of the most comforting albums of 2023 with "Five Easy Hots Dogs," an instrumental comeback album that was recorded over the course of a road trip in early 2022. This album sounds like a soundtrack with no movie: certain songs begin to tell parts of a story that you have not been told before. It has been fun to watch DeMarco ditch any remaining ounce of mainstream formality that he had this year.
Listen to: "Gualala 2," "Vancouver 2," "Edmonton 2," "Rockaway"
feeble little horse – "Girl with Fish"
This Pittsburgh group erupted this year with a breakthrough album on the renowned record label Saddle Creek; not long ago this group was hitting Philly basement shows. feeble little horse embodies the distortion-obsessed indie-pop sound that feels like the present and near future of DIY rock bands, incorporating elements of shoegaze and folk here and there. We can only hope that the group is doing alright with this album's success, as they abruptly canceled their summer tour days before it started.
Listen to: "Tin Man," "Steamroller," "Heaven," "Paces"
JPEGMAFIA & Danny Brown – "SCARING THE HOES"
As one of the wildest and most creative hip-hop albums of the year so far, "SCARING THE HOES" features incredibly detailed production from JPEGMAFIA and eccentric verses from him and Danny Brown. This album serves as a check-up on Brown's 42-year-old rapping abilities after a four-year album drought. For JPEGMAFIA, it is an ultimate stamp of approval from a hip-hop veteran, effectively verifying his status as a forward-thinking and distinctive creator in the rap lexicon. The duo also just released an "DLC Pack" for the album on July 11 with four new tracks.
Listen to: "Fentanyl Tester," "Kingdom Hearts Key (feat. redveil)," "Where Ya Get Your Coke From?"
KAYTRAMINÉ – "KAYTRAMINÉ"
From the moment this collab was announced on April 4, the world knew a fun, summery album was on the way. Similar to the previous entry on this list, this duo gelled and complemented each other's styles. Kaytranada brought out the dance elements uncommon to Aminé's solo work on tracks like "Sossaup," and in return he pushed the producer to create more rap-leaning beats; see "K+A." Not to mention, they also managed to bring Big Sean back into prime form.
Listen to: "4EVA," "Master P," "Sossaup," "UGH UGH"
King Krule – "Space Heavy"
Archy Marshall is not as his most experimental here; however, "Space Heavy" delivers a welcome refreshing of new tracks in his trademark sound. The album contains warm, garage-like guitars and slow tempos as usual, except with more hints of accessibility than usual. It is not a "classic" King Krule album, but it could be a good starting point for new listeners. Also, the Raveena collab makes so much sense in an "opposites attract" kind of way.
Listen to: "Seaforth," "Tortoise of Independency," "Seagirl (feat. Raveena)"
Lil Yachty – "Let's Start Here."
Lil Yachty executed one of the most contrasting and well-received departures from rap in recent years with January's "Let's Start Here.," a psychedelic stab at a rock concept album. Since 2016, Yachty has been releasing rap albums with a few varying flavors. However the underlying creativity always seemed apparent, from his striking style choices to random out-of-character songs (see his Tame Impala "Breathe Deeper" remix and multiple Diplo features). He does not feel out of place over production from the likes of Magdelena Bay, Mac DeMarco, Teo Halm and Alex G.
Listen to: "the BLACK seminole.," "running out of time," "drive ME crazy!"
Liv.e – "Girl In The Half Pearl"
With an earlier release this year, Liv.e's standout experimental electronic RnB album may have gotten overshadowed by bigger, more publicized projects as 2023 continued. The 25-year-old Dallas artist's sophomore album is fun, eerie and futuristic, containing mind-bending tracks such as "Snowing!" alongside digestible, chill songs like "Wild Animals." Liv.e is most definitely someone to watch, as she continues to innovate and get more recognition.
Listen to: "Gardetto.," "Ghost," "Wild Animals," "Glass Shadows"
Mana – "Mana"
Fresh on to the scene out of Indianapolis, IN, the five-piece dream-rock band dropped one of the best projects of the year so far in their debut EP. Fronted by the multifaceted music genius Kevin Krauter, the band brings hard-rocking hooks and fuzzy guitars as well as introspective, somber lyrics on their six-track self-titled EP. Many of Mana's songs feature background vocals from guitarist Nina Pitchkites, adding an awesome, blurry harmony effect to the already echoey vocals.
Listen to: "Hard To Kill," "Happy Days," "Attitude," "Love Is Everywhere"
Wednesday – "Rat Saw God"
This band has already been praised by numerous publications for this album, but it does deserve the recognition. Singer/songwriter Karly Hartzman penned some gripping stories and scenarios for "Rat Saw God," which are backed by indie rock and country influenced instrumentals. Why do almost half of these albums contain music based around distorted guitar tones? Because they are in right now and lo-fi is cool. Wednesday is more than that, though. Listen to: "Hot Rotten Grass Smell," "Formula One," "Chosen to Deserve," "Quarry"