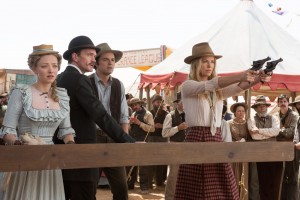 In 2012, Seth MacFarlane proved that a story about a foul-mouthed teddy bear ("Ted") could become the highest grossing original R-rated comedy of all time. Now, the "Family Guy" creator/voice actor proves that he isn't infallible with his second directorial feature, "A Million Ways to Die in the West."
Released May 30, the movie is a tepid Western comedy that attempts to recreate the satirical nature of Mel Brooks' 1974 classic "Blazing Saddles," but instead comes off as a less entertaining, R-rated version of "Back To The Future Part III."
The movie takes place in 1882 Arizona and, instead of focusing on gunslinging cowboys and Conestoga wagon pioneers, centers around Albert Stark (MacFarlane), a nebbish sheep farmer who despises the Old West, going so far as to describe it as "a terrible place in time." This self-awareness is the film's greatest comedic strength as Stark is more comparable to a time traveler (Marty McFly cough cough) that points out just how backward the historical period really is, from medieval medical treatments to racist carnival games to numerous death traps that give the movie its name. Even his speech, curse words and modern colloquialisms are anachronistic. He's more of a fish out of water than Gene Wilder's Polish rabbi in "The Frisco Kid."
After his girlfriend (Amanda Seyfried) breaks up with him, Albert befriends Anna (Charlize Theron), an enigmatic newcomer to the town of Old Stump who teaches him to be a braver and more confident person when it comes to properly firing guns and courting the opposite sex. Unbeknown to Albert, however, she is the wife of Clinch Leatherwood, the most dangerous outlaw in the territory, played by a sadly underused Liam Neeson. Theron, usually known for more dramatic endeavors, proves that she can hold her own in a comedy as a strong female character to rival MacFarlane's wise-cracking Albert.
Other outstanding characters are Giovanni Ribisi and Sarah Silverman as Albert's best friends, Edward and Ruth. They want to wait until marriage to have sex despite the fact that Ruth, a prostitute, sleeps with a dozen guys on a daily basis (the recounting of her sexual exploits are delightfully inappropriate). Neil Patrick Harris is also top-notch as Foy, the lady-stealing owner of the town's Moustachery; a Barney Stinson of the Old West, if you will.
Along the way, the script (written by the usual trio of MacFarlane, Alec Sulkin and Wellesley Wild) pokes fun at the usual genre cliches like high noon standoffs, destructive saloon fights, and the struggle between settlers and Native Americans. The only problem is that the jokes are too far apart and most of the moments that are supposed to be funny were completely ruined by the trailers, including an amazing nod of the ten gallon hat to one of the greatest movie trilogies of all time (I won't ruin it here if by some miracle you have no idea what I'm talking about). To be fair, the few moments that aren't spoiled are laugh-out-loud funny.
What remains is a plethora of tactics that you can always expect from the MacFarlane bag of tricks: poop/fart gags, pop culture references galore, some catchy musical numbers and a bunch of celebrity cameos that range from the totally random to the totally hilarious. And, of course, there are people dying left and right in the most gruesome, bizarre and rib-tickling ways imaginable. "A Million Ways to Die in the West" is by no means as funny as it thinks it is or as it should be, but the director's acerbic, no-holds-barred brand of humor does offer some pretty clever insight about the time period, culture and life in general.
Overall, the movie feels like a waste of potential as the Western genre has been influencing our culture since the days of radio programs. Yes, there are some beautiful landscape shots of desert mesas that evoke thoughts of John Ford, and Joel McNeely's score is adventurous and bold, conjuring images of brave men and women conquering the untamed majesty of the frontier. However, if you're going to make an all-encompassing parody of said genre, you have to touch on all of its iconic representations from Clint Eastwood/Sergio Leone spaghetti westerns to John Wayne's "Howdy, Pilgrim," and everything in between.
Perhaps Westerns just don't make for popular (or profitable) movies anymore. Gore Verbinski's "The Lone Ranger" proved that last year and now it seems like cinematic history is repeating itself. The "virgin territory" is no longer virgin, pillaged over and over again for its excitement that has long since faded away. MacFarlane might do well to take a note from Captain Kirk and make a sci-fi comedy about the final frontier that exists in the modern age: space. Until then, I guess "Ted 2" will suffice.