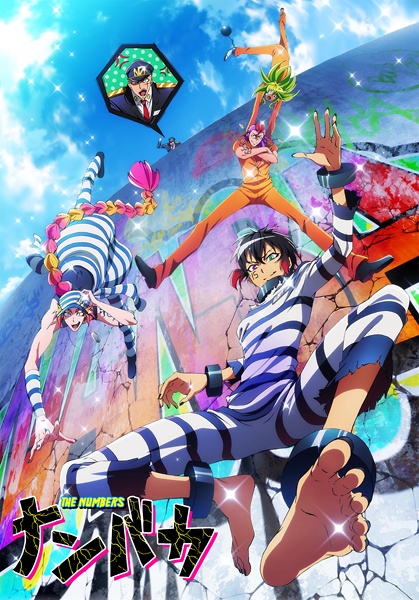 Fall is here and looking past all the pumpkin spiced lattes, the DIY Autumn decorations or the mad scramble for clever Halloween costumes, we're going to take a look at some of this season's most anticipated anime.
"Bungou Stray Dogs" Second Season — Oct. 6, 2016
The first season of "Bungou Stray Dogs" was an under-the-radar type of deal. It only managed to get itself to a twelfth place mention on the Seasonal Anime list of Spring 2016. But October's here and the second season is attracting some major attention and garnering respectable ratings too. For the uninitiated, "Bungou Stray Dogs" mixes supernatural phenomena, comedy and action to narrate a tale of a detective agency whose members each have special gifts. It's a good, fun and clean story blessed with some truly great comedic timing.
Things to look out for: immaculate comedy and well animated fight sequences.
Things we hope it does better: character development.
"Occultic;Nine" — Oct. 9, 2016
Even though its genre tags seem to liken it to "Psycho-Pass" and "Steins;Gate" standards, "Occultic;Nine" actually falls into a less hardcore, more comedy-driven narrative. It's a story about nine individuals who are linked together by a blog about occult phenomena and while this may seem like typical mystery, sci-fi and supernatural fare, a viewing of the first episode will soon correct such misconceptions. If anything, the production by A-1 Pictures should be a hint as to how difficult it will be to categorize this anime into one particular genre.
Things to look out for: well thought-out storyline, fluid animation and a good soundtrack.
Things we hope it avoids: compromising story dynamic for cheap laughs.
"Haikyuu!!" Third Season — Oct. 8, 2016
Ah yes, "Haikyuu!!"and "Kuroko's Basketball" rode the sports anime wave to a high some time ago and proved time and time again how much potential for teen drama the world of high school sports has. It's got comedy, enough drama between the characters to get you biting your nails along with heart-thumpingly good animation and soundtracks. Watch a refresher course of the second season to get ready for this iteration of our favorite volleyball anime.
Things to look out for: typical yet exciting underdog stories and oversimplified yet no less exciting sports action.
Things we hope it does better: emphasize the actual skills of the characters other than the two superstars on the team.
"Nanbaka" — Oct. 5, 2016
In a world where animation teams are striving to make characters seem as realistic as possible, "Nanbaka" is a welcome throwback into the world of outrageous character appearances and settings. If its characters don't remind you of the funniest ones from "Fairy Tail" or "One Piece", I don't know what will. That being said, it's not a long running shounen series and makes too much fun of itself to be ever be considered seriously. It's a promising laugh riot if you're one for gags and slapstick comedy.
Things to look out for: good-old-fashioned animation aesthetics and comedy.
Things we hope it avoids: becoming too much of a joke to have any semblance of story or character presence.
"Yuri!!! on Ice" — Oct. 6, 2016
From MAPPA Studio, which developed anime superstars "Rage of Bahamut: Genesis" and "Terror in Resonance," comes "Yuri!!! on Ice." Sports anime like "Haikyuu!!" make it easy to see why sports dramas make it big on anime. Very easy-to-depict competitors and a very easy-to-understand sports system helps the audience get drawn in, regardless of sports know-how. But then anime like "Free!" and now "Yuri!!! on Ice" come along to present a whole other side to sports anime, a more human and personal side. Stories that examine more than just winning and losing and characters that are more than simple underdogs or smug antagonists with a superiority complex.
Things to look out for: gorgeous visuals, a stellar soundtrack and a cohesive storyline and cast of characters.
Things we hope it avoids: sacrificing a nitty-gritty story for aesthetics.
"Ajin" Second Season — Oct. 8, 2016
The first season of "Ajin" was a mystery. The studio decided to completely use CGI for character animation, giving the entire anime the look of a videogame cutscene. In some places it worked while in others, especially during action sequences, the scenes were choppy and slow. Regardless, the story of immortals fighting for rights and protection was an engrossing one and it had one of the most bewildering protagonists in an anime in a long time, which is a good thing.
Things to look out for: a full-on creepy and masterful soundtrack and an expansion to an already thoughtful story.
Things we hope it does better: the animation, which did the anime no justice.
"Sound! Euphonium" Second Season — Oct. 6, 2016
From the same studio that gave us "Hyouka" and "Sound! Euphonium" was an anime that much like "K-On!" featured a group of girls playing music together. Featuring the well-known, mild aesthetic Kyoto Animation is famous for, the first season of "Sound! Euphonium" was a bit slow and tedious at times. Nonetheless, it featured solid animation, a gorgeous soundtrack with a beautiful big-brass sound and enough quirky details to make viewers keep coming back.
Things to look out for: much of the same well-balanced, across-the-board effort that was present in the first season in terms of story, characters, animation and soundtrack.
Things we hope it does better: push up the pace and drama. A bit of that "Hyouka" magic wouldn't go amiss either.
"Poco's Udon World" —  Oct. 9, 2016
2011's "Bunny Drop" and 2014's "Barakamon" were both heartwarming stories about the relationship between adults and small children. They showed us that adults and kids have much to learn from each other about life and the dynamic between the two parties made for some amusing antics indeed on screen. This year's "Poco's Udon World" feels like a rehashing of the best of both "Bunny Drop" and "Barakamon" in the best possible way. Everything feels similar and all is well in the world of slice-of-life anime. Truly.
What to look out for: endearing characters, truly ridiculous gags and antics and a heartwarming story about life.
What we hope it avoids: nothing really. This kind of anime, you take it as it is and love it all the same.