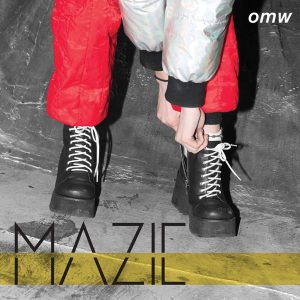 In my experience, artists who make their debut in college tend to stumble out of the gate. A lot of times this is simply the necessary start of the process of becoming an artist who ends up on the Top 40 charts one day. They're growing pains, and that's okay. Sometimes, however, an artist hits the scene with a bang and leaves an audience wanting more. That was the experience I had with singer/songwriter Mazie with her debut EP from MAD Dragon, "omw." Mazie,  a freshman at Drexel University in the music industry program, signed with MAD Dragon earlier this year.
The EP is short but sweet, consisting of only six tracks but each one manages to be distinct, memorable and catchy. The music largely consists of synth-pop, that could be interpreted as sad pop, but there are some surprisingly fun exceptions that are just your regular bops through and through.
The EP kicks off with a strong opener titled "afterglow." This emotional track opens with a subdued but effective tempo beat, with Mazie coming in, delivering sentiments about how she has hit a point where she feels like she does not have to go back to where she was stuck before. It's obvious that there is something pulling her back, though. The chorus is bookended by the lines "It didn't hurt when I let it go" and "when bridges burn I watch the afterglow." I actually found these lyrics, and many throughout the tracks on "omw," to be both clever and thought-provoking. My favorite part of this track is the bridge which consists of a breakdown of the chorus, followed by a recorded voicemail. Voicemails have been a big fad recently in pop music and have gotten to the point where they can feel trite, but I didn't get that feeling from this at all. Its use felt relevant and interesting and I liked that she came in for more vocals after it, rather than using it as a period on the song.
"Afterglow" is followed by "anybody else." One thing that struck me about this track was how different it was tonally from the others. Yes, this song does also talk about a relationship that has soured, but it goes on the offensive and I love it. From the first verse — "I tell you so it hurts / I start with the past / 'cause you weren't the first / you won't be the last," — one can tell it's an aggressive song, but in all of the right ways. This is a girl who is done with this person's crap and it shows in the lyrics and powerful vocal performance in the chorus.
Next up is "oh my god." This song was released as a single a few weeks back and was accompanied by a video. This may be my favorite track on the EP. In the era of #MeToo we need songs like "oh my god" that can be bops but also impart important messages about consent and how to not treat women like objects. I am just all about it. I love it. It deserves all of the support. It doesn't hurt that it's super catchy and has a really cool sound.
"Oh my god" is followed by "ghost," a song conveying the wonderful feeling of getting ghosted and the frustration that comes with that. This song is well-written and musically compelling, but it's one of the ones I would definitely classify as more sad-pop. It's relatable, but those feelings aren't necessarily the most fun ones. Hey, that's why we have music though.
"Me& u" is a really interesting song. It has a different vibe from the rest of the album, at least in terms of the vocal performance. Maybe it's the melodic snapping, but there is something about this track that gives it an almost R&B sound and I dig it. It's a heartbreaking song, which many of the songs are, but this one especially. Mazie's crooning over a lost love, and the frustration and inner conflict is delivered in her expert performance and cadence. This song carries some real weight with it, yet again, still manages to be pleasant to listen to.
The album ends with "just a friend." This song mixes it up and comes at you with stripped down ukulele and vocals. It's an excellent seminal track. It carries the same mood and theme as previous songs but takes away some of the synth and poppiness in favor of letting Mazie's vocals really shine, and they do. I was blown away by her vocals throughout the entirety of this EP but this song put it over the top for me.
Overall it's a well-written and beautifully performed EP. It's sad but never feels melodramatic or whiny. The themes of the album are relatable and strong. It sounds like an EP from one of the big female singer/songwriters on the charts, or at the very least an amazing first step towards that goal.