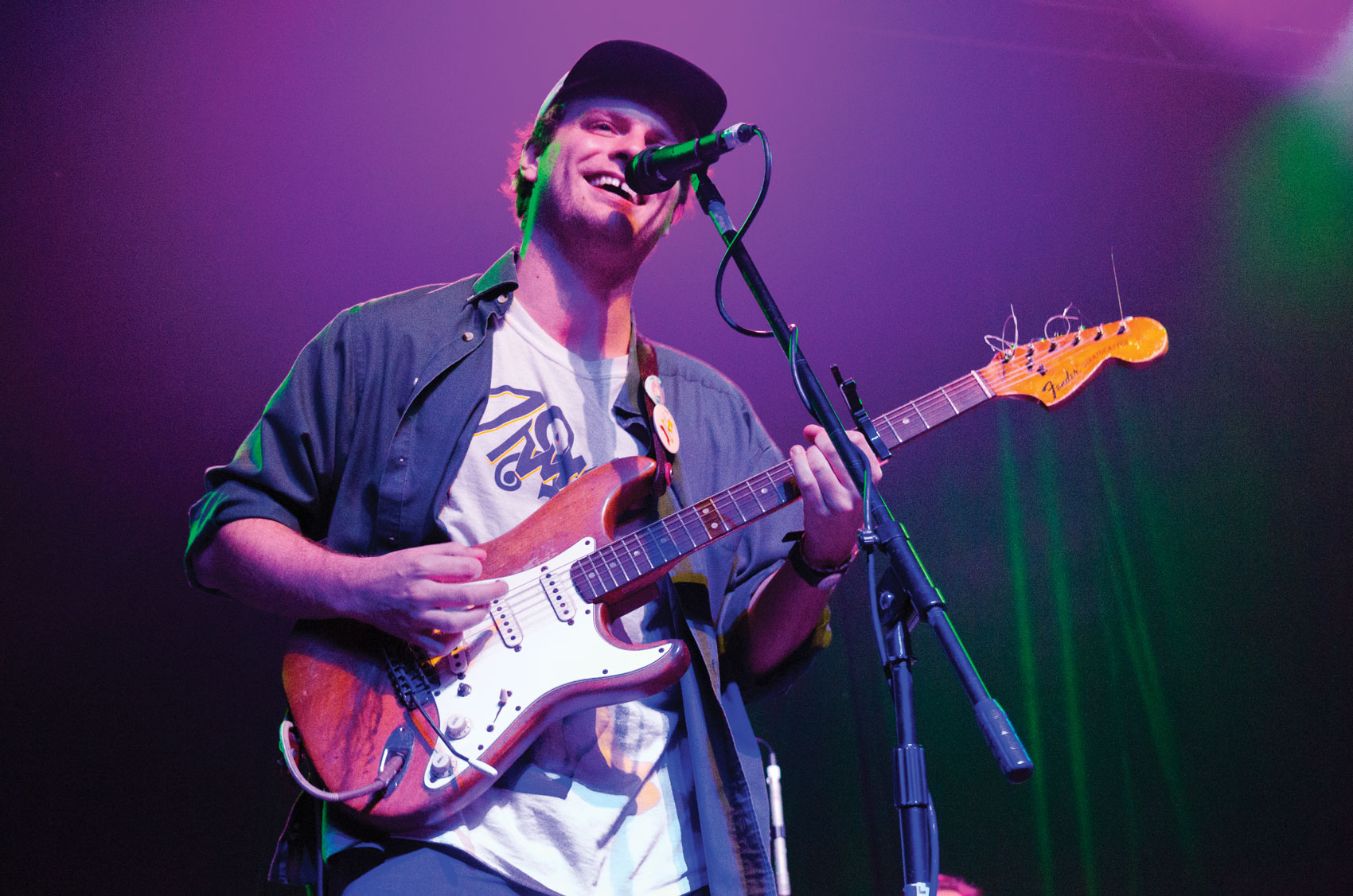 With the first night of his U.S. tour being right here in Philly, Canadian-born Mac DeMarco sold out the Electric Factory with no problem at all. Fans began filling up the venue May 12 at 7:30 p.m. sharp, not seeming to care that DeMarco wouldn't be gracing the stage for another two hours. This crowd was everything one would expect with the exception of age. While a few looked like they were on the brink of 30, many fans looked like they recently turned 15. Nonetheless, nearly everyone assumed the uniform of graphic t-shirts, baseball caps and carefree facades.
The opening act was a rather interesting trio known as Throbbing Chakra. While the lead singer-drummer slightly resembled a punk Mac Miller, the pianist and bassist sported hair that was both longer and nicer than mine. These guys performed about six songs and although no one seemed to know any of the tunes, they were still rocking and rolling along. After finishing up their set the trio hyped the crowd up for "Mac DeMarcus" and got us all cheering his name.
While waiting for DeMarco to come out and making awkward small talk with security guards, I was met by none other than the Triangle's own Arts & Entertainment editor, Shane "Plain_Shane" O'Connor. Before Plain_Shane and I knew it, DeMarco and his band of goons ambled onto the stage causing the crowd to go wild. He greeted everyone with a toothy grin and opened up with "The Way You'd Love Her." This was followed by the insanely catchy "Salad Days" which had everyone, and I mean everyone, scat singing out of tune. After "The Stars Keep On Calling My Name," our photo pass privileges came to an end and the security guards who I once thought were my friends shoved us all behind the fence.
I lost Plain_Shane as DeMarco continued on singing from his various albums: "2," "Another One" and even "Rock and Roll Night Club." At one point, DeMarco explained that the song he would be singing was dedicated to his long time girlfriend Kiera McNally. He brought her out on stage which resulted in the whole crowd chanting "KiKi," DeMarco's nickname for her. The song was "My Kind of Woman" which was a real treat, as I learned it was one he rarely performed.
After the mellow song ended, the band transitioned into playing Steely Dan. Later, while playing "Still Together," DeMarco instructed everyone to bunch up closely, then backed up for a running start and dove into the crowd. He nonchalantly crowdsurfed around the whole venue with a cigarette dangling out of his mouth. The highlight of the night was when he got people on the second floor to pull him up and let him stand on the ledge. And yes, he did jump off the balcony back into the crowd. This is Mac DeMarco we're talking about after all. When he made it back to the front, the band played one more chorus, bid their farewells and walked off the stage. The crowd wasn't ready for the night to come to an end and made it clear they weren't leaving. DeMarco came back out on the stage, this time shirtless, and decided to give us what we were asking for, namely, a crazy cover of Metallica's "Enter Sandman."
I'd like to think I've been to a decent amount of concerts. That being said, Mac Demarco just might be one of my favorite performers I've seen. Not only does he sound great live, but he put on a wild show and I feel lucky to have witnessed it. At the end of the night, Plain_Shane and I actually had the chance to meet the man of the hour. For my first time attending a Mac DeMarco show, I think it's safe to say it was pretty amazing.