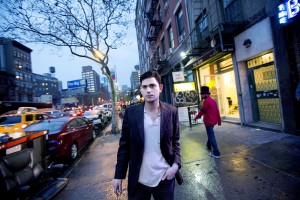 Luke Elliot is to America what Soan is to France — timeless blues with speckles of rock 'n' roll. However, Elliot does not completely agree with this constraining definition of his musical genre. "Sound is limitless" is a phrase that is often thrown around by Elliot, and he lives up to his fans' expectations of breaking the boundaries of what a genre permits (or doesn't).
On July 7, I had the opportunity to understand what the latest buzz surrounding Luke Elliot is all about. In an online interview with The Triangle, Elliot talked about fellow musicians, his latest album, "Provisions" and his prospective collaboration with the legendary producer John Agnello. Elliot played at the Milkboy, Philadelphia July 8.
Elliot's music is influenced by a bunch of genres, but according to Elliot, "It is more rock 'n' roll than anything. But people take away from it what they hear, and that's totally fine."
Elliot believes that his music is inspired by the likes of Elvis Presley, Bob Dylan, Hank Williams and Elvis Costello, among many others. But Elliot personalizes the genre with lyrics that possess philosophical undertones and subtle allusions to subjects like love and faith, loss, and hope. However, he assumes a jocular view of being described as philosophical.
According to himself, Elliot is a product of the things that he has learned. He does not write about things consciously. He writes about what interests him, and that process is almost subliminal. His subconscious musical process may also be a manifestation of being born to an artistically-inclined family, his mother and father both being piano players.
It is not surprising then that as a child, Elliot was forced to take piano lessons. But in his cool demeanor, Elliot laughs it off now, writing, "I was very young, and piano didn't exactly seem like a cool thing to do." He demurely added, "I realized that I wasn't terrible [and] wanted to continue." He attributes his musical success to his parents' persistence and describes his career as life-changing.
It is seldom that a multitalented musical prodigy possesses humility, but Elliot does not conform to the flamboyant parade of arrogant musicians who auto-tune their way to the top. Elliot admits that musicians can be a difficult crowd.
According to him, "Some [musicians] you click with right away, and some just want to seem like they're doing better than you are at the moment." Elliot does not appreciate the ensuing game of comparisons and would "rather connect with people."
Elliot has come a far way with two EPs released: his debut, titled "Death of a Widow," and his recently released album, "Provisions." He has been signed by Christa Shaub of Shaub Entertainment, who was instrumental in the careers of the then-emerging artists John Legend and Rihanna.
Elliot is also scheduled to collaborate with John Agnello, the renowned producer, mixer and recording artist. Agnello has previously worked with popular rock bands like Sonic Youth and Dinosaur Jr. Elliot wrote, "I'm excited about the recordings with John. We've already started to put down tracks, and he's a wiz in the studio." This marks his first collaboration with Agnello. Elliot has high hopes for his upcoming musical projects.
In his sophomore album, "Provisions," Elliot explores many personal subjects written during a difficult period in his life. Songs like "Ballad of a Priest" and "To Feel Your Love" allude to personal reminiscences and references to his own life. Elliot claims that "Ballad of a Priest" is based on Graham Greene's book, "The Power and The Glory."
He further divulged that he feels like he can relate to the character of the "whisky priest" in the book. I am more certain than ever that his lyrics are layered with deep shades of philosophy that explain life metaphorically. Elliot believes that "Provisions" is different than his previous EP, "Death of a Widow," chiefly because the latter was recorded in someone else's house. While both the records are his productions, he feels like he had more time to craft songs in "Provisions."
Luke Elliot is a man with interesting philosophies. Professionally, he swears by another one — he never wants to play a song the same way twice. He feels that recordings are just snapshots and he attempts to move forward as much as possible. A certain way of achieving that, according to him, is simply recreating what he has already composed.
Furthermore, Elliot quipped that he loves being on a stage. Recording, for him, takes too long, and one can often lose sense of what one is doing. Along with his bandmates, whom he endearingly calls his "musical family," Elliot creates dark, folk-infused rock reminiscent of Rufus Wainwright, Elliott Smith and Bob Dylan. He discussed his band members, Jim McGee (electric guitar), Ed Barber (bass/backing vocals), and Dan Peck (drums), writing, "None of what I do would be possible without these guys. They bring about new ideas and new sounds. They are my heroes."
After a seemingly endless chat with him, Luke Elliot is still an enigma. He is a multitalented musician, composer and to me, an emerging philosopher. Elliot wishes to continue touring, recording, creating and recreating music for a lifetime. While his fans and critics might not place Elliot in a single domain of musical genre, they would all agree on one thing — he creates intelligent music. Luke Elliot has created a new genre.