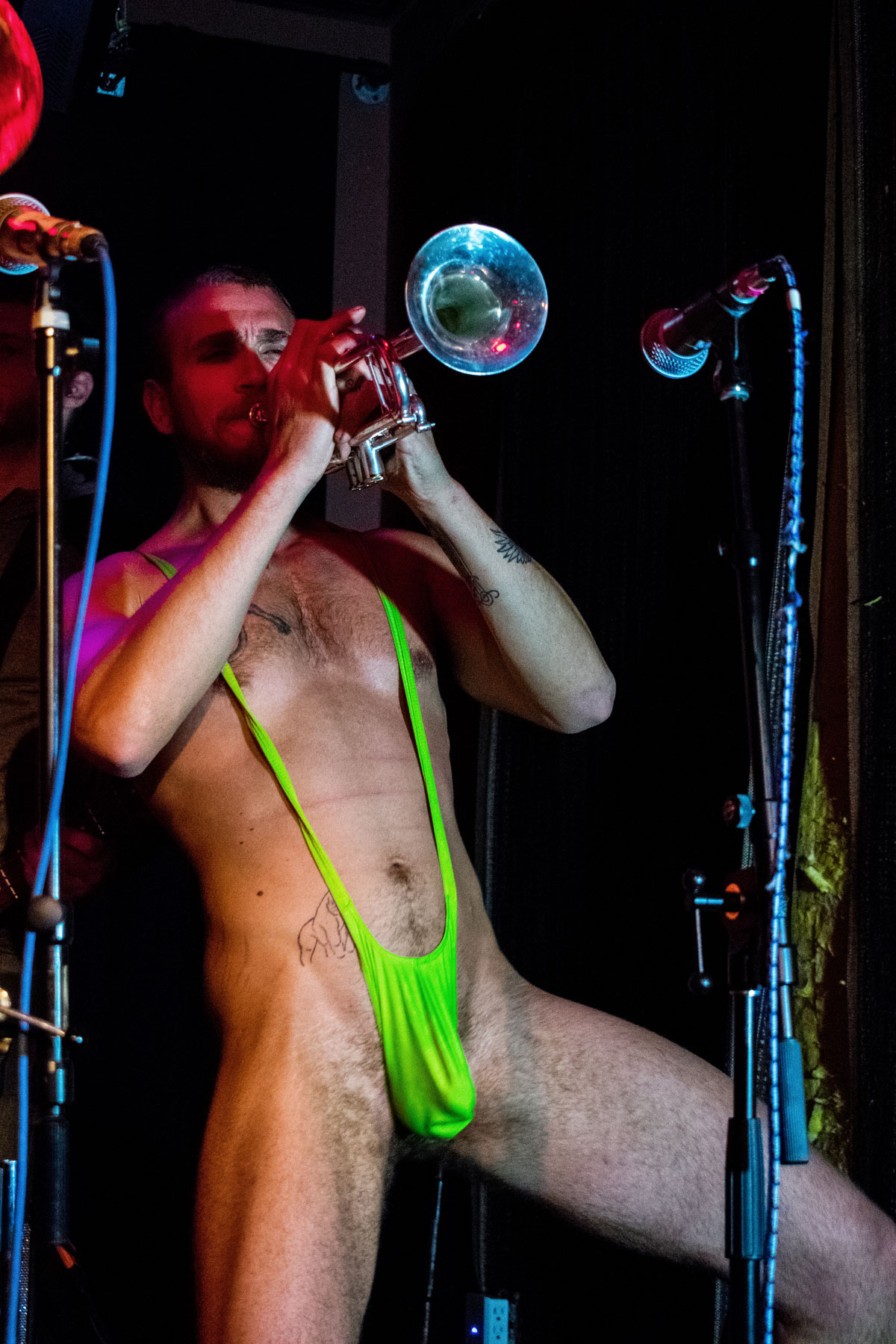 Singer Bryan Rucker, son of Steve Rucker of the Bee Gees, and his five-piece band,The Norm, graced the miniscule stage lodged in the upstairs venue at Milkboy. After coaxing the crowd to fill in the front section, Rucker along with his step-brother and rapping counterpart, Ryan Bars, caught the audience by surprise with their vast range of songs crossing genre after genre.
The band members brought together by the common need to break the musical "norm" truly accomplish that through their set comprised of screaming guitar solos, thick baselines, hard hitting verses from Ryan Bars and angsty yet sweet vocals from Rucker. As the set ended, the roadies and band members ushered fans away from the tiny stage in order to break down their gear and set up for Tropidelic.
The six-piece Ohio band highlighted by the split second rhymes of, trombonist and rapper, James Begin, completely filled the stage leaving just enough room for some headbanging by guitarist Bobby Chronic, and ludicrous dance moves from trumpet player Derek McBryde.
Despite some technical difficulties as their set began, lead vocalist, Matthew Roads fired up the crowd getting everyone moving with their funky set of songs. "The Line," and "Bad Cookie," off of their late 2016 release, "Go Down with the Ship," were phenomenally performed and kept the crowd dancing. Drummer, Darrick Willis, ditched his shirt after the first song but the loss of clothing wasn't done yet.
Just before breaking into their most popular song, "Alcoholic", McBryde stripped down to the mother of all banana hammocks and quite literally "rocked out with his c— out" for the final songs of the set. The crowd at Milkboy loved McBryde's carefree attitude that embodies the band's reggae, funk, rock and hip hop music.
Audience member Michael Murphy describes them as "Linkin Park, Yellow Card, and Tupac all in one."  Previously, Tropidelic has opened tours for Dirty Heads, Sublime with Rome, and Slightly Stoopid, who have influenced their music. Their style has heavy metal influences that contrast perfectly with the laid back reggae and funk themes in their works. Roads' vocals and the brass section shine through on "Ideal" and "Look Forward," tracks from their 2015 release "Police State"
Philadelphia natives, John and Kevin Shields, born into different families with the same last name, performed as a duo at Milkboy March 4 but frequently perform with a five-piece band.
Wielding only a beatpad, guitar, melodica and a megaphone, Little Stranger put a 45-minute set comprised of tracks from their 2015 release "Buddha the Beast" and a handful of covers, all highlighting their diverse range of sound and style. Each song feels completely independent from the next which is refreshing after listening to entire albums of some current bands or one hit wonders.
All of their songs are worth listening to. "Easier or Harder," their most well-known song, was the highlight of their set but not by much. They performed Grover Washington Jr.'s "Just the Two of Us" for John Shields' parents standing in the crowd.
The Shields duo finished and prepared to vacate the stage, but the crowd demanded another song. Clearly not expecting to perform another, John and Kevin conversed and decided to give the fans what they want. "The Seed" by The Roots with John Shields' vocals, along with Kevin's rendition of Black Thought's verses ended the show in perfect Philly fashion playing into their smooth songwriting and hard-hitting rap style.  
As each set finished, the bandmembers grabbed one of Milkboys craft beer cans and joined the crowd in anticipation for the next performance.
Each musician's appreciation for one another shone through as they danced to the other performances. The artists were selling their own merch between sets and talking to fans as if they were regular Saturday night patrons of Milkboy, thus creating a family amongst a crowd of strangers.
With just under 12,000 monthly spotify listeners across all three performances of the night, the trio of genre-blending bands are just starting to scratch the surface of their touring careers. Down the road fans of all  three groups will be bragging to their friends, "I liked them before they got big."