As many Drexel University students have come to realize through the co-op program, dressing for success is no joke. To be taken seriously it is of the utmost importance to dress appropriately throughout the interview process.
Today, with such an unstable employment rate, job seekers must remember that the tiniest detail can make or break you. Dressing for an interview can play a large role in the interviewer's opinion of you.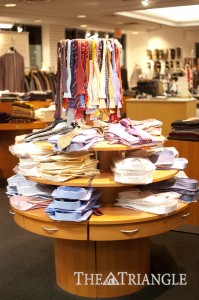 Phila. students learn the dos and don'ts of dressing for interviews and co-ops from Les Richards and Ann Taylor.
According to Forbes Magazine, Frank Bernieri, associate professor of psychology at Oregon State University, said, "Within the first 10 seconds of meeting your interviewer — otherwise known as the meet-and-greet – that person has decided whether or not you're right for the job."
Fortunately, students seeking an internship have the opportunity to attend Les Schwartzberg's "Dress for Success" seminars. Les Schwartzberg, owner of Les Richards Menswear stores in the Shops at Liberty Place and the Cherry Hill Mall, has joined forces with local manager Tamara Aguilar from the Ann Taylor women's store to produce these seminars for future interns. Schwartzberg visited Temple University and Drexel last November and brought his seminar to the University of Pennsylvania Jan. 24.
Les Richards is a full-line menswear store dedicated to producing modern apparel from a multitude of designers including Ralph Lauren and Calvin Klein. Known for impeccable tailoring for suits and sport jackets, Les Richards is a heavyweight in terms of dressing for success in the business community.
In coordination with Ann Taylor, Schwartzberg held free "Dress for Success" seminars at local universities including Drexel, Temple, and the University of Pennsylvania. The "Dress for Success" seminars consisted of a presentation showcasing affordable, stylish and appropriate business wardrobe collections. Additionally, these seminars provided college undergraduates with insightful interview tips and interview attire advice.
For instance, Schwartzberg emphasized the importance of preparation the night before an interview, the do's and don'ts during interviews, and an internship-seeking student's overall presentation throughout the interview process.
Tamara Aguilar discussed women's suit options: "The pencil skirt sounds like it's just for super-slim women. But actually it's a very flattering silhouette for all sizes, and it always looks correct for an interview suit," explaining that the length of the skirt is crucial. "Just remember, if you're in a very conservative field like banking or pharmaceutical, you need to have a hem that comes down to the middle of your knees."
In addition, Aguilar emphasizes that having a well-fitting suit directly correlates to confidence. "Don't think about the number of the size when you're buying for an interview suit. Just buy what actually fits well, regardless of the number."
When it comes to dressing for an interview, keep it conservative and professional. Dressing conservatively displays your thought process and the maximum effort you put into preparing for the interview.
Schwartzberg claimed, "The greatest trick for wardrobe building for guys is this: If you buy a blue suit and gray suit, you get three outfits. The blue jacket can be worn as a navy blazer with the gray suit pants; you've got the perfect executive look, just adding a crisp white shirt. It also makes for easy packing if you go on an interview where there may be a dinner meeting after the formal interview."
For more information about the Philadelphia store, located at the Shops at Liberty Place at 1625 Chestnut St., call 215-751-1144.