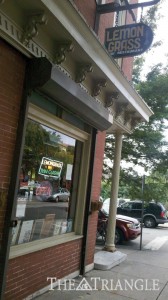 As a food critic, I pride myself on my experience. What I mean to say is that when I see an interesting restaurant, I inevitably find myself itching to try out its spread so that I can justify my inflated food critic ego. That's why I've been so disappointed in myself every time I've passed Lemon Grass Thai. Time and time again I made a vow to eat there soon but always found myself unable to go for one reason or another. The online reviews have been positive overall (we critics like to judge each other from time to time), and it's pretty close to campus, so there was no reason for me to avoid it.
Then one day, when I asked myself, "What restaurant would most please my readers?" I came to the conclusion that both you and I could benefit from me visiting this Asian inspired restaurant.
So please enjoy yourself as you read the chronicle of my long-awaited trip to Lemon Grass Thai.
From the outside, one cannot truly get a feel for what Lemon Grass Thai is all about. Its unassuming exterior and surroundings make it somewhat nondescript, save for a dragon statue in the window. Once inside, however, I found myself in a calm and spacious dining area. The dark hues, the subtle scent of food, and quiet music project a calm atmosphere, so if you want a good conversation, look no further. Another nice touch to my experience was the servers. They were prompt, seating me and taking my order in what must have been under three minutes. I've read comments about the servers being not quite up to par with manners, but I had no problems. They weren't exactly bubbly and cheerful, but I could not find fault with them, especially in light of their punctuality.
The menu at Lemon Grass Thai is quite extensive, boasting a wide variety of meats and noodle dishes (look out for the more interesting names such as Evil Jungle Princess and Young Girl on Fire). Most of the entrees will run you between $15 and $20. After poring over the menu for a few minutes, I came to my decision: one order of Tulip Dumplings and the Lamb of Siam. I must admit coming to a decision was difficult; in my experience, I've found lemongrass soup to be near irresistible. However, I decided to branch out this time and order something different, even if it meant denying myself the establishment's namesake.
In what seemed like a short time, the Tulip Dumplings came out. Packed with chicken and crab, I knew before going in that these would not disappoint. When dipped in the soy vinaigrette, they were a great blend of hearty flavor and tangy kick. The meat wasn't too packed with flavor (I expect they were mostly chicken, which would account for their substance), but the vinaigrette more than made up for that. Their only downfall was their slightly petite size. I would encourage you to try them, but be warned — they will not fill you up. That being said, they are a nice complement to a filling main course.
Next came the piece de resistance: the Lamb of Siam. It is described on the menu as a "rack of lamb," so I expected a somewhat larger portion. It's not exactly small, but at the same time it's in no way what I would expect when I picture a rack. I would place this dish at maybe around 10 ounces or so of meat. A good-sized portion for sure, but it will definitely not overwhelm you. Still, the lamb packed quite a punch for its size. The meat was tender and oozed with full-bodied juices. What really got me, though, was the mushroom sauce the lamb was soaked in. That sauce gave quite possibly the best tangy kick to meat I've ever tasted. It was the perfect combination of herbs and sharp flavor to the meat's full, bold taste. The one thing that held back this dish, though, was the vegetable side. The mixed vegetables were bland and uninspiring. They crunched as if barely cooked and had little to no flavor. Being the intrepid eater I am, I doused them in the mushroom sauce and found them to be more than appetizing. Still, they almost brought down what was otherwise a great dish.
Ultimately, I found Lemon Grass Thai to be an excellent restaurant. The dinner menu's a little pricey (not so with lunch, I'm told), but the food in general had a lot of flavor, and the calm atmosphere was a nice change of pace from the usual restaurant hustle and bustle. If you're in the mood for Thai cuisine, I suggest you give it a try.