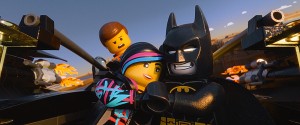 Taking a lesson from Helen of Troy, it's the product that launched innumerable collectible sets, several video game franchises, six amusement parks and your childhood. I'm of course referring to Legos, those small and colorful construction bricks that occupy space in game closets all over the world and, more importantly, our hearts. Consequently, it was only logical for Hollywood to turn these toys into a nostalgic movie that reminds us of why we played with (and perhaps tried to swallow) those tiny blocks in the first place. Released Feb. 7, "The Lego Movie" was written and directed by Phil Lord and Chris Miller, the same duo who brought us the film adaptations of "Cloudy with a Chance of Meatballs" and "21 Jump Street." Judging by their filmography, these guys aren't afraid to dig up beloved classics and bring them into the modern age, infusing them with their own brand of humor and charm. Continuing this tradition, "The Lego Movie" is a hilarious, heartwarming and clever animated outing for kids — even the older ones.
In the spirit of the "Toy Story" films, the movie centers on anthropomorphized figurines, in particular, Emmet Brickowoski, a happy-go-lucky (yet unimaginative) construction worker living in Bricksburg, a seemingly carefree town that is actually a full-blown amalgamation of Orwellian and Huxleyan dystopias where everyone lives their lives according to the instructions. Emmet is voiced to innocent perfection by Chris Pratt ("Parks and Recreation"), who seems to have a monopoly on playing nebbish dunces. Unaware of anything greater than his city, he stumbles across a conspiracy that puts him at the center of a prophecy involving the "master builders," who are trying to restore balance and creativity to the Lego universe.
While it does sound a little like "The Matrix," Lord and Miller use this as a diving board to explore an expansive, beautifully animated world of bright colors that pays homage to several iconic Lego play sets while allowing Emmet to interact with a bunch of vibrant characters who are voiced by an all-star cast. Together, he and Wyldstyle (Elizabeth Banks), a beautiful and butt-kicking heroine, team up to use the fabled "piece of resistance" to destroy "The Kragle," a diabolical doomsday weapon of Lord Business (a hilariously fiendish Will Ferrell) and his robot minions who kidnap and terminate master builders, "Days of Future Past"-style.
Other notable characters are Bad Cop, an Irish bipolar policeman (Liam Neeson); Vitruvius, a zany wizard (Morgan Freeman spoofing the old sage/Mr. Miyagi archetype); Batman, a caricature of Christopher Nolan's brooding hero (Will Arnett); and "1980-something space guy" Benny, a rocket ship-obsessed astronaut (Charlie Day). Among others, make sure to keep you ears open for the voices of Alison Brie, Jonah Hill, Cobie Smulders, Nick Offerman, Will Forte and Channing Tatum.
Never containing a dull moment, "Lego" becomes a cavalcade of clever gags, quotable lines and pop culture references, as it successfully mashes up and parodies just about every blockbuster genre out there, like a kid-friendly "Airplane!" It's got everything your inner child could want: cowboys, robots, superheroes, aliens, unicorn kittens, dragons, historical figures, android pirates and an amazing "Star Wars" cameo that you won't soon forget! At only 100 minutes long, the movie moves at a brisk pace as eye-popping visuals are constantly being assembled and disassembled with copious amounts of creativity and detail. Despite the film being computer-animated, the animators were able to achieve a cool stop motion look that meshes well with the Lego theme. Some scenes may even remind you of those books that create entire scenes out of everyday objects. It's one of those rare times that it's worth it to splurge a little for the 3-D component.
I won't lie: As the movie reaches its climax, things get really weird, really fast, bringing an existential twist of sorts that I won't spoil for you. Still, it's this odd component that extrapolates strange comparisons and appeal from 1980s cinematic features like "The Princess Bride," "Honey, I Shrunk the Kids" and "Who Framed Roger Rabbit?" In the end, the overall message is a touching one (even if it is cliched) that emphasizes the uniqueness of one's imagination and individuality, teaching us that you can build whatever you put your mind to. While it could have been a lazy and brainless endeavor, catering only to the very young masses, "The Lego Movie" is a smart venture, on par with anything Pixar and DreamWorks can crank out, showing a deep love of and care for the product it represents. With so much to draw from, it's safe to say that there will be plenty of sequels. As we wait, we'll get to see more of Lord and Miller's work in June's "22 Jump Street." In the meantime, however, go to a local theater to see your childhood whimsies projected on the silver screen. While you won't be able to describe your joy, the movie's catchy song sung by Tegan and Sara and featuring The Lonely Island just about sums it up: "Everything is Awesome!"