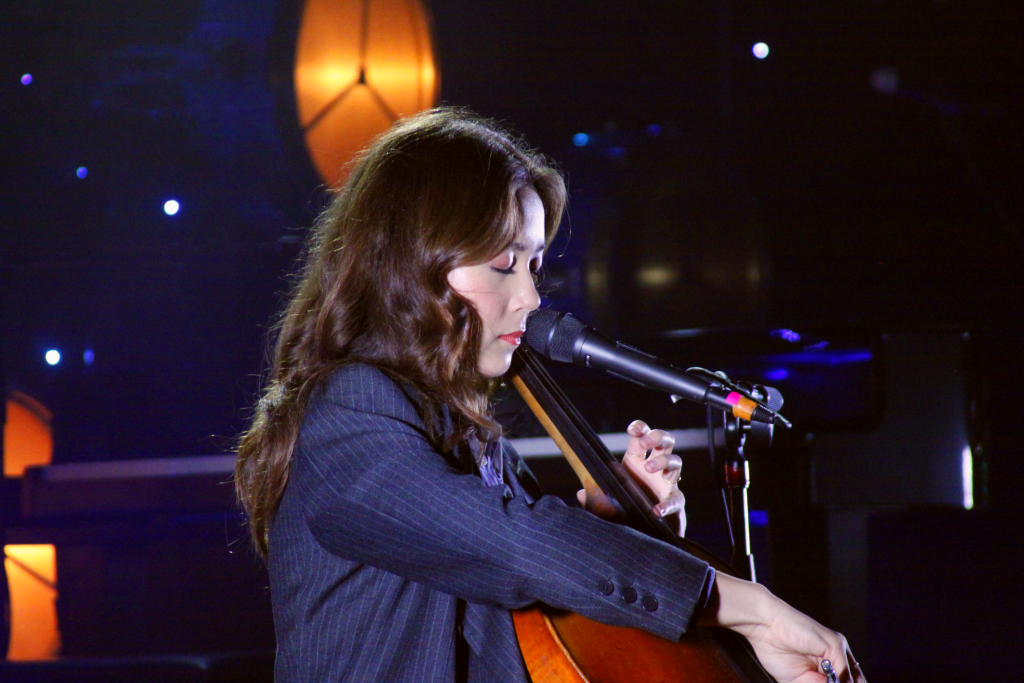 Modern jazz singer-songwriter Laufey captivated concert attendees at The Theatre of the Living Arts on Friday, Nov. 3 in Philadelphia. Like many other dates on The Bewitched Tour, this show was sold out. Audience members were dressed in true Laufey fashion with ribbons and bows in their hair and delicate, neutral-toned clothing.
The opener, New Jersey-born indie pop artist Adam Melchor, took the stage at 8 p.m. starting off with a cover of "Somewhere Over The Rainbow" (1939) by composer Harold Arlena and lyricist Yip Harburg. Purple lighting settled over the stage as Melchor debuted his pure vocals. Preceding his song "it'sjustmyheart (voice memo)" off his first album "Melchor Lullaby Hotline Vol. 1" (2021), Melchor explained it was about a "person who dumped him." He elaborated that a couple days later, a tree fell on this person's car and they called him for assistance, which elicited a chaotic reaction from the audience. Melchor beautifully ended his set with another single, "Real Estate," (2018) that was about "finding the person you love's hair caught in your mouth…in your clothes." It was the perfect precursor to Laufey's love-focused set.
Laufey's set began around 9 p.m., as she appeared on stage in a dark gray blazer and skirt, with silver metallic heels and a red guitar. The stage itself was adorned with lantern-like lights producing a warm hue. Following an instrumental intro, Laufey opened her set with "Fragile" from the album "Everything I Know About Love" (2022). From this track, she dove into fan-favorite "Valentine," another single from the same album. All audience members were singing along for this one.
Laufey, a trained cellist, brought out her cello for "Second Best." This track, off the tour namesake album "Bewitched" (2023), allowed the audience to be whisked away by Laufey's soothing voice. It also featured a cello solo on the left side of the stage, with a spotlight shining over Laufey. "Second Best," which is about being someone's second choice, had everyone feeling a bit emotional.
But the sadness did not last for long, as Laufey increased the energy with the track "Dreamer" from the same album. "Dreamer" served as a contrast to "Second Best," as it is about Laufey not letting anyone "kill the dreamer" in her when it comes to love. This endearing performance consisted of Laufey skipping across the stage and standing on its elevated center platform.
"I just had a Philly cheesesteak before this," she said as she finished her performance and expressed that she felt a bit queasy from jumping around.
Leading into the track, "Falling Behind" ("Everything I Know About Love"), Laufey explained that she wrote the song after seeing couples making out in coffee shops. She felt like she was behind in her life because she did not have a significant other, a sentiment many audience members related to.
As Laufey got further into her set, more lights appeared on stage, resembling stars. This provided a lovely atmosphere for the ballad "Beautiful Stranger" ("Everything I Know About Love"). Laufey explained that the idea for this song came when she was on the train in London and made intense eye contact with a stranger.
After the song's completion she playfully stated, "You guys are so delusional," which elicited many laughs and screams of agreement throughout the crowd.
Continuing with the theme of anecdotes, Laufey revealed that her song "Promise" ("Bewitched") is based on a long distance situationship that she had a hard time cutting off. The crowd screamed the bridge lyrics "I've done the math, there's no solution / We'll never last / Why can't I let go of this?" The song's performance in full was breathtaking.
"Promise" led into jazz classic "Like the Movies" from the "Typical of Me" EP (2021). This song gained traction on TikTok upon its release, boosting Laufey's popularity and the appreciation for modern jazz among today's generation. Needless to say, all audience members were singing along.
When it came time for the "Nocturne (Interlude)" ("Bewitched"), Laufey described that she wanted to "challenge herself to compose something that didn't rely on lyrics or singing." The interlude is a dazzling piano composition that seamlessly blends with the rest of the album.
The studio version of her single "Let You Break My Heart Again" (2021) is one of her most instrumentally impressive tracks as she is joined by the Philharmonia Orchestra. While the Philharmonia Orchestra was not present with her on tour, it did not stop this song from being just as exquisite live, making the audience feel as though they had transcended time. It is absolutely gut-wrenching, and conveys a level of emotion that is easy to be consumed by.
The penultimate song of her set was "Lovesick" ("Bewitched"). This track started off slow, but picked up intensely during the chorus. Laufey did a call-and-response at the end of this track, telling the right and left halves of the venue to sing "oooh" at different pitches to create harmony. The music continued to play as the audience sang their newly learned harmony, which sounded amazing for something that was learned only seconds prior.
Laufey's main set ended at 10:15 p.m., but she came back on stage for an encore shortly after. The first encore song was "Letter To My 13 Year Old Self" ("Bewitched"), which is a heartfelt track where Laufey addresses and appeases the insecurities of her 13-year-old self. When she sang the lyric "One day, you'll be up on stage / Little girls will scream your name," audience members screamed "Laufey!" Fans also presented a project during this track, in which they all held up letters to their 13-year-old selves in the air for Laufey to see. She was warmed by the gesture and asked if there was a way to collect the letters or if fans wanted to swap letters with each other.
For her second encore song and last song of the night, Laufey explained that she was doing a "surprise song" for each show of her tour. This song could either be something from her discography or a cover. She chose a bit of a silly one for Philadelphia, performing a cover of "Makin' Whoopee" (1929) by Walter Donaldson, that she said she posted on her TikTok two years ago, if any early fans remembered. The show let out a bit after 10:30 p.m., and released audience members to a classic chilly November night.
Laufey's U.S. leg of The Bewitched Tour ends on Nov. 19 in L.A., before she heads to Europe in February. In the meantime, fans can stream her newly released Christmas tracks, "Christmas Dreaming," and a cover of "Christmas Waltz" off her three-track single "A Very Laufey Holiday!"; her two-track single with Norah Jones "Have Yourself A Merry Little Christmas" and co-authored song "Better Than Snow"; and her Spotify Singles Holiday cover of "Winter Wonderland," all released this month.
SETLIST
Adam Melchor
Somewhere Over the Rainbow (Snippet)
Real Estate
Laufey
Fragile
Valentine
Second Best
Dreamer
Falling Behind
Beautiful Stranger
I Wish You Love (Keely Smith cover)
Promise
Like the Movies
Nocturne (Interlude)
Let You Break My Heart Again
Lovesick
Letter To My 13 Year Old Self
Makin' Whoopee! (Walter Donaldson cover)