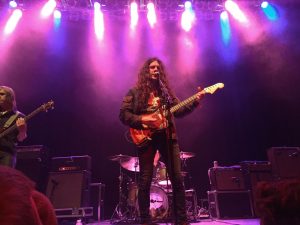 Kurt Vile has been on my shortlist of artists I need to see for quite some time. Vile is one of the biggest names in the Philly indie rock scene, and all the attention he has received is not at all unwarranted. A resident of Philadelphia myself, I never would've guessed that I would be seeing him for the first time at NorVa, a venue in Norfolk, Virginia.
Kurt Vile & the Violators played with support from local Norfolk band You're Jovian on the beautiful summer evening of June 25. I was down at Virginia Beach with my family for vacation and when I heard Vile would be playing. I jumped at the opportunity.
Vile has picked up a lot of steam in the past year since the release of his most recent album, "B'lieve I'm Goin' Down." The lead single "Pretty Pimpin" was particularly successful, receiving more radio play worldwide than any of his previous songs; it even has more than 17 million streams on Spotify, more than twice as many as his second most popular song. Don't let yourself be fooled by the numbers, though, because Vile is no one hit wonder — his discography is chock-full of bangers.
You're Jovian went on sometime around 8 p.m. Their set was a little strange; they used mangled, chopped up clips of audio between songs instead of actually addressing the crowd. It was a pretty neat gimmick, but I wasn't totally sold at first. Their guitarist picked up some kind of flute or recorder and started off the song, and then once the rest of the band kicked in he used it as a slide for his guitar. It was a bizarre way to start off the show and I was pretty skeptical, but my mind was changed when they got into the song.
You're Jovian played some of the most impressive shoegaze music I've ever heard live, and it was a real treat that I was not expecting. Their sound reminded me a lot of classic 1990s shoegaze bands, especially My Bloody Valentine and Slowdive. I don't listen to shoegaze that often, but I must say it is so much more enjoyable live than on a recording. Something about the texture of their layered instruments and vocals is absolutely captivating to hear live. I was impressed and thoroughly satisfied by their set.
Kurt Vile & the Violators took the stage not too long after, and launched right into "Dust Bunnies," off "B'lieve." I was impressed by how tight the band sounded. Listening to Kurt Vile's albums, I never really noticed how talented he is at the guitar, because he makes it sound so easy. But seeing him live, I was amazed to see his hands move around the neck with expert agility. Of course, he played many cuts off "B'lieve," but he also delved deeper into his discography and played some tracks I wouldn't have expected.
One of my favorite songs of the night was "Jesus Fever," off his 2011 album "Smoke Ring for My Halo." I had never heard the song before that evening, and it was stuck in my head for days afterwards. He also played "He's Alright," which I never would've expected to hear as it was a bonus track tacked on at the end of his 2009 album "Childish Prodigy." I felt like such a diehard fan when I recognized the song ("Childish Prodigy" is one of the few Kurt Vile albums that I own.)
"Wakin on a Pretty Day," "Pretty Pimpin," "KV Crimes" and "Freak Train" all shone like diamonds live and I was beside myself; however, I'm sure no Kurt Vile fan in their right mind would disagree that "Goldtone" is the absolute best live.
The whole show was pretty mesmerizing, with the shimmering guitars and chill vibes. Kurt Vile is a great talent, and if you like indie rock you should really check him out. He will be playing Aug. 27 at Chameleon Club in Bethlehem, PA so go buy tickets right now if you know what's good for you.