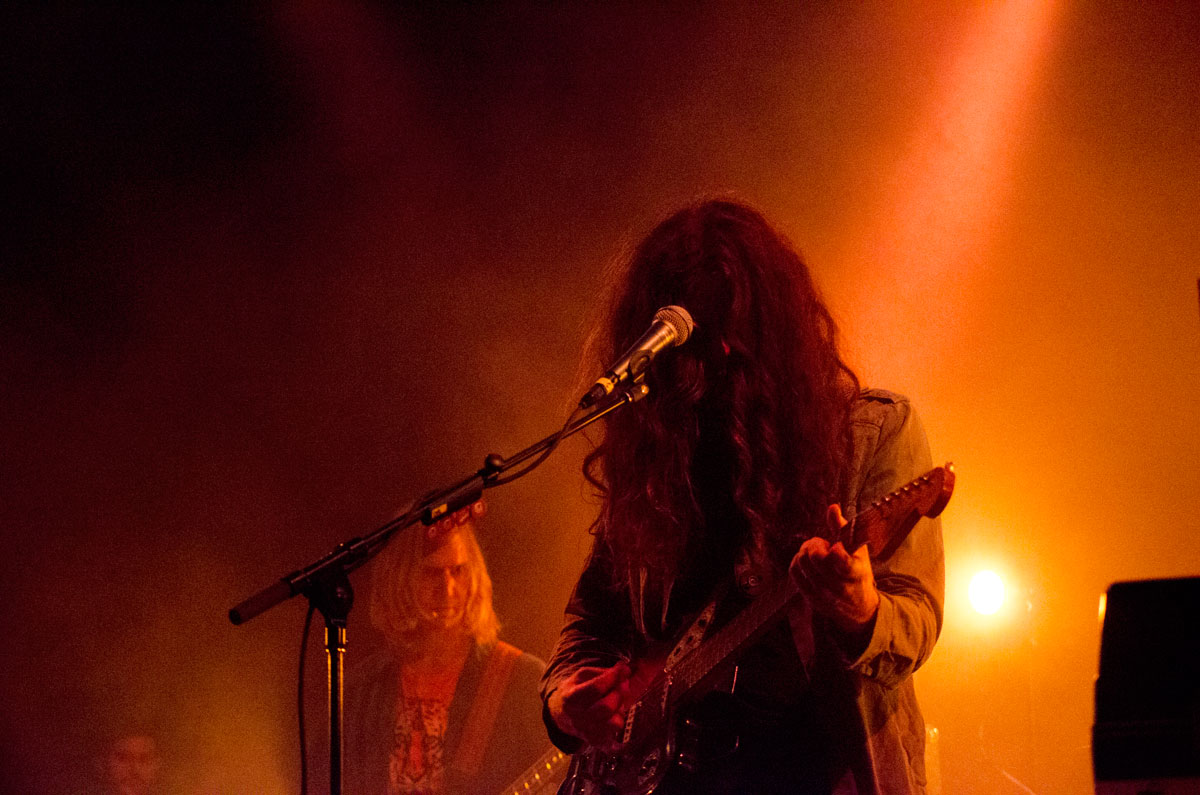 It was a dark and stormy night as the doors of Union Transfer opened to those waiting for the sold-out Kurt Vile and the Violators concert Oct. 9. Touring in support of his latest album, "B'lieve I'm Goin Down…," Vile put on a great, intimate set for his hometown crowd.
Two opening acts shared the bill with Vile: Luke Roberts and Waxahatchee. The latter's name may suggest a more folk-leaning sound, but in fact shades more towards punk rock. Anchored by lead singer Katie Crutchfield, the band put on a passionate performance that revved up the crowd to see the man of the hour, Kurt Vile.
"B'lieve I'm Goin Down…" is a great record that has a more introspective, somber sound than some of Vile's previous releases. Coming out in a dimly fog with his three bandmates, the Violators, Vile launched into two of his newest songs, "Dust Bunnies" and "Pretty Pimpin." Both arrangements sounded fantastic and lived up to the high standard that was set by their album versions. "Wheelhouse" and "I'm an Outlaw," two other songs from "B'lieve I'm Goin Down…" were also great to hear live. This show at Union Transfer was only one of a handful that Vile and the Violators played, so all the new songs sounded fresh. Vile noted that it was only the second time that they had played "I'm an Outlaw," which featured Vile's plucking at a banjo during the course of the country rock jam.
It wasn't just the new songs that pleased the concertgoers who were packed tight inside the venue. "Jesus Fever" from "Smoke Ring for My Halo" and "Goldtone" from "Wakin on a Pretty Daze" were both met with raucous applause. Though both were great, neither could hold a candle to the pre-encore song, "Freak Train," from Vile's 2009 album "Childish Prodigy." Featuring one of the violators on saxophone while the drummer pounded away in a methodical frenzy, lights roved to and fro as Vile and his band were shrouded in shadows. During the song's frantic climax, the lights were turned off completely several times as the music blared through the venue. It was crazy.
Vile and the Violators came back out to a warm round of applause and proceeded to play a two-song encore. For my money, "Wild Imagination" is the best song on the new album and it was a delight to hear live right off the bat during the encore. Vile then sent the Violators off stage as he closed with "All in a Daze Work." With his cool, calm demeanor, Vile made a great live set in front of a sellout crowd look like just another day's work.