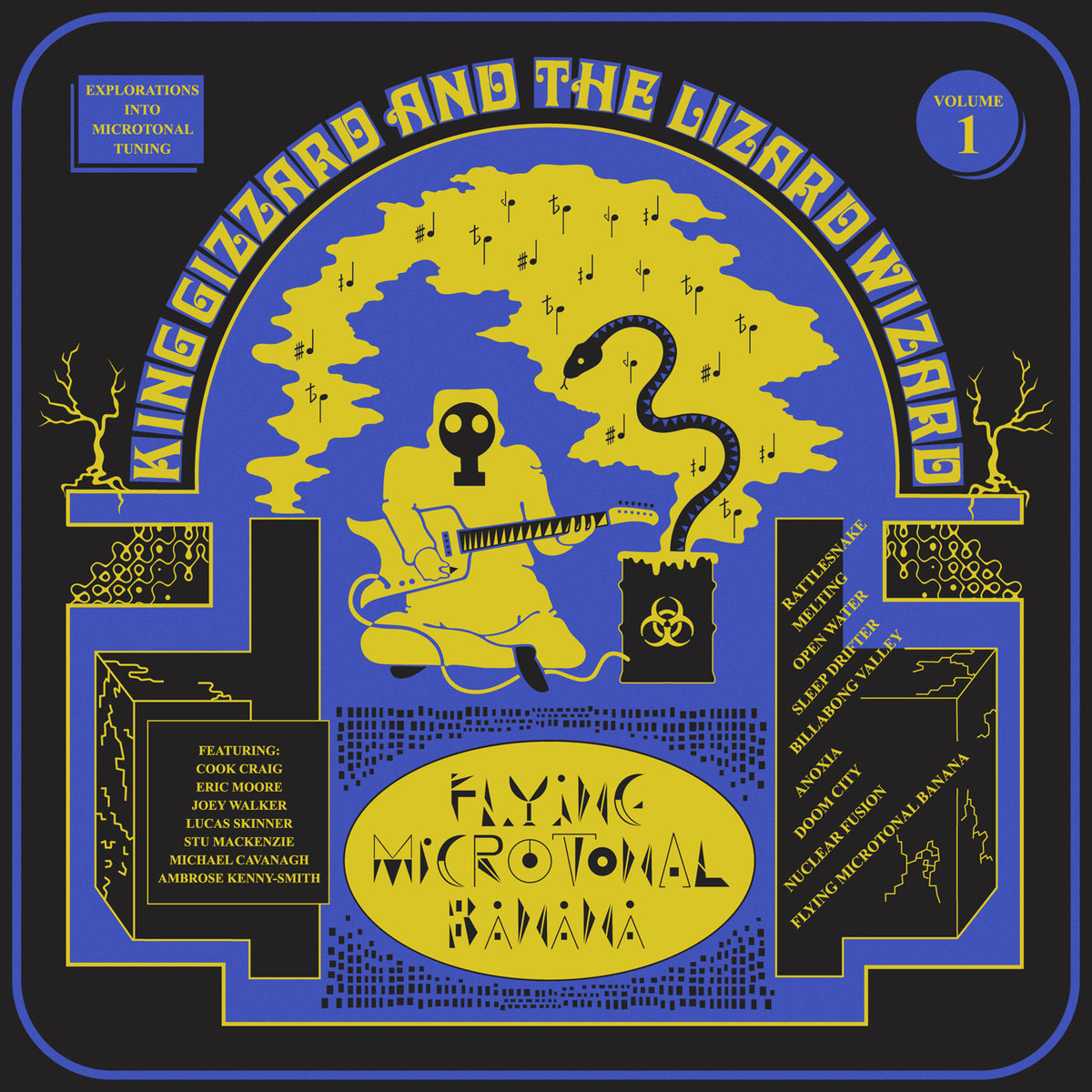 King Gizzard & the Lizard Wizard released a new album. This hardly seems like news when the seven-piece psychedelic rock band from Down Under puts out music more often than almost any other band in the scene. They've released nine studio albums within the past five years. They also have said that they plan on releasing a total of five studio albums in 2017 alone, those crazy rock 'n' rollers!
King Gizzard's most recent album, "Flying Microtonal Banana," was released Feb. 24 via Flightless Records (ATO Records in the United States).
These guys are known for their experimentation and adoption of a theme for each release. For their delightful 2015 record, "Paper Mache Dream Balloon," they used almost entirely acoustic instruments — including violin, congas, flute, clarinet, piano and a whole lot more. On their mediocre last album, "Nonagon Infinity," they put on a gritty, heavy, lo-fi garage rock aesthetic and created a "never-ending loop" of an album where all the songs flow directly into one another.
King Gizzard took another bizarre turn for "Flying Microtonal Banana." As the title suggests, the album experiments with microtonality. Without going too deeply into it, microtonality uses tones that exist between the notes of the 12-note, equal-temperament scale that is used in most Western music.
Their use of custom-built microtonal guitars give the music an exotic vibe. It sounds like it draws a lot of influence from Indian music. The sound is distinct, but not as bizarre as I feared.
I went into this album expecting it to sound awful. It doesn't sound bad at all; in fact, I'd say that their experiment with microtonality was a success. The songs all sound very much like King Gizzard & the Lizard Wizard, even with the strong added flavors of microtonality. I was afraid that this record would be too much of a departure from their style akin to the George-Harrison-goes-to-India-and-gets-enlightened Beatles tracks that were released in the mid-sixties such as "Love You To" and "The Inner Light."
No, "Flying Microtonal Banana" is plenty exotic-sounding but still manages to fall under the blanket of psychedelic rock. Production-wise, the album sounds very tight. It all sounds well mixed and I like the vocals on this one a lot more than I did the distorted, washed out vocals on "Nonagon Infinity."
The album starts out with the nearly-eight-minute "Rattlesnake," which I was absolutely sure I would dislike. The song is as groovy as it is repetitive — they literally use the word "rattle" in one form or another 100 times throughout the song. But I can't get enough of that driving bass! It's a long song, but it somehow never overstays its welcome.
"Melting," the second track of the album, is a bit more subtle and brooding. It provides a nice break between "Rattlesnake" and the third track, "Open Water," which is another repetitive, driving song. The rhythm guitar and bass play a repetitive pedal tone, allowing the lead to really color the track with those microtonal scales. It's also got some real nice auxiliary percussion — are those congas I hear? I like it.
Each song on "Flying Microtonal Banana" flows nicely into the next, much like they did on "Nonagon Infinity," although I appreciated it a lot more on this record. How many times can I bash "Nonagon Infinity" in one album review? Stay tuned.
"Nuclear Fusion" and "Sleep Drifter," two of the album's singles, are definitely strong tracks on the album, but I wouldn't say they really stand out among the rest. Maybe it's because I've only listened a few times so far, but a lot of these songs seem to blend together in my mind. However, if I had to choose, I'd probably name "Nuclear Fusion" as my favorite off the album because of how strangely funky it sounds.
"Flying Microtonal Banana" as a whole makes for an enjoyable listening experience, but I'm not sure how many times I would revisit any of the individual tracks. It's hard to predict whether it'll grow on me or fade over time. Nonetheless, even if the songs prove to be forgettable, I think this record as a whole is solid and it would make for great driving music.
It also shows that King Gizzard & the Lizard Wizard are still capable of making quality albums, even with the large quantity of music that they release. I guess we'll just have to wait and see if they actually manage to achieve their goal and release four other albums within the year. If they do, I just hope they don't rush the job and make another album as bad as "Nonagon Infinity."