Legendary music producer Ken Scott visited Drexel Oct. 23 to give a talk regarding his career and his new book, "Abbey Road to Ziggy Stardust." He walked out in front of a near-capacity Stein Auditorium in Nesbitt Hall full of music industry students, older, longtime fans and curious onlookers alike. Scott detailed his experiences working with the likes of The Beatles, David Bowie, Lou Reed and many, many more.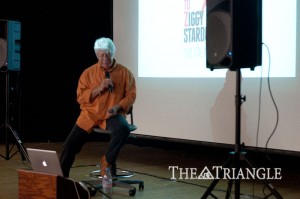 Scott began with how he came to fall in love with music and recording as a young boy growing up in England in the years following World War II. After spending hours listening to British radio programs, Scott became a big Elvis Presley fan and eventually got his first tape recorder. He went into great detail about how he used to record songs on his recorder straight off of the radio, even going so far as to jokingly call himself "one of the first pirates of music."
As the music industry began to pick up in both the U.S. and the U.K, Scott dropped out of school at the ripe age of 16 to seek a job as a recording engineer. His first interview was at EMI records at the studio that would later become known as "Abbey Road." Scott emphasized that "you should always go with your gut instinct," and it's to that ideal that he attributes his success in making it through the interview to land the job at EMI.
Using a tight integration of PowerPoint and music clips to tell anecdotes from his book, Scott kept the crowd enthralled for over an hour and a half. Using sound bites from Paul McCartney, he recreated a conversation that he had with McCartney back when The Beatles were recording the famous "White Album." After working with The Beatles, Scott decided to move into producing records rather than working as the head recording engineer. He produced a few of David Bowie's early albums such as "Hunky Dory" and Beatle George Harrison's "All Things Must Pass."
Scott then delved into the more complicated technical details and techniques that he used to put together songs for the two of those albums. There was plenty of technical jargon like equalizing, limiting and dubbing to keep endeavoring music industry students and current recording technicians in the audience captivated as Scott went into the finer aspects of recording. He even managed to persevere with his talk after someone accidentally set off the emergency exit alarm, which kept its steady beeping up for a good 25 minutes.
After his main talk was finished, Scott opened up the floor for a brief question-and-answer segment. Before that began, Scott let everybody know that he is not a fan of questions that start with, "What was it like working with…." Questions that followed avoided that line and mainly regarded to specific types of hardware Scott used, and for the majority, questions seemed to come from older members of the audience. Some interesting facts were gleaned from stories that Scott told between debating what the best brands of microphones and sound boards to use are. For instance, he was once in studio for 24 hours straight to help The Beatles finish up recording the aforementioned "White Album." Another fascinating tidbit was how David Bowie would often record his entire vocal live in studio in only one take. Scott commented that to the current generation that uses auto-tune and editing to make everything sound perfect and maybe even nonhuman, what Bowie did in studio was even more incredible.
Over the course of his talk, Scott discussed how he feels he led "a blessed life" filled with great experiences and interesting people. He went on to say that he didn't need illicit drugs back in the '60s and '70s because hearing great music and sounds in the studio was his "drug." By the end, Scott was very humble about his role in crafting some of music's most well-known albums, often shunning applause when talking about his ideas and techniques that changed some songs for the better.
The event was hosted by the Antoinette Westphal College of Media Arts & Design. Following the event, Scott was available to speak with audience members and sign copies of his book.