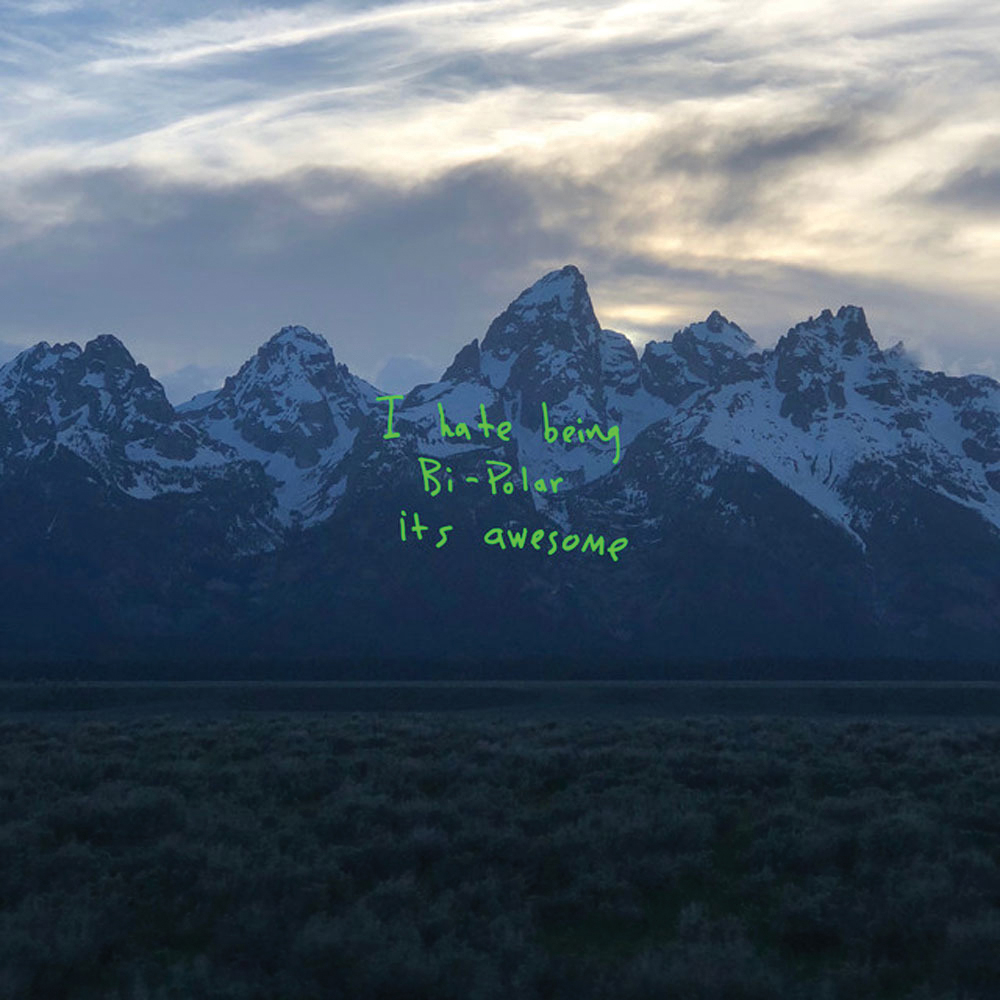 I don't really miss the old, old Kanye. I just miss the Kanye that didn't claim slavery was a choice.
There are a ton of different ways to roll out an album. You can drop it unannounced. You can create a massive marketing campaign. Or, you can go on a massive Twitter rant, endorsing our problematic president, and losing nearly half of your fan base in a couple of days.
Kanye West has always been a divisive figure. Ever since 2005, when West announced live on  air that "George Bush doesn't care about black people" after Hurricane Katrina, West has stayed in the limelight — sometimes for good reasons, sometimes for bad. For every outspoken publicity stunt is an incredible chart-topping song.
But this time Kanye dug himself into a hole that's a bit too deep. In a climate filled with police brutality, a broken criminal justice system, a xenophobic president, and mass shootings nearly every day, West spoke without censoring himself, as he often does. In a massive Twitter spree that lasted for weeks in April through May, West announced his support for Trump, and in a later interview with TMZ, said that 400 years of slavery was a choice. Somewhere in that exhausting rant he also announced a new album, that was released June 1.
Until June, there wasn't any real confirmation that the album would come. No album title, no tracklist, no album artwork, nothing. But on May 31, in the middle of nowhere, Wyoming, West hosted an album listening party. The next day, he released "ye" to the world.
Titled after his nickname, "ye" is the shortest album West has ever released. Only seven songs long, the album's run time is less than twenty-four minutes. West handles most of the production, blending a mix of soul samples with drums and horns. "Ye" includes features from other G.O.O.D. Music artists Valee, 070 Shake, Kid Cudi, and John Legend, as well as Ty Dolla $ign, Jeremih, PartyNextDoor, and others. Blended all together, "ye" sounds well mixed and comes together well, but still feels like one of the worst albums West has ever put out.
The album is about as lazy as the self-referential, lowercase title. For one, the album's artwork is just a photo West took while on the way to the release party. In addition, most of the album was remade after his slavery comments, which were less than a month before its release. Putting out a short album is fine, as long as there's no unnecessary excess. But "ye" opens up with Kanye just speaking for two minutes straight about wanting to kill someone and himself, and some of the songs barely feature him.
The album opens up well, despite the murderous rambling. The second half of the opening track "I Thought About Killing You" and the second track "Yikes" are both fantastic, with only Kanye rapping over frantic production. And then the slack comes in. The third track "All Mine" features smooth vocals from Jeremih and Ty Dolla $ign, and cringy lyrics from West, such as "Let me hit it raw, like fuck the outcome / none of us would be here without cum," which certainly won't nab West a Pulitzer. One of the best tracks from the latter half is "Ghost Town." With an opening from soul singer John Legend, an interesting refrain from Kid Cudi, and a catchy ending from new rapper 070 Shake, the song barely even features West.
This album probably feels so "meh" because of the incredible album that preceded it. Along with announcing his own album, West also announced Pusha-T's first album in two and a half years, "DAYTONA," which is also produced by West. Also spanning 7 tracks, "DAYTONA" is an elegant masterpiece, filled to the brim with clever wordplay, that sparked the viral feud between Pusha-T and Drake. Following up this amazing body of work with an average album just casts another shadow on "ye."
I think if you had no idea who Kanye West was and heard this album for the first time, you would really enjoy it. The album sounds great. But West makes groundbreaking music. He ushered in the use of autotune with "808s and Heartbreak," showed how rap music can be grandiose with "My Beautiful Dark Twisted Fantasy" and showed how to be bold and take risks on "Yeezus." But "ye" is a step backwards. It creates nothing new, and serves more as just a defense to his outlandish claims the previous month. Yet that's not to say the album is a flop. Within less than four days, "ye" has amassed nearly seventy million streams on Spotify alone, and is sitting on the top of the iTunes charts. Despite these achievements, "ye" is the beginning of the end of Kanye West.