Norah Jones seems to have a rubric for expressing heartache and melancholia. Creating simple, soothing yet lovelorn songs has made her a pillar of jazz and blues music. With her latest album, "Little Broken Hearts," Jones slightly tweaks her sound as she croons about what she knows best.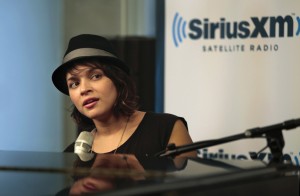 Singer/songwriter Norah Jones released her fifth album "Little Broken Hearts" April 27. The album was produced by Danger Mouse (Brian Burton) with songs written by Jones and Burton.
The album may chronicle the end of a relationship, but it also represents a new chapter in her musical romance with famed producer Danger Mouse. If creating music were anything like vintage high school romance, the two would be going steady by now.
Their first collaboration came in 2009 with the spaghetti Western-themed "Rome," which also featured Jack White. The concept album had its highs and lows, but it laid the foundation for "Hearts," a distinctive breakup album for the 21st century.
Danger Mouse has a sonic signature that has defined his work for Gnarls Barkley, Broken Bells and even Gorillaz' "Demon Days." On "Hearts" he acts as a megaphone through which Jones' voice truly shines.
A keynote track is "Happy Pills," Jones' punchy and vibrant first single that strays from the somber staples that made her so successful. While the songstress is far too classy to give someone the middle finger, this is her vocal equivalent.
"Never said we'd be friends, tryin' to keep myself away from you 'cause you're bad, bad news," she says, with Mouse's addictive beat bumping behind her.
Jones dismisses her former flame, applying an affective "won't be fooled again" attitude to her immaculate vocals.
"Little Broken Hearts" comes 10 years after her best-selling debut passionately chronicled young love with unforgettable tracks like "Come Away With Me" and "Don't Know Why." Jones has clearly been through the emotional ringer and her new sound reflects her changed perspective on love.
Jones spends much of the album describing the woman that came between her and her man, namely on "She's 22" and "Miriam." These two highlights are both agonizingly depressing and poignantly beautiful. This is contemplative, sitting-at-the-bottom-of-the-pool music. It's heartache personified by a talented writer and passionate lover.
Another standout is the title track, on which Danger Mouse's and Jones' talents blend perfectly. The producer lays out a sonic landscape that Jones pours herself onto like melted butter. This is Jones' "Wanted Dead or Alive," and she doesn't disappoint.
As with any Norah Jones album, there are sleeper tracks. A true fan will appreciate them, and a casual one will dismiss them. Before judgment is passed on "Hearts," one must understand that the album is the story of a sunsetting romance, with some parts more scandalous or interesting than others.
As the album comes to a close, Jones takes one last look at her relationship, dreaming of it lasting and hoping her fantasy isn't "All A Dream." Many can relate to her tale, which ends as a bittersweet story of love, loss and longing. I was ultimately left in a blissful state, swooned by the milky sweet voice of a generation.
It's good to have you back, Norah.