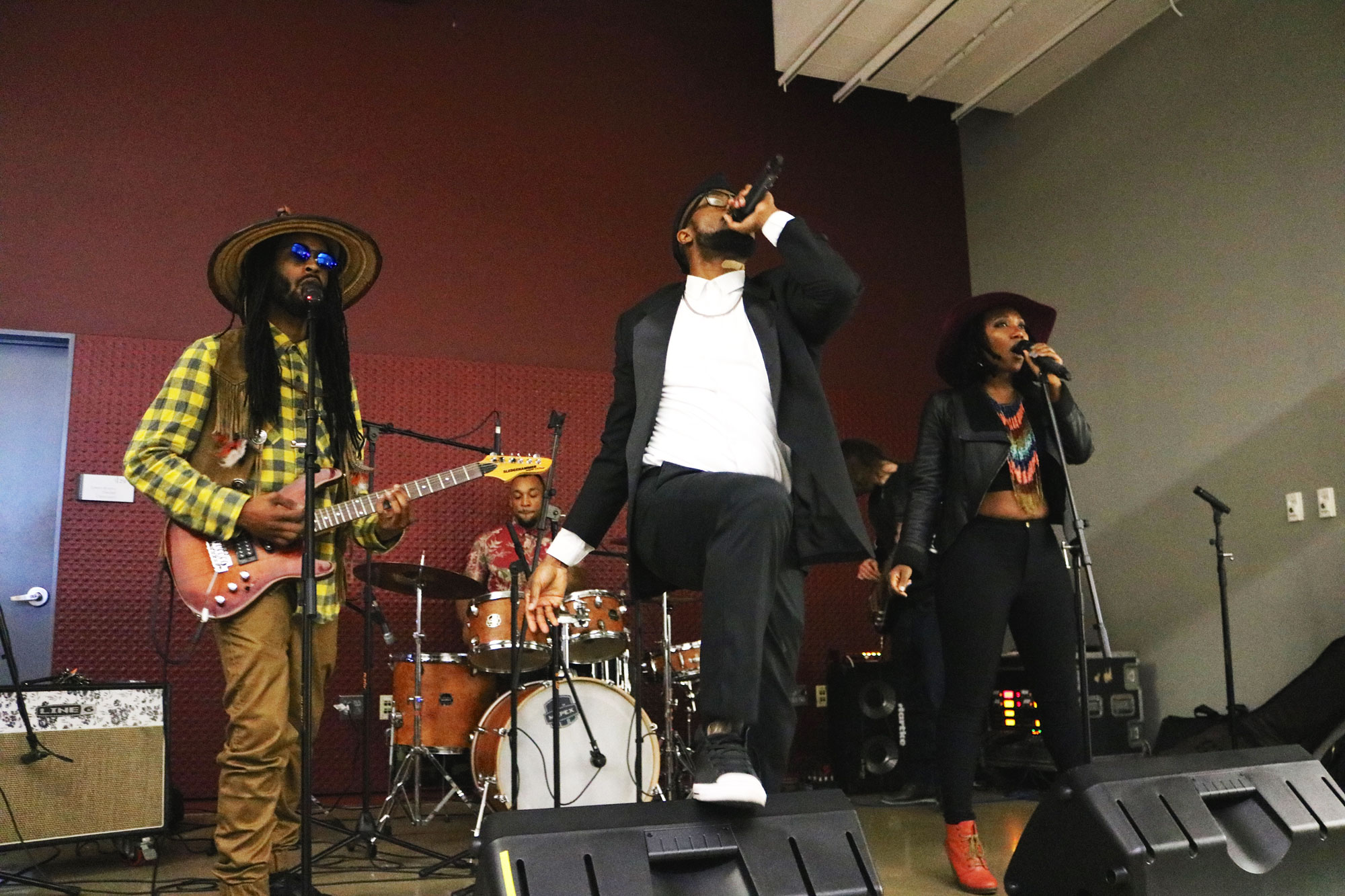 Music industry students at Drexel University have the unique opportunity of taking up a different artist each year and working with them through Drexel's label, MAD Dragon Records. This year, MAD Dragon students have the privilege of working with five-piece rock-pop-soul band Johnny Popcorn.
The fruits of Johnny Popcorn's labor has finally paid off, as they released their second full-length album, "Totem Pole," on Sept. 30. To kick off the release, music industry students organized an album release party in the URBN Annex on Nov. 3.
Walking into the Annex that night, it was clear that a lot of time and energy went into the event. There were tons of people, free food and drinks, and positive energy. Students from each class joined together, bonding over their mutual love of good music.
The event kicked off around 7 p.m. with food being served and Johnny Popcorn music videos being projected on a large screen. The music videos for "Coming Home" and the ever-so-catchy "Go Go Go!" were clearly crowd favorites, as people were singing and dancing along to the songs before the band even appeared.
Johnny Popcorn took their place at the back of the Annex at 7:45 p.m. and began to soundcheck. At this point, fans were buzzing around with energy, anxious to see the band begin their performance.
People were practically jumping out of their skin at the thought of Johnny Popcorn performing right in front of them. The Annex is a relatively small room, so the packed nature of the area made the students' energy almost boil over. It also provided an incredibly intimate setting, giving each fan an up-close-and-personal view of the band.
They opened their set with "Coming Home," which features a mid-tempo, driving drum beat that is perfect for getting a crowd revved up. As if the hype during that song wasn't enough, they played their most popular new song, "Go Go Go!" next. People were go-go-going nuts! The energy in the room was palpable and looking around, I didn't see a single person without a smile on his or her face.
During the first two songs, frontman Hezekiah sang lead vocals. With their next song, "Fall," they brought it down a bit. Their other singer Jani Coral sang the slower, more soulful song, while fans stood watching the band, utterly captivated. Having both male and female singers who switch off lead vocals is a great asset for the band, as it spices up their songs and keeps it fresh.
After the lovely "Secrets," Johnny Popcorn began to play the excellent and optimistic "Put Your Computer to Sleep." In this song, Hezekiah and company urge fans to "go outside" and "look at the sky," a sentiment that especially rings true in this age of technology. Johnny Popcorn reminds us of simpler times, with their happy, soulful melodies and roots-rock inspired instrumentals.
Their album, "Totem Pole," has a mix of rock, soul, hip-hop and pop, all blended together in one cohesive collection of music. Highlights on the album include "Go Go Go!" "What a Day," "The Light" and "Follow Through." Johnny Popcorn and MAD Dragon students should be proud of all their hard work this past year having paid off, and you should "Go Go Go" listen to the album, if you haven't already.