Johnny Knoxville is arguably a millennial household name, if not for his outrageous stunts then at least for his iconic guffaw. He and his goon crew have risen among the ranks of run-of-the-mill celebrities with the unorthodox, oftentimes offensive "Jackass" television series and feature films.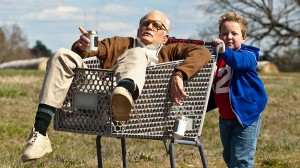 Before delving into Knoxville's soon-to-be-released movie, "Jackass Presents: Bad Grandpa," it's worthwhile to know how the Jackasses got their start. Knoxville, born Philip John Clapp (what a surprisingly normal name!), first traveled to California from Knoxville, Tenn., to pursue an acting career — giving rise to the hometown-inspired stage name. Though he landed a few modest roles in commercials and as an extra, the aspiring entertainer wanted a bigger break and turned to print media to find it.
Fittingly enough, his idea to test self-defense equipment on himself was the initial stepping stone to his big break. His pitch captivated Jeff Tremaine, then the editor of skateboarding magazine Big Brother, which led to the filming of Knoxville personally enduring self-defense methods like the stun gun and pepper spray. The footage became part of Big Brother's movie "Number Two."
Around the same time, Bam Margera and his friends, all local boys from West Chester, Pa., were creating their own stunt videos as the Camp Kill Yourself Crew. Tremaine recognized the self-destructive potential of the CKY Crew members — namely Margera, Ryan Dunn, Raab Himself and Brandon DiCamillo — and drafted them for the "Jackass" productions.
With the additions of Chris Pontius, Steve-O, Jason "Wee Man" Acuna, Preston Lacy, Dave England and Ehren McGhehey, the main "Jackass" cast was complete for the show's debut on MTV in 2000 under executive producers Knoxville, Tremaine and Spike Jonze.
The shenanigans expanded into the film industry for three "Jackass" films, and now Knoxville is at it again with "Jackass Presents: Bad Grandpa."
The newest installment from MTV Films and Dickhouse Productions is based on the recurring fictional character Irving Zisman, played by Knoxville, of various "Jackass" pranks. Instead of the entertaining but brief appearances typical in the television and movie series, the movie is all about Zisman. Well it's about him and his adorably inappropriate 8-year-old grandson Billy (Jackson Nicoll, who appeared alongside Knoxville in 2012 in "Fun Size"). The film follows the duo on their cross-country road trip to visit Billy's father after his mother's jailing (already an interesting start), incorporating hidden-camera stunts and pranks into the loosely bound plotline.
Knoxville gave 27 college students around the United States and Canada, including myself, an inside perspective on the upcoming movie Oct. 4.
The inspiration for the narrative came from Peter Bogdanovich's "Paper Moon" (1973), which involves a misguided road trip of sorts. However, it seems safe to say that the creators of "Paper Moon" underwent a much different writing process than the "Jackass" masterminds. As Knoxville put it, he and his team would think of "just awful stuff, way over the line." Once the terrible ideas were out of their systems, though, they were able to produce the usable, slightly more appropriate content that will be seen in the movie.
Although Knoxville incorporated many of his own mannerisms into Irving's character — he noted that his body is so banged up as is that it wasn't too difficult to master the gait of an 86-year-old — there were only a few rare instances when bystanders recognized him. That being said, all the pranks involved real and unsuspecting people. The reactions on screen are entirely candid, including a cringeworthy funeral experience, a wedding crasher's nightmare, and a raunchy beauty pageant performance by Billy — in drag.
Even over the phone, it was clear that Knoxville genuinely enjoyed and admired his 8-year-old companion. He described Nicoll as a talented, fearless actor with little shame and plenty of fire.
Indeed, my question had to do with the boy, specifically his parents. Granted, I was so excited to be called upon (because not every participant in the call had the chance to speak) that the first words out of my mouth were "Yoooooo, Johnny, great to talk to you man." Yo? Who do I think I am? Thankfully, Knoxville seemed entertained and responded with an equally enthusiastic "Yooooo." I take that as we're best friends, but I digress.
Once I composed myself, I was able to ask the question, "Was it difficult to persuade Jackson's parents to let him be part of such an outrageous movie?" My new friend (just give me that at least) was just as fond of Jackson's parents as he was of the boy. He credited them for Jackson's competence and confidence and assured us that they trusted him and the crew and even wished for them to continue to procreate more wonderful children.
Based on Knoxville's responses and descriptions, "Bad Grandpa" will surely live up to the expectations of "Jackass" fans. Aside from the in-your-face humor, it sounds like there will also be a subtler, unexpected emotional aspect of the movie. Knoxville said he believes that viewers will develop a surprisingly strong investment in the duo's relationship as Zisman and Billy take audiences along on their bumpy and thankfully fictional ride.
Fortunately, you won't have to wait too long to find out for yourself. The movie is scheduled to be released Oct. 25 in participating theaters.