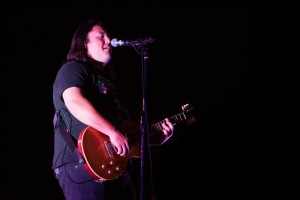 Reggae-rock band Iration has gained many fans since the release of its first EP in 2006. Luckily for fans, the band is now touring the U.S., promoting its latest album, "Automatic."
Iration's relaxed and humble sound can be attributed to the group's upbringing. The band hails from Hawaii, but they all went to school in California at the University of California, Santa Barbara, where their music is already very popular. With this tour, they are trying to spread their melodious tunes all over the U.S., including the City of Brotherly Love; they will be playing their mellow reggae sound in Philadelphia Aug. 23 at the Theatre of Living Arts.
In the midst of a busy tour day in Detroit, while "trying to not stray too far from the bus," Micah Pueschel, the band's vocalist, spoke with me about his laid-back band.
Triangle: Iration started as a cover band, but how did you initiate the change into writing your own music?
Micah Pueschel: When I joined [Iration] it was kind of when we started to write [our own] music, and it was kind of after they were a cover. I was writing music on my own in college, so when I joined the band, I kind of just said, "Well, I'll start writing music." They had a bunch of songs that had no lyrics, … so I just made lyrics.
T: EDM and Dubstep have revolutionized the music industry. Have you ever considered working with a disc jockey to mix one of your already released songs or a future song?
MP: Yeah. We have definitely considered it, and we actually have people who have remixed a track, but we've never done anything where we had any
part in it. But we're totally open to it. We're open to any kind of musical exploration.
T: Besides music, what do you and the band like to do in your free time?
MP: We're all from Hawaii, so most of the boys like to surf. We like to play golf a lot. That's what we do on the road, play a lot of golf. Besides that, surfing, skating, being outdoors, hiking; we just like to be in the ocean or outside.
T: This may be a sensitive subject, but in April you announced that vocalist Kai Rediske was leaving the group. Do you feel like you are under more pressure individually or have more freedom without another vocalist?
MP: It's not touchy at all. I never felt like I didn't have freedom before. I think I definitely had a little more pressure on me to carry the weight of the vocals. But I was carrying a large majority of it before Kai left the band, especially for the live stuff.
For me, the hardest thing is I have to sing for a lot longer every night. I have a lot less breaks, or shorter breaks. I have to be careful and warm up to save my voice. You have to take care of your voice when you sing for an hour and a half every night.
T: Do you mind sharing why exactly he left?
MP: He just wanted to make a change in his life. He got engaged, he moved back to Hawaii. For some people it's just hard when you're on the road a lot and you don't want to be on the road anymore. He was never really 100 percent in performing or being onstage. It wasn't the same for him as it was for us. He just wanted to move on.
T: What influences your music, and what do you use when you have a writer's block?
MP: I get my inspiration from life — me, myself, my own life. I generally try and make songs that are real and true and honest. I feel like people can connect to real honesty. A fake or contrived idea just doesn't vibe the same way.
My musical influences come from all over the place. I love so many different styles of music. First and foremost, I'm a giant Beatles fan. I love so many different types of music, anywhere from Fleetwood Mac to Hall and Oates to Weezer to Tom Petty to The Strokes. Obviously, a lot of reggae.
Our goal has been to reach as many people as we can with our music and try to not alienate any one demographic.
T: What's the atmosphere like on tour and on the bus?
MP: Pretty mellow. We've been doing it for a long time. We've gotten a little more mature about the way we tour and the way we take care of ourselves, staying healthy and doing it right so we don't burn out midway through the tour. No matter what you do, you're going to be tired, you're going to be traveling a lot. It's important to stay healthy. You can't get sick because you can't cancel a show and let down fans.
T: I'm sure you know your bandmates very well because you've been traveling so much. Does anyone have any fun or interesting quirks?
MP: It's hard to say. You know everybody does, but our tour manager, Colin, is a major hoarder.
T: How so?
MP: Like food. He'll get food and just never finish it, and he'll take it with him and store it in a bunk or under his sheet for a few days and then all of a sudden pull out a sandwich from two days ago.
One time we were walking to the airport. We had an early-morning flight, it was like 4 in the morning in the airport, and he was carrying his shoes, and I just looked in his shoe and there was an apple and a sandwich in his shoe!
T: Which song that you've written are you most proud of?
MP: They all are about me or things that matter to me.
"One Way Track" is one of the best songs I've written lyrically. It's about the life of a musician; those are the things I really enjoy. It's real, and it describes what it's like to be a touring musician.
Also "Go That Road," which is a song about doing your own thing and going your own way in life. That's what we've all decided to do for ourselves. You can go a different path than the normal route. You can do college and after you graduate go into the business world or job world, which we all kind of did, but then we wanted to take on music full time.
Also "Automatic," just because it's about fans, you know. [It's] our thank you letter to our fans. We do the social media and the meet-and-greets because that's how you build a fan base. You never want to hold yourself above anyone.
More information about Iration can be found at IrationMusic.com.