"The Intouchables," which premiered as the closing film at the 59th San Sebastian Film Festival in Spain in August 2011, has recently captured a large American audience. The film, which also won Best French Film of the Year at the Globes de Cristal ceremony, attempts to put a new spin on an old narrative. The introduction of a high-society white millionaire to a recently released black convict from the ghetto is a cliched storyline. As expected, though they appear to have nothing in common, it is obvious that these two are going to find much more than either anticipated, ultimately resulting in a strong friendship. Loosely based on a true story, "The Intouchables" is able to distinguish itself from similar films with a strong script.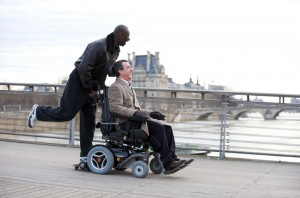 Taking place in Paris, "The Intouchables" tells the tale of Philippe, played by Francois Cluzet, a millionaire quadriplegic in search of a new caretaker. What should be a simple process is made challenging by Philippe's annoyance in dealing with caretakers who pity his condition. Driss, played by Omar Sy, is a recently released convict who shows up to this job interview for the sole purpose of obtaining a signature in order to get welfare payments. Impressed by his bluntness and wit, Philippe decides to give Driss a trial period of one month to see if he can survive in the upper class while caring for Philippe.
Capturing the camaraderie of the two leads, the sarcastic banter of Driss and Philippe will keep audience members laughing. The script should also be credited with the subtlety in which it delivers this story. Philippe's condition has potential for high levels of melodramatics, but writer and directors Olivier Nakache and Eric Toledano cleverly insert moments of drama without saturating the film.
The universality of two culturally distinct people being introduced to a new perspective of life allows the film to be identified of French origin while maintaining an American aura.
This hybrid of national identification is mostly associated with the character of Driss. Not only does his brashness and confidence bring to mind a number of smart-alecky characters seen in most American-made films, but his love of classic American rhythm and blues is a constant throughout the film. Driss' taste in music serves as a reminder of the different worlds from which Philippe and Driss hail.
For moviegoers who are interested in seeing a feel-good bromance, "The Intouchables" is an excellent choice. It is a dramedy that will have you leaving the theater with a warm, fuzzy feeling and an appreciation for foreign cinema. On the infamous Pretentious Film Majors five-star scale, I would have to give "The Intouchables" four out of five stars.