Think back to the end of 2011 and the beginning of 2012. Remember that song that you heard at every party, on every radio station and out of every car that drove by? It was one song and one song only: "N—-s in Paris." The man responsible for bringing you that hit, along with A$AP Rocky's "Goldie"; Kendrick Lamar's "Backseat Freestyle"; and Big Sean, Jay-Z and Kanye West's "Clique," goes by the name of Hit-Boy, and he's not just a producer. Last August, Hit-Boy released his debut mixtape as a rapper, titled "HITstory," which showcased his impressive flows and lyricism. Shortly thereafter, Hit-Boy, 26, signed to Interscope Records in December 2012 and launched his own label, HS87, under Interscope's imprint in January 2013. Hailing from California, Hit-Boy made his Philadelphia debut June 1 at the sixth annual Roots Picnic, where he, along with his signees, Audio Push, delivered an impressive, high-energy performance on the tent stage.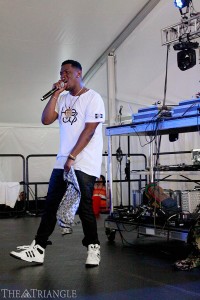 Following his set, I had the opportunity to sit down with Hit-Boy and discuss his rap and production careers. Even though his rise to fame came through his production, he actually began rapping at the age of 13. "I rapped way before I knew I could make beats. I always had the passion for it; I just had to put it off for a minute to get in the door with the beats, and then it just took off." To say his career has taken off would be an understatement. Hit-Boy has now produced records for West, Jay-Z, Beyonce, Britney Spears and Eminem. He also has rapped alongside Wale, 2 Chainz and Rick Ross.
Despite his success, Hit-Boy has remained humble and said he still doesn't feel like he made it. Not many people with a Grammy and multiple hit records would say the same. He did, however, share the highlight of his career thus far after producing "N—-s in Paris."
"[I had] so many experiences with that one song. I got to meet all of my heroes because they all loved the song. Being able to be in Paris and be onstage with Jay-Z and Kanye was that moment," Hit-Boy said.
Moments like this have helped fuel his passion and have motivated him even more for his bright future as a rapper, producer and executive. "Just seeing our own progress, I want to really have very successful artists and be a successful artist myself and have hits. That's the name of my label, Hits Since 87."
In March, Hit-Boy and his team released "All I've Ever Dreamed Of," which includes the lead single, a remix of "Fan" that features 2 Chainz. The original track was a part of Hit-Boy's debut project, but he brought it back and added the go-to feature rapper in hip-hop right now, which brought even more to fire to one of the strongest songs from "HITstory." Other must-listens include "Enormous," which features Travi$ Scott and James Fauntleroy, as well as "Cypher," which features artists including Raekwon, Rick Ross and ScHoolboy Q.
No matter what Hit-Boy works on, he brings the same energy to his fans. "To me, it's one and the same. Everything that I stand for is what I represent. Whether I'm writing a song or making a beat, rapping, whatever, I'm just trying to bring that quality," he said.
And so far, all he has delivered is quality. His first two rap projects on top of his already abundant production portfolio have impressed fans and demanded the respect of every rapper in the industry.
Hit-Boy even offered up some advice for college students trying to pursue their dreams.
"Whatever the passion is, just stay focused on that. Everything else in between, that'll just come, but just focus on what you're passionate about," he said.
For Hit-Boy, that passion is clear, as he is always trying to motivate and inspire his fans through social media every day.
With "HITstory" and "All I've Ever Dreamed Of," Hit-Boy let the world know that he's more than just a producer. During his impressive performance at the Roots Picnic, Hit-Boy commanded the stage and kept the fans wanting more after his 35-minute set, even though he has limited experience performing. His confidence and control onstage, when added to his hit-making ability, emerging rap career and the HS87 imprint he's created under Interscope, prove that Hit-Boy is ready to become a star.