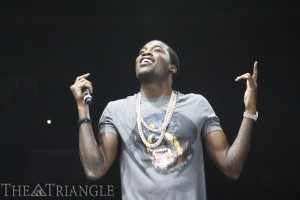 Ladies and gentlemen, it is that time of year again when I tell you what albums, mixtapes and songs you should have rocked with in 2012. I fill you in on what upset me the most this past year and what to look forward to if the Mayans were wrong and 2013 actually happens. Here is my recap of hip-hop in 2012.
Albums of the Year:
1: Kendrick Lamar — "Good Kid, M.A.A.D City"
Few albums in the history of hip-hop have told a story the way Kendrick Lamar's "Good Kid, M.A.A.D City" did. Years down the line, this will be considered a classic album, and he did it on his debut.
2: The Niceguys — "James Kelley"
At this point in my writing career, I hope that my readers actually listen to me when I recommend albums. "James Kelley" is an album that everyone needs to hear. It flew under the radar this year and is truly one of the best bodies of works that hip-hop has to offer in 2012. It's available now on iTunes and Bandcamp and would make for a phenomenal Hanukkah or Christmas gift for your friends this year.
3: G.O.O.D. Music — "Cruel Summer"
This was easily the most anticipated album of 2012, and after a few chart-topping singles, there wasn't much substance left by the time this project was released. With that being said, "Mercy," "New God Flow," "Clique," "Cold" and "To The World" are five of the best hip-hop songs of 2012.
4: Nas — "Life Is Good"
Nas' "Life Is Good" is a beautiful representation of how rappers can still make great music about what's going in their lives as they get older. The fastest way to become irrelevant is to be pushing 40 while rapping about things you did when you were 20. Nas opens up about his divorce, his children and his journey to this point of his career.
5: Rick Ross — "God Forgives, I Don't"
With theatrical production, huge features and the direction of biggest bawse that you've seen thus far, Rick Ross delivered one of the year's best albums. Despite a few weak songs in the middle, which always seems to happen on Ross albums, the overall body of work is very strong and worthy of the No. 5 spot on this year's top albums list.
Mixtapes of the Year:
1: Rick Ross — "Rich Forever"
Although it came out at the beginning of January, Rick Ross' "Rich Forever" reigned supreme over all other mixtapes of 2012. Unfortunately, the other mixtape he dropped this year, "The Black Bar Mitzvah," didn't have quite the same affect (see biggest disappointments).
2: Big Sean — "Detroit"
Even though we didn't get an album from Big Sean this year, "Detroit" certainly made fans forget about all of the promises. The mixtape is filled with hits including "Mula" featuring French Montana, the mixtape's first track; "Higher" and "24 Karats of Gold," which features J. Cole.
3: Meek Mill — "Dreamchasers 2"
This mixtape could honestly give his album a run for its money, which is pretty sad given the hype and buildup for "Dreams and Nightmares." "Dreamchasers 2" produced the jam of the summer with "Amen," which ended up making the album due to its success.
4: Rockie Fresh — "Driving 88"
If you release a mixtape that gets you signed to Maybach Music Group, you deserve to make it on this list. Rockie Fresh's "Driving 88" was one of the most unique projects that dropped in 2012. For more on that project and Rockie, take a look at my artist spotlight from October.
5: Wale — "Folarin"
This mixtape isn't even out yet, but it will be arriving on the Web this Christmas Eve. This also shows just how weak this year's mixtape crop was. Likely, if we had a chance to hear it beforehand, it would be higher up on this list. Based on the project's first single, "Freedom of Speech," Wale is going to be serving up a big treat for the holidays.
Songs of the Year:
1: Kanye West featuring Big Sean, Pusha T and 2 Chainz — "Mercy"
Everyone and their mother knows Kanye's verse on this song, and I love it! Kanye and company took over the summer with "Mercy" and delivered this year's best song courtesy of 2 Chainz's outlandish finale verse.
2: Nas — "Daughters"
This is one of the most enjoyable songs released in 2012. Even if you're not a father, hearing the words Nas delivers over No I.D.'s incredible production are powerful enough.
3: Big Sean featuring Jay-Z and Kanye West — "Clique"
Big Sean thought this song was going to be the single from his sophomore album. Then Jay-Z and Kanye hopped on the track and threw it on "Cruel Summer." Now, it's a chart-topper. Don't think anyone is upset about that.
4: Meek Mill featuring Drake — "Amen"
Here's another song that dominated your summer. Drake and Meek teamed up for a great feel-good track.
5: T.I. featuring Andre 3000 — "Sorry"
The only reason this song made the list is because Andre 3000 delivered the best verse of the year as he dominates the second half of T.I.'s latest single.
Biggest Disappointments:
1: Rick Ross — "The Black Bar Mitzvah"
As a Jewish man who also is a huge fan of hip-hop, I was beyond ecstatic when I saw that Rick Ross was releasing a mixtape based off of my coming-of-age moment over eight years ago. But then I listened to the weak remixes of current hits that made up the majority of the project. The disappointing attempt of a mixtape, which spent too much time promoting Ross' chain of wing restaurants, felt like it was put together in a few days and definitely sounded that way as well.
2: Another year without Dr. Dre's "Detox"
I don't know why this surprises me, but nonetheless, we're all still waiting for Dr. Dre to release the mystery that is "Detox."
3: Nicki Minaj — "Pink Friday: Roman Reloaded"
In 2010, Nicki Minaj won me over with her verse on Kanye West's "Monster." Since then, she has done nothing but disappoint, and her latest album is a mish-mosh of pop and rap songs, an odd combination. She even re-released the album with additional tracks in the same year. Make it stop, and please make sure that nobody plays "Starships" at any party I attend for the rest of my life.
What to look forward to in 2013:
1: "Cruel Winter"
Yes, you read that correctly. G.O.O.D. Music is preparing to unleash another compilation on the world in 2013. Hopefully it produces as many hits as its summer counterpart.
2: New albums from Wale, J. Cole and Big Sean
Three of the youngest stars in the game will release new albums in the first quarter of 2013.
3: Lil Wayne's retirement
After "Tha Carter V," which is supposed to be released in 2013, Lil Wayne claims that he will retire. Let's all hope he sticks to his word.