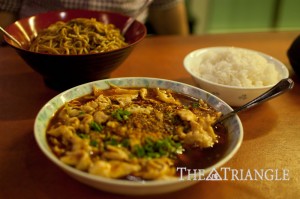 Chinese food has, ironically enough, become a staple for Americans everywhere. However, the food has become an unrecognizable shadow of its true self — everything is fried, sauces are thick and bland, and the food imparts feelings of lethargy and self-hatred when consumed in large quantities. Han Dynasty, which recently opened a location on 38th and Market streets, is unlike other Chinese restaurants in that it is, well, Chinese. The food is fresh and flavorful and prepared in an authentic Sichuan style, making for a gastronomic delight that stands apart from nearly every other Chinese restaurant in the city.
Upon entering Han Dynasty I was greeted by an enthusiastic employee who quickly seated me. An equally enthusiastic waiter then brought out jasmine tea, explained that the food was served "family style" (meaning dishes are meant to be shared and come out as quickly as they are made) and gave me a few recommendations for what to order. Chief among those recommendations were the dan dan noodles, by far their most popular dish, which consists of noodles covered in a delicious sesame chili sauce and sprinkled with minced pork. The sauce was nutty and had a definite kick, reaching an 8 on their 1-10 spice scale, and the pork added a layer to the texture and flavor of the dish. It was absolutely splendid; I think I could eat their dan dan noodles on a daily basis and never grow sick of them.
Soon after the noodles were delivered to my table, I also received my entree, hot-sauce style chicken. Consisting of celery and cabbage stir-fried in a Sichuan style chili oil sauce with chicken, this dish impressed upon me how different authentic Chinese food is from what I had grown accustomed to. Each of the ingredients was flavorful and contributed to a delicious whole dish, which stands in stark contrast with most American Chinese food. No part of the dish overwhelmed the rest, and the freshness of each of the ingredients was able to shine through in a way that would not be possible in Americanized Chinese food.
The details of the restaurant were just as spot-on as the food. Several members of the wait staff checked up on me throughout the meal, proving the service very attentive. The restaurant was also neatly decorated in a postindustrial style — exposed wiring and metal made it feel modern but not cold. The soundtrack was excellent, pulling from a wide variety of indie rock, and the beer list was absolutely phenomenal. Han Dynasty also features a full bar, the patrons of which seemed very sociable and friendly. Even the prices were reasonable — I purchased enough food for two people and had leftovers for under $25.
I fail to see any real downside to Han Dynasty. The food is a triumph, the atmosphere is fantastic, the prices are reasonable, and the service is great. They also offer take-out, eliminating any possible reason why I would want to order other Chinese food in the future. In short: go to Han Dynasty. You should probably get the dan dan noodles while you're there.